Perry Leads GOP Field Heading Into Monday's Debate
The Texas governor holds a solid advantage over the rest of the field in a new Republican survey from CNN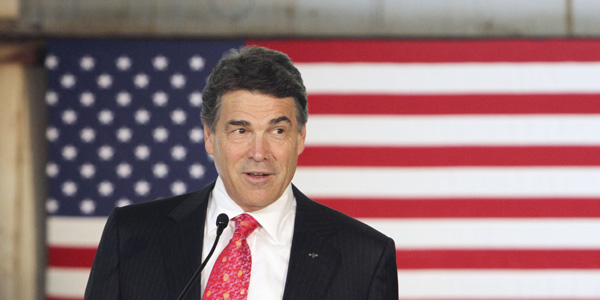 After a mixed performance in his first debate since joining the field of Republican presidential candidates, Texas Gov. Rick Perry is maintaining his status as the national frontrunner, according to a new CNN/ORC International poll conducted on the eve of Perry's second debate.
---
MORE FROM NATIONAL JOURNAL:
Is Rick Perry the Br'er Rabbit of the Republican Field?
Pawlenty Endorses Romney
Democrats Fear Losses in New York, Nevada
---
Perry leads former Massachusetts Gov. Mitt Romney, 30 percent to 18 percent, according to the poll, released early Monday. Former Alaska Gov. Sarah Palin is at 15 percent, with Rep. Ron Paul (R-Texas) at 12 percent. All other candidates earn five percent or less -- including Rep. Michele Bachmann (R-Minn.), who is at only four percent.
When respondents choosing Palin, who is considered unlikely to throw her hat into the ring, are asked for their second choice (and those choices are allocated), Perry has 32 percent, compared to 21 percent for Romney, 13 percent for Paul, 7 percent for Bachmann and former House Speaker Newt Gingrich and 6 percent for businessman Herman Cain.
Less than three weeks ago, Perry led Romney by 13 points with Palin included, and by 14 points without her in the race.
Not only is Perry maintaining his lead over Romney and the rest of the field, he is outpacing his competitors across a number of disparate groups -- in some cases defying what had been the conventional wisdom prior to his entry into the race. Perry leads by double-digits among both men and women. He has a slight lead over Palin among Republicans who did not attend college, but he has a wider advantage (over Romney) among those who did. Perry leads Palin by three points among those Republicans with a household income of less than $50,000 a year, but he leads Romney by 14 points among those in households earning more than that.
And despite his controversial comments on Social Security and other entitlement programs, he has an 18-percent advantage among Republicans aged 50 and over, crushing Romney, 38 percent to 20 percent.
By a 15-percent margin, Republicans see Perry as the strongest leader in the field; Romney is second. Perry even has a three-point lead over Palin on the metric of which candidate is most likable.
Perry leads Palin by 9 points on the question of which candidate is most likely to agree with respondents on the issues mattering most to them. He leads Romney by the same margin when respondents are asked which candidate is most likely to be able to get the economy moving. Republicans, by a six-point margin, even see Perry as the candidate most likely to fight for his beliefs, over the feisty Palin.
But perhaps the most striking indication that Republicans see Perry as the singular frontrunner: When asked which candidate has the best chance to defeat President Obama, Republicans choose Perry over Romney by a wide margin, 42 percent to 26 percent.
The CNN/ORC International poll was conducted Sept. 9-11, surveying 446 Republican and Republican-leaning independent voters. The margin of error is +/- 4.6 percent.
CNN and the Tea Party Express are sponsoring a debate Monday night in Tampa, Fla., airing at 8 p.m.
Image credit: Jim Cole/AP