Perry Fundraises in Iowa as Tonight's Prisoner Execution in Texas Moves Forward
Without an (unlikely) intervention from the Texas governor or the Supreme Court, Duane Edward Buck will die this evening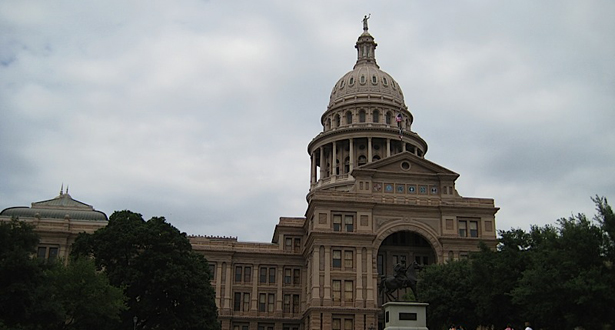 Flickr/Duane Burdick
Texas death-row inmate Duane Edward Buck is scheduled to be executed within hours -- anytime after 6 p.m. Thursday local time -- for a double murder he committed in 1995. In 2000, then-Texas Attorney General John Cornyn announced that Buck's case -- among others -- had been unconstitutionally tainted by improper racial testimony. Texas quickly gave the other men who had been tried unfairly new sentencing trials. But the current political and legal hierarchy of the Lone Star State has refused to treat Buck similarly. I wrote about all of this in more detail earlier this week.
I write briefly today to offer three quick new points.
1. Jordan Smith, of the Austin Chronicle, has just written a powerful, detailed piece about the death penalty in Texas under Gov. Rick Perry's reign. Smith writes:
Like Bush and those before him, Perry has said that deciding who dies at the hand of the state is a grave and most serious matter: "The power to make life-and-death decisions is the most sobering responsibility imaginable," he told the Texas Association of Broadcasters in 2001. "I have always exercised this power with the gravity due such a life and death decision. And I will continue to review each capital punishment case brought before me to ensure that due process has been served." It was an echo of his predecessor: Deciding capital cases is "by far the most profound" decision a governor has to make, Bush wrote in his autobiography. "I get the facts, weigh them thoughtfully and carefully, and decide."
On Wednesday, Buck's attorneys formally requested of Gov. Perry a 30-day stay of execution so that they could continue to work on getting their client a new sentencing trial. The governor so far as not yet responded. But his spokesperson told the Los Angeles Times Wednesday that Gov. Perry will not be in Texas tonight to "preside" over Buck's scheduled execution. He has instead turned the matter over to his Lieutenant Governor, a man named David Dewhurst. Evidently it will be Dewhurst, and not Perry, who will formally decide whether to give Buck the 30-day stay of execution he has requested.
And Perry? The man who is cheered for his stance on executions? When the going gets tough... the tough go to Jefferson County, Iowa, to speak at the Greene County GOP Fundraiser. That's where Gov. Perry is today. Perhaps having authorized a record number of executions over the past ten years he no longer considers them "grave and most serious" enough to require his in-state presence and full attention.
2. Twice in the past 20 hours the courts (state and federal) have rejected arguments to stop the execution. Buck's attorneys now have filed papers with the United States Supreme Court seeking relief from the justices. Emergency jurisdiction over matters emanating from the 5th Circuit are initially handed by Justice Antonin Scalia. He is the "circuit judge" for that judicial circuit. He will presumably pass around Buck's petition to his colleagues to see if there are enough votes for a stay. It is rare, but not unheard of, for the justices to intervene in Texas death penalty cases. They did so in 2009 in the case of Hank Skinner, a case involving DNA evidence, a matter which is still pending after the Supreme Court's ruling earlier this year in Skinner's favor.
3. Although the Texas clemency process has a disgraceful history -- again, I urge you to read Alan Berlow's memorable 2003 piece in The Atlantic on how Alberto Gonzales and George W. Bush fouled things up -- Gov. Perry and his colleagues have fought against making the vital process more transparent. Again, from Smith's piece in the Austin Chronicle:
In the wake of [The Atlantic Monthly] article, the Chronicle filed a request not only for the Bush memos but also for all of Perry's clemency memos. The Bush memos were released; Perry's were not. In 2002, Attorney General Greg Abbott was elected and the rules were changed. According to Abbott, the memos in their entirety could now be considered "privileged" attorney-client communications and thus exempt from disclosure. We filed a similar request this summer, only to have it once again sent to the A.G. for determination. Although we are still waiting for a formal ruling, we expect that we will again be denied.

Indeed, where the state once considered that these sorts of communications should only be redacted - releasing "factual" information contained in the documents and obscuring the privileged information - Abbott's office ruled in 2003 that the entire document could be withheld regardless of how much factual information it contains. In addition to requesting the memos, this year we also requested all emails "to and from the governor," for a given period of time, concerning recently executed Mexican national Humberto Leal; in a new twist, Perry's office is also seeking to keep from the public the content of any of those emails, claiming that some of them are to or from legal staff and that these too are "privileged." We are expecting an opinion on this matter by the end of the month.
This means that it will be years -- or more -- before Texans and the rest of us learn about the work the Texas Board of Pardons and Paroles has done (or, more likely, has not done) in the Buck case. On Tuesday, you may recall, the Board rejected Buck's clemency request with a one sentence paragraph.