Perry and Romney Will Face Off in Florida
Along with the Sunshine State's GOP convention this week, tonight's Republican debate carries high stakes for the front-runners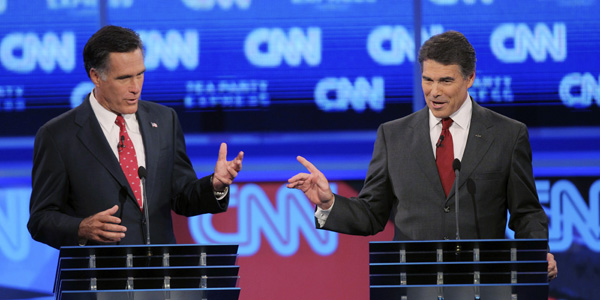 ORLANDO, Fla. - A three-day Florida presidential confab featuring a debate sponsored by Fox News, rallies with religious and conservative activists, and a straw poll run by the state Republican Party kicks off on Thursday night - with high stakes for the two front-runners.
In the run-up to the debate, Texas Gov. Rick Perry and former Massachusetts Gov. Mitt Romney have already been trading pointed barbs, with Romney casting Perry as an extremist on Social Security, and Perry questioning Romney's fidelity to the Republican Party.
The backbiting on the eve of the Florida Republican Party's convention, dubbed Presidency 5, reflected the increasingly heated battle between the two leading contenders for the GOP nomination.
A good run by Perry in this critical battleground state could help grease his path to the nomination. He is favored to win South Carolina, the state expected to vote right before Florida. Back-to-back victories could knock Romney out of the race. And with several of the Republican candidates keeping their distance from the straw poll here, Florida's most dedicated Republican activists are up for grabs.
Florida's last three straw polls have all correctly predicted the winner of the GOP nomination - Bob Dole in 1995, George H.W. Bush in 1987 and Ronald Reagan in 1979. "I believe whoever wins this straw poll on Saturday will be the Republican nominee, and I believe the Republican nominee will be the next president," Florida Gov. Rick Scott told Fox News in a recent interview.
A new Quinnipiac poll, released Thursday, shows Perry narrowly leading Romney in Florida, 28 to 22 percent, reversing a ten-point Romney advantage from early August, before Perry formally declared his candidacy. When Republicans were asked to choose just between the two frontrunners, Perry increases his lead to eight points, 46 percent to 38 percent.
The poll also shows that while Perry's comments about Social Security -- comparing it to a "Ponzi scheme" -- aren't a major liability in a primary. A narrow 52 percent majority of Republicans think it is fair to describe it as such, even as the vast majority (58 percent) of voters overall don't agree.
Romney enlisted some of his most prominent supporters in this retiree-friendly state on Wednesday to savage Perry's commitment to preserving Social Security as a federal program. A Perry spokesman fired back with a salvo accusing Romney of "sounding like a Democrat.'' Perry and Romney also traded shots over their job-creation records.
The pressure weighs particularly on Perry, who has been forced in the last two debates to defend his description of Social Security as a "Ponzi scheme'' and his support for vaccinating schoolgirls against a sexually transmitted disease that causes cancer.
Perry has also raised expectations for a victory in the straw poll by announcing a fistful of new hires and endorsements, sponsoring a reception for the estimated 3,500 delegates on Saturday, and sending out campaign mailers. Anything less than victory in Saturday's mock election run by the state party will be viewed as a setback for the national frontrunner in the polls.
In contrast, Romney is coming off of two widely praised debate performances. He declared months ago that he was not going to contest the mock election run by the state party.
Scott explained why some candidates are playing coy. "It's an expectations game,'' he told Fox News. "They want to say if they don't win they didn't really try.''
Newt Gingrich's schedule notes that he is addressing participants of the straw poll this week, but adds: "Newt 2012 is not actively campaigning to win the straw poll.'' And Jon Huntsman, whose campaign headquarters are less than 12 miles from the convention center where the straw poll will take place, is making a show of flying to New Hampshire on Saturday.
Romney isn't sticking around either. He's headed to Michigan for the Mackinac Republican Leadership Conference. But while some of the other lesser-known candidates can justify a loss, a poor showing by Romney in Florida, where he came in second in the 2008 primary, could prove embarrassing.
Image credit: Scott Audette/Reuters