On the Economy, a Widespread Lack of Faith in Obama
Across demographic groups, poll respondents voiced little confidence that the president can improve unemployment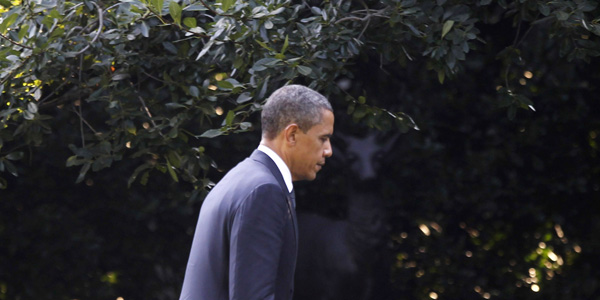 For President Obama, the overwhelming political imperative in 2012 may be to persuade voters to follow the advice of the legendary Negro Leagues baseball pitcher Satchel Paige when he famously counseled: Don't look back.
The latest figures on income, poverty, and access to health care released by the Census Bureau on Tuesday underscored the extraordinary reach and ferocity of the economic downturn that has battered the United States since 2007. And the results of the latest United Technologies/National Journal Congressional Connection poll conducted last weekend captures how much those trends have eroded faith in Obama's economic management.
---
MORE FROM NATIONAL JOURNAL:
Perry Becomes the Punching Bag in Florida Debate
Rethinking the 2012 Landscape
Bachmann Hits on New Argument for Vaccine Doubters
---
Those intertwined trends mean that, absent a greater economic revival than almost any forecaster now projects, Obama's top political priority next year may be convincing voters not to view 2012 primarily as a referendum on his first term. These dynamics suggest that he will face enormous pressure to instead shift the campaign's focus toward a choice with the eventual GOP nominee--particularly over their contrasting plans for reviving the economy and their disagreements on cultural issues such as abortion.
"The other side has got to accept that ... you can't run on your accomplishments, because things are going to hell in a handbasket, and you've got to make the issue something else," says Neil Newhouse, the pollster for GOP presidential contender Mitt Romney. "Usually, most candidates, when they are facing that situation, decide to train their focus on the opposition."
The census report documents an economic free-fall stunning in its breadth. Since 2007, the bureau reported, the median household income for all Americans has dropped by 6.4 percent, the biggest decline the government has recorded in any three-year period since it began reporting data in its current form during the 1960s.
Since 2007, the median household income for both whites and African-Americans declined more than in any other three-year period covered by the current data series. Hispanic household incomes suffered a loss exceeded only during the recessions of the early 1980s and 1990s.
Similarly, since 2002, median yearly earnings for full-time workers, when measured in inflation-adjusted dollars, have declined for both men and women at every major level of education--from high school, to community college, to at least a four-year college degree. The median yearly earnings for men with at least four years of college declined even more than the earnings for men with less education (although, in a different measure of distress, nearly 900,000 fewer high school-educated men earned full time wages last year than in 2002).
Such dispiriting results help explain the panoramic discontent recorded in the latest Congressional Connection Poll. (The poll, conducted by Princeton Survey Research Associates International, surveyed 1,010 adults from September 8-12 on most questions, including those discussed here; it has a margin of error of plus or minus 3.6 percentage points.)
In the poll, there was no major demographic group in which a majority of those surveyed said that Obama's economic policies have improved the economy. Even among African-Americans, just 40 percent said that Obama's efforts had improved conditions. He inspired even fainter praise among other groups central to his coalition, including adults under 29 (just 25 percent of whom said he had improved things), independents (18 percent), and college-educated white women (also 18 percent). Hispanics were cool, too.
Indeed, there was little difference on this crucial assessment between groups that favored Obama last time and those that resisted him, such as white men without a college education (just 16 percent better) and white seniors (15 percent better). Whites earning more than $75,000 annually were somewhat more positive than lower-income whites, but nearly half of both groups said that his policies had worsened conditions.
Geoff Garin, a veteran Democratic pollster working with the independent pro-Obama super PAC Priorities USA, says that the president can win a second term even if voters render a mostly negative verdict on his first. In that circumstance, Obama can still pin "the lack of progress primarily ... on Republican obstructionism, as opposed to bad policies, and there is increasing credibility for that case," Garin said. "The second thing is really being able to pose a choice between where Obama proposes to take us from here and where Republicans propose to take us."
The new Congressional Connection poll offers some encouragement for that strategy. Obama's proposals for invigorating job growth generally drew better responses than the Republican alternatives. But Newhouse argues that Obama could win the battle over his forward-looking plan and still lose the war if the public verdict remains preponderantly negative on his performance so far. "He can win the forward debate, but if he's lost so miserably the debate over what's happened over the last four years, then nobody is going to believe him," Newhouse said. "He's got a record that he will be held accountable for."
Image credit: Jason Reed/Reuters