Obama's Key States Are Among the Hardest Hit by Recession
As the president embarks on a difficult re-election bid in 2012, the lagging economy will hurt him even worse in the places that count
As the president embarks on a difficult re-election bid in 2012, the lagging economy will hurt him even worse in the places that count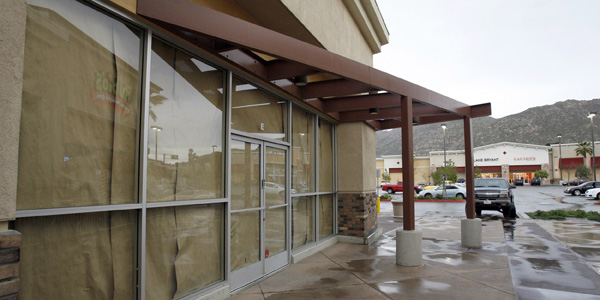 New census data show that the Great Recession and its aftermath have battered virtually every state in the nation--and that some of the heaviest blows have landed on states that may loom the largest in the 2012 presidential election.
---
MORE FROM NATIONAL JOURNAL:
Wiping Them Out One by One
For Congressional Disapproval, Dem Insiders Blame GOP, GOP Blames Everyone
Will Congress Ever Get Along?
---
Figures from the U.S. Census Bureau's annual American Community Survey, released in late September, reveal not only how deeply but also how broadly the economic downturn has scarred the nation. The new numbers on income, poverty, and access to health insurance capture how the past two years have both deepened the distress of metal-bending states such as Michigan and Ohio (which have long struggled with the decline of traditional manufacturing) and humbled many of the past decade's highest fliers (Arizona, Nevada, Georgia, and Florida) where growth had long fed on itself in what looked like a cycle of perpetual prosperity.
Indeed, the starkest message may be that, with the partial exception of a few energy producers, practically no state has avoided serious pain. Median family income has declined in every state except North Dakota since 2008. "Everyone is under some type of water at this point," says Chris Christopher, a senior principal economist for the consulting firm IHS Global Insight.
But while virtually all states have lost ground since 2008, a National Journal analysis of the census survey found that many of the swing states likely to decide the 2012 election have suffered the heaviest losses. The nine states that switched from voting for George W. Bush in 2004 to Barack Obama in 2008 experienced a greater decline in their median family income than did the nation overall. It's the same story in the partially overlapping list of 14 states in which Obama attracted between 45 and 55 percent of the vote last time. Both groups, according to separate employment figures from the Bureau of Labor Statistics, have also lost a higher percentage of their jobs since 2008 than the nation overall.
That's because the economic crisis did much of its deepest damage in the Rust Belt, which includes many of American politics' traditional battlegrounds, and in the Sun Belt, which contains many of the newly emerging swing states. This concentration compounds President Obama's political challenge as he works to assemble a 270-vote Electoral College majority. "It will force him to play defense and put into play states that he didn't expect to have to defend," Republican pollster Glen Bolger says.
The president still has some time for the economy to show more signs of life--and a potential case to make even if it doesn't. Across the country, the pain under Obama's watch is a continuation of the crisis that began late in George W. Bush's presidency. But, even so, the census results suggest that in essentially no state could the president feel safe asking voters the question that Ronald Reagan made famous: Are you better off than you were four years ago?
A CONTINENT-SIZED STORM
The census numbers portray the Great Recession and its grueling aftermath as a storm that has stretched from coast to coast and border to border. On every key measure, the damage has been not only deep but also broad. "The whole private economy has been hammered, really," says Mark Muro, a senior fellow and the director of policy at the Brookings Institution's Metropolitan Policy Program.
National Journal analyzed the American Community Survey data to assess the economic trajectory of the states during Obama's presidency. The annual ACS reports on about 3 million households and provides the most detailed data on economic and social conditions below the national level. In each case, NJ compared the findings for 2010, the latest available, to the results from 2008, the Bush administration's last year. To complete the picture, National Journal also used data from the Bureau of Labor Statistics and the Federal Housing Finance Agency to track the trajectory of state-level trends in employment and housing prices from 2008 until now.
No state avoided losses on at least one of the three major census measures that NJ analyzed: median family income, poverty, and access to health insurance. The pictures on income and poverty are especially sobering. From 2008 through 2010, the median family income, measured in inflation-adjusted dollars, declined in every state except North Dakota, which enjoyed a 5 percent increase thanks to an oil and natural-gas boom.
Twenty states saw their median family incomes plummet at least a dizzying 5 percent over those two years. The largest losses were clustered in the twin poles of Sun Belt and Rust Belt states: on the one hand, Arizona, Georgia, Florida, Nevada, Alabama, North Carolina, California, and South Carolina; on the other, Michigan, Indiana, and Ohio. (Oregon was the only state among the dozen largest losers that is not in either the Sun Belt or the Rust Belt.) A more diverse list of 17 other states lost between 3 and 5 percent of median family income.
On poverty, the damage was equally dispersed, although the patterns of distress were less uniform. From 2008 to 2010, the share of people living in poverty increased in every state except Montana (whose small improvement in its poverty rate was within the survey's margin of error). In a dozen states, the proportion of residents living in poverty increased by at least 20 percent over just those two years; in another 25 states, the poverty rate increased by at least 10 percent. After this rapid deterioration, at least one in 10 residents are now living in poverty in every state except Alaska, Maryland (both registered a hardly comforting 9.9 percent), and New Hampshire (at 8.3 percent).
The picture is more mixed on access to health insurance. From 2008 to 2010, the share of residents without insurance rose in 35 states, with Hawaii, Rhode Island, Kansas, Virginia, and Kentucky experiencing the largest increases. In another 15 states, the percentage of uninsured people declined. But in each direction, most of the changes were quite small and in many cases within the survey's margin of error (which varies by state). In no state did the pool of people without insurance increase or decrease by more than 1.8 percentage points. On health care, then, the overall picture is one of stagnation over the past two years.
At least 10 percent of residents are uninsured in all but nine states. Massachusetts--with just 4.4 percent, the lowest rate in the union--is the bookend to the unequaled 23.7 percent who are uninsured in Texas.
The trends in employment complete the picture of a continent-sized storm. From December 2008 through August 2011, the latest month for which BLS figures are available, the number of people with jobs declined in every state except three big energy producers: Texas (where employment increased a slim 0.4 percent), Alaska (up 1.9 percent), and North Dakota (up 7.2 percent). Nevada was the biggest loser: It has shed a stunning 8 percent of its jobs since 2008. Georgia and Arizona also suffered losses greater than 5 percent, followed by Alabama, North Carolina, Kansas, Delaware, California, and Indiana.
Measured in absolute rather than percentage terms, 10 states have lost at least 100,000 jobs since December 2008. Once again, the big losers cluster around the Sun Belt and the Rust Belt. In the former, they include California (by far the most affected with nearly 600,000 jobs gone), Florida (276,000 lost), Georgia (211,000), North Carolina, and Arizona. The big Rust Belt losers were Illinois, Ohio, Michigan, and Indiana. (Among the biggest losers, New Jersey is the only state to break that regional pattern.)
In parallel fashion, the unemployment rate increased over that same period in every state except North Dakota. As of August, nine states reported double-digit unemployment, most of them along the Sun Belt: from North Carolina, South Carolina, Mississippi, Georgia, and Florida in the East to California and Nevada in the West. (Michigan and Rhode Island are the other two.)
Across all these fronts, only a few factors appeared to provide even partial shelter from the storm. On many measures, as noted above, the energy-rich states of Texas, North Dakota, Oklahoma, and Alaska performed somewhat better than other states. Likewise, the 10 states with the highest proportion of college graduates suffered proportionally smaller losses in income and jobs than the other 40. But even that defense wasn't impregnable: The states ranked 11 through 20 in college graduates experienced even greater income and job losses than those below them on the educational ladder.
Although states found no firewall against the downturn, the greatest source of vulnerability appears to have been real estate. According to the Federal Housing Finance Agency's quarterly home-price index, from the fourth quarter of 2008 through the second quarter of 2011, housing prices fell in every state except Oklahoma and North Dakota. (Texas managed to hold its decline to less than 1 percent.)
The states where housing values fell the most also tended to fare the worst on the other key measures--income and employment. Of the 25 states in which housing prices declined most sharply, 20 also rank among the top 25 in job losses. Eighteen of those 25 housing-crash states are among the 25 biggest losers in median income. Likewise, 18 are among the 25 states that experienced the largest increase in poverty. "To me, the original sin remains the housing crash and the huge depression of demand" that it created, Muro said. "No matter what else you were doing, if you were too heavy into the real-estate crash, it is absolutely lethal."
The housing crash pulverized states--such as Arizona, Nevada, Florida, and California--that had developed economies where, as the saying went, construction workers were building houses for other construction workers. But the ripple effects also cascaded into states where the housing markets had not overheated so badly.
Many Sun Belt states, such as Georgia and North Carolina, have relied heavily for their growth on a steady stream of new residents and businesses, notes Jeff Humphreys, director of the Selig Center for Economic Growth at the University of Georgia's business school. But the collapse in real-estate values has made it tougher for individuals and employers to pick up and relocate.
"A lot of Sun Belt states became very dependent on an inflow of new migrants and businesses to keep up employment in the services [associated with] new development," Humphreys says. "It was a virtuous cycle of economic development. Suddenly, there's a drought in construction and a dearth of new residents, and it has resulted in a very large and painful restructuring of the economy in Georgia and other Sun Belt states." Growth in the region, he predicts, won't truly take off until "the housing market is functional again." And that's not likely to be any time soon.
THE POLITICAL STAKES
This map of economic pain intersects with the political map at the points of maximum vulnerability for Obama. The population-shedding Rust Belt states represent the most fiercely contested traditional battlegrounds in presidential elections; many of the Sun Belt states, shaped by rising education levels and an increasing population of minorities (especially Latinos), are emerging as the pivotal new swing states.
Given that overlap, it may not be surprising that the tipping-point states in the 2008 presidential election have generally lost more ground since that year than states that were safely in either the Democratic or the Republican camp, and more than the nation overall. Consider the nine states that provided Obama's margin of victory by switching from Bush in 2004 to Obama in 2008. That list includes Indiana, Ohio, and Iowa in the heartland; and Virginia, North Carolina, Florida, Colorado, New Mexico, and Nevada across the Sunbelt. Cumulatively, they lost 3.5 percent of their jobs since 2008--well above the national average of 2.6 percent. They also suffered increases in poverty rates (18.5 percent) and a loss of income (5.3 percent) well above the national average.
The story is similar in the somewhat overlapping list of 14 states where Obama captured 45 to 55 percent of the vote last time. These highly competitive places include several of the states that Republicans are most optimistic about recapturing in 2012, including Ohio, New Hampshire, North Carolina, Iowa, and Pennsylvania, as well as three states that John McCain won in 2008 that Obama's team had hoped to target next year--Montana, Arizona, and Georgia. These 14 states also experienced a greater loss of jobs (3.1 percent) and income (5.3 percent) than the nation overall.
The especially wrenching experiences of Arizona and Georgia (which rank first and second in loss of income, respectively, and third and second in percentage of jobs lost) will make it tougher for Obama to contest them despite their growing racial diversity. The more pressing problem for the president is the widespread difficulty in states that he won--not only swing states such as Florida, North Carolina, and Ohio--but also "blue-wall" states such as Michigan and Wisconsin that have voted Democratic in at least the past five presidential elections. "If things stay the way they are today, Ohio is a state that leans Republican, and Michigan is extraordinarily competitive for either side," says GOP consultant Terry Nelson, the field director for Bush's 2004 campaign.
The persistence of these economic strains leaves virtually no chance that the economy will produce enough of a recovery over the next year for Obama to run a campaign celebrating a full-fledged turnaround, as Reagan did with his "Morning in America" boast in 1984.
In both parties, most strategists agree that Obama has two potential paths for 2012. At best, Democratic pollster Guy Molyneux says, the economy might produce enough positive signs for Obama to echo Reagan's 1982 "stay the course" argument. "I don't think people's only benchmark will be the end of 2008," Molyneux says. "I think people's critical thing will be, do they feel Obama has got us on some kind of forward path, even if it is painfully slow. If these states show some growth, he can make the Reagan case that 'I've got a plan. I've got us moving in the right direction again. Stick with me, and I'll get us where you want to go.'"
Even the more-recent trends, though, offer only limited fuel for that argument. From 2009 to 2010, the American Community Survey recorded increases in the median income in just five states (South Dakota, Maine, West Virginia, North Dakota, and Virginia), and, in each case, those improvements were so slight that that they fell within the survey' s margin of error. Since last December, employment has increased in 44 states, but generally by very modest amounts. Only six states have added as many as 50,000 jobs since then. Just four have increased their total employment by as much as 2 percent.
If the recovery doesn't accelerate considerably beyond that level, Molyneux and others agree, the president will be compelled to stress "much more of a contrast message--that these Republicans are going to take us down if you let them in power again." History suggests that's a tough argument to sell. But such are the unappetizing options available for an incumbent when economic suffering, like an early frost, blankets almost every state on the map and falls especially hard on the states he needs the most.
Image credit: Mario Anzuoni/Reuters