Obama's Big Slide: Most Discouraging Numbers for the President
His poll ratings have hit new lows. Here are the numbers that should worry the White House the most.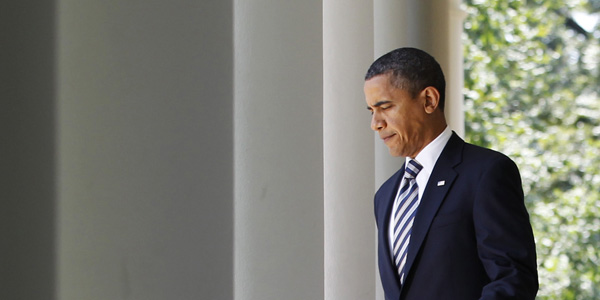 Remember when President Obama was popular? It wasn't that long ago.
In early May, the successful assassination of Osama bin Laden lifted Obama above the 50 percent approval threshold as measured by every major, national polling agency other than Rasumssen. In early June, his numbers approached those he saw during the 2008 election contest. National Journal's Ron Brownstein wrote at the time that those gains could have been "heavily influenced" by bin Laden's death and could be reversed by a stagnant economy.
And that's exactly how it's played out.
For nearly two months, Obama kept his head above the opinion waters, with more Americans approving of him than disapproving. But in late June, with no significant gains on employment, a stagnating war in Libya, and a debt-ceiling fight beginning to break out, Gallup (the firm that usually gives Obama his highest marks) showed a sharp reversal, with 50 percent disapproving of Obama and only 43 percent approving. It's been downhill since then.
A trio of new polls from NBC/The Wall Street Journal, ABC/The Washington Post, and Politico/George Washington University confirm it: Obama has reached new lows on multiple fronts. Here are the numbers he should worry about most:
By a margin of two to one, respondents said his policies are making the economy worse, not better. ABC/Post: 34 percent said "Obama's economic program is making the economy" worse, 17 percent said it's making the economy better, and 47 percent said it's having "no real effect." Meanwhile, 36 percent said they approved of Obama's efforts to create jobs, while 62 percent said they didn't.
His overall job approval ratings are the lowest of his presidency, according to ABC/Post and NBC/WSJ -- worse, even, than during the 2010 midterm elections, when Republicans took over the House of Representatives. ABC/Post: 43 percent approve, while 53 percent disapprove. NBC/Wall Street Journal: 44 percent approve, while 51 percent disapprove.
Approval ratings on the economy are also the lowest of his presidency, according to ABC/Post and NBC/WSJ, reaching deficits of over 20 percentage points. ABC/Post: 36 percent approve, while 62 percent disapprove. NBC/WSJ: 37 percent approve, while 59 percent disapprove.
His re-election polling looks bad, too. Obama trails a generic Republican in election polling, NBC/WSJ finds: 40 percent said they would vote for Obama if the 2012 election were held today, while 44 percent said they would vote for a generic Republican. According to Politico/GWU, 43 percent said they would definitely vote against Obama in 2012, while only 26 percent said they would definitely vote for him.
More Americans think the country is heading in the wrong direction than at any other time in Obama's presidency. ABC/Post: 20 percent said the country is heading in the right direction, while 77 percent said it's on the wrong track. NBC/WSJ: 19 percent said the country is heading in the right direction, while 73 percent said it's on the wrong track. Politico/GWU: 19 percent said the country is heading in the right direction, while 73 percent said it's on the wrong track.
His charm is wearing off. Even when Obama's approval ratings have dipped into negative territory, he has shown strong favorable ratings. In other words, people like the guy, even when they don't think he's doing a good job. Not anymore, according to NBC/WSJ: 44 percent said they feel positively toward him, while 44 percent also said they feel negatively about him. It was the first time Obama had failed to record a positive differential in NBC/WSJ polling since he became president.
The first number is perhaps the most discouraging for Obama this week. On Thursday night, he'll roll out a jobs agenda in a speech to Congress that will be televised nationally, and typically such an address would supply an opportunity to take control of the national discussion, exploit the bully pulpit, and let the public know he's actively working to make things better.
But with such little faith in the president right now -- and particularly in his ability to create jobs -- it's hard to imagine many people will want to listen to what he has to say.
Since the beginning of his presidency, pundits figured Obama's political prospects were tied to the national unemployment rate. That rate has remained steady, sitting at 9.1 percent in August, unchanged from the previous month. With the economy failing to improve, all those simple prognostications about Obama's popularity are coming true.
While things look bad for the president, they don't look too good for Republicans, either. According to the ABC/Post numbers, only 28 percent approve of Republicans in Congress, while 68 percent disapprove. In that same poll, Obama bests congressional Republicans in confidence on who can better handle the economy, as 42 percent trust the president more, while 39 percent trust congressional Republicans.
On the bright side for the president, there's plenty of blame to go around.
Image credit: Jason Reed/Reuters