Obama to Congress: 'Pass this Bill'
The president laid out the elements of his $447 billion jobs package in a primetime speech, telling lawmakers it's their responsibility to approve it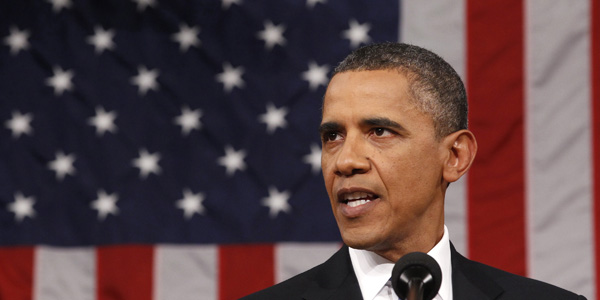 President Obama called on Congress Thursday night to "stop the political circus and actually do something to help the economy," urging approval of a $447 billion mix of tax cuts and spending he called vital to put people back to work. The package was larger than expected but the president pledged it would not add to an already historic deficit.
---
MORE FROM NATIONAL JOURNAL:
Congress Approves Historic Patent Legislation
Perry on the National Stage: Powerful but Unpolished
Perry: Obama's Worst Nightmare
---
Addressing a Congress partially controlled by Republicans highly skeptical of much of his program and a nation weary of waiting for recovery, the president did not say how many jobs would be created if Congress were to pass all elements of his plan. But he cast speedy congressional action as critical to attacking an unemployment rate that remains stubbornly above 9 percent.
Obama implored lawmakers not to wait for next year's election before acting. "The people who sent us here - the people who hired us to work for them - they don't have the luxury of waiting 14 months," he said, lamenting the "same old press releases and tweets flying back and forth."
And he warned them that this will not be his last economic plan. "What's guided us from the start of this crisis hasn't been the search for a silver bullet," he said. "It's been a commitment to stay at it, to be persistent, to keep trying every new idea that works."
Obama cast this as a choice between throwing a lifeline to hard-hit Americans, and doing nothing. "The question is whether, in the face of an ongoing national crisis, we can stop the political circus and actually do something to help the economy," he said. While acknowledging that most jobs are created by the private sector, he said government "can help. We can make a difference."
He coupled his pleas for action with a call to the 12-member super committee set up by last month's debt deal to come up with additional spending cuts to pay for the "American Jobs Act" that includes $253 billion in tax cuts and $194 billion in spending. The tax cuts include $175 billion for an extension of last year's reduction in the employee payroll tax; $65 billion to cut employer payroll taxes in half and $5 billion for a bonus payroll tax cut for new hires. Under his proposal, taxes would be halved on the first $5 million in wages, which the White House said would benefit 98 percent of all businesses.
The new spending would include tax credits for companies hiring veterans, aid to state and local governments to prevent the layoffs of police, firefighters and up to 280,000 teachers, the modernization of 35,000 public schools, $49 billion to reform unemployment insurance and extend benefits for the long-term unemployed, and a $10 billion infrastructure bank to help modernize roads, bridges, railroads and airports.
The president insisted that most of the elements of the package have previously been supported by many Republicans, arguing that makes them bipartisan. That drew no applause from House Speaker John Boehner, R-Ohio, who spent most of the address sitting somberly behind Obama. Boehner and others in the GOP congressional leadership complained that they had not been consulted prior to the speech, which many of them saw as designed primarily to save one job - the president's.
"Every proposal I've laid out tonight is the kind that's been supported by Democrats and Republicans in the past," Obama said. "Every proposal I've laid out tonight will be paid for. And every proposal is designed to meet the urgent needs of our people and our communities."
But he acknowledged that "some of you have a different theory on how to grow the economy." And there were elements of his plan that are decidedly unpopular among Republicans. His call to eliminate tax loopholes for oil companies is a non-starter with the GOP. But still he stumped for it, insisting, "This isn't political grandstanding. This isn't class warfare. This is simple math."
And he served notice to Republicans that he will stand in their way when they attack health and safety regulations. "What we can't do - what I will not do - is let this economic crisis be used as an excuse to wipe out the basic protections that Americans have counted on for decades," Obama said. "I reject the idea that we need to ask people to choose between their jobs and their safety."
He also urged the Congress to reform a corporate tax code he called "a monument to special interest influence in Washington."
Image credit: Kevin Lamarque/Reuters