Obama Approval Ratings Hit All-Time Lows in New Surveys
The president is ending the summer with the worst marks of his White House tenure, according to two polls released Tuesday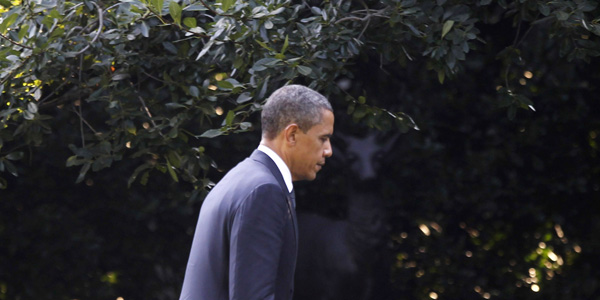 ABC News/Washington Post and NBC News/Wall Street Journal polls released early Tuesday show President Obama with the lowest job ratings of his tenure, leading Democratic pollster Peter Hart, who conducted the NBC News/Wall Street Journal poll with Republican pollster Bill McInturff, to proclaim that "Obama is no longer the favorite to win re-election."
---
MORE FROM NATIONAL JOURNAL:
Readers Remember 9/11
Many Appointees Await Fate of CFPB Nominee
Herman Cain Charges Democrats With Trying to Intimidate Tea Party
---
In the ABC News/Washington Post poll, 43 percent of Americans disapprove of the job Obama is doing, while 53 percent disapprove. Obama's previous low in the ABC/Washington Post poll was 52 percent, recorded almost exactly a year ago after yet another summer slump for Obama.
In the NBC News/Wall Street Journal poll, Obama's approval rating stands at 44 percent, while 51 percent disapprove.
Perhaps more ominously, Americans may also be souring on Obama personally. In the NBC News/Wall Street Journal poll, equal percentages of Americans -- 44 percent -- had positive and negative feelings toward Obama. The percentage of Americans who views Obama negatively is at an all-time high, while the percentage holding positive feelings is at its lowest point since late 2007, during the campaign.
The erosion of his personal and job ratings has taken a toll on Obama's re-election prospects, according to the NBC News/Wall Street Journal poll. A plurality of registered voters now say that they will probably vote for the Republican candidate for president in 2012; a generic Republican leads Obama, 44 percent to 40 percent.
Obama does have a scant, one-point lead over former Massachusetts Gov. Mitt Romney, 46 percent to 45 percent. But the two are now neck-and-neck, down from a six-point Obama advantage in July.
Obama starts with a five-point lead over Texas Gov. Rick Perry, 47 percent to 42 percent. The new poll is the first time Perry has been matched up against Obama.
A plurality of voters also prefer a Republican-controlled Congress, 47 percent to 41 percent. Even in October 2010, before the GOP regained control of the House, Democrats led on that measure by two points.
The ABC News/Washington Post poll was conducted Aug. 29-Sept. 1 by Abt-SRBI, surveying 1,001 adults. The margin of error was +/- 3.1 percent.
The NBC News/Wall Street Journal poll was conducted Aug. 27-31 by a bipartisan team of pollsters. That poll surveyed 1,000 adults, with a margin of error of +/- 3.1 percent; the margin of error is higher for subgroups, such as registered voters.
Image credit: Jason Reed/Reuters