Mitt Romney's Tea Party
The former governor has described the movement as an accepting sect that welcomes outsiders -- which is how it wants to be seen
The former governor has described the movement as an accepting sect that welcomes outsiders -- which is how it wants to be seen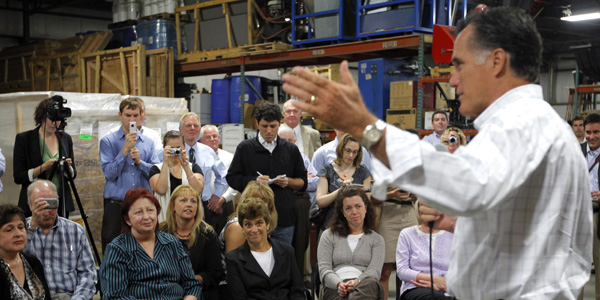 Until now, former Massachusetts governor Mitt Romney was the only Republican presidential candidate, with the exception of former Utah governor Jon Huntsman, to show virtually no interest in the tea party since its inception.
While Tim Pawlenty craned and gyrated to fit under the movement's ideological limbo stick, adding flares of indignation and fiscal conservatism to his stump speeches, Romney generally shrugged, in the same way he shrugged off a question about whether his No Apology book tour could match the fervent crowds drawn by Sarah Palin for Going Rogue signing events. (The answer was no.) Romney made no attempts to mimic the tea party's posture of outrage, and he didn't appear at tea-party rallies to speak, like nearly all of his fellow Republican candidates did routinely.
The tea party wasn't his game. Its adherents weren't going to vote for him anyway -- no use pandering.
Now, to activists' chagrin, Romney is showing newfound interest. The Boston Globe reported that he'll join the latest Tea Party Express bus tour for a speaking appearance in New Hampshire on Sunday and that he'll attend Sen. Jim DeMint's (R-S.C.) candidate forum in Columbia, S.C. on Monday afternoon, after giving indications he would not participate.
Naturally, as Romney begins selling himself to tea-party activists, he's praising the movement. This is how Romney described the tea party in New Hampshire, the Globe reported:
"The great thing about the Tea Party movement is that Republicans of all backgrounds and interests have all coalesced around a few common themes, which is government is too big and spending too much,'' Romney said two weeks ago at a town hall meeting in Berlin, N.H. "I happen to agree with that. You're seeing the Republican Party united in a way that I haven't seen before.''
This is exactly how tea-party leaders like to think of the movement, and it echoes what two of the tea party's most influential organizers have said at different points.
"We tolerate people having completely different views all the time," Tea Party Express founder Sal Russo told me in May of 2010, noting that one of the group's state chairmen vehemently opposed the war in Iraq. Fiscal conservatism, he said, was the uniting cause. "If you [talk about] anything else, you're not speaking for the Tea Party Express."
In several interviews over the past two years, Tea Party Patriots national chairman Mark Meckler similarly stressed the tea party's lone fiscal purpose -- one that obviates unrelated leanings and draws different kinds of people together. He's fond of mentioning Democrats and independents in his group, the nation's largest tea-party membership organization.
It's a vision of the tea party that's consistent with some polling. CBS found last month that 22 percent of Republicans think the tea party has too much influence over the GOP, 26 percent think it has too little, and 41 percent think it has just the right amount -- suggesting 67 percent of Republicans have rallied around the movement's ideas. Romney, Russo, and Meckler also choose not to focus on the prevalent strains of religion and social conservatism that run through the Glenn Beck wing of the tea party, as well as the libertarianism and the fierce anti-Obamaism, motivated by disparate reasons and rationalizations, that one finds at rallies.
As Romney makes his pitch, he's probably saying the right things, cleverly seeking an entry point in the movement's self-proclaimed broad-tentedness. What's up for debate, as some activists reject his entreaties out of hand, is whether or not Romney has the bona fides on that one, core issue.
Romney isn't doing as badly among tea partiers as one might expect. In a 2012 field stacked with tea-party options, Texas Gov. Rick Perry (the perceived cause of Romney's tea-party wooing) is the overwhelming favorite of self-identified tea partiers: He collected 35 percent of the tea-party vote in a Gallup poll last week. But surprisingly Romney ranked second with 17 percent, ahead of Rep. Michele Bachmann (R-Minn.), one of the movement's seeming avatars, who collected 14 percent.
If tea partiers are as open minded as Romney says they are, and wants them to be, he may just hold onto that 17 percent without ceding it to Perry, Bachmann or Herman Cain. If not, things probably won't go so well for him as he takes to the tea-party stage.
Image credit: Bryan Snyder/Reuters