Mitt Romney Crushes in New Hampshire
He may trail Rick Perry nationwide, but the former Massachusetts governor has a clear edge in the Granite State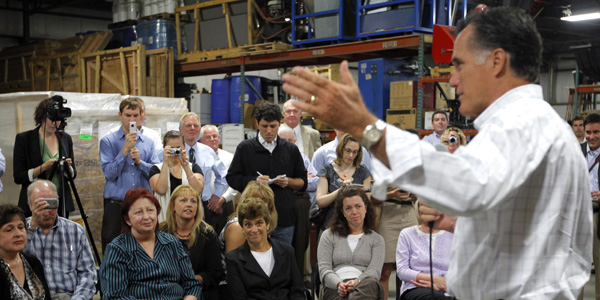 Texas Gov. Rick Perry may be the national frontrunner for the 2012 Republican nomination for president, but former Massachusetts Gov. Mitt Romney holds a commanding lead in the first-in-the-nation primary state of New Hampshire, according to a new Suffolk University poll released late Wednesday.
Romney has a 27-point lead over his closest rival in the state, Rep. Ron Paul (R-Texas), leading Paul 41 percent to 14 percent. Former Utah Gov. Jon Huntsman, who has struggled to gain traction thus far in the campaign, pulls in 10 percent, easily his best showing in any state-level or national poll, outside of his home state.
Perry finishes fourth in the poll at eight percent, a full 33 points behind Romney. He is trailed by former Alaska Gov. Sarah Palin at six percent, Rep. Michele Bachmann (R-Minn.) at five percent, former House Speaker Newt Gingrich with four percent, and former Sen. Rick Santorum (R-Pa.) and former Louisiana Gov. Buddy Roemer each earned just one percent.
Romney posts an even higher percentage among those most likely to vote (44 percent) and among self-identified conservatives (48 percent).
The poll represents a strong showing for Romney in a state in which he needs a resounding victory. While there has been little quality polling in Iowa since Perry entered the race, all indications are that the Texas governor will run strong there. Meanwhile, a Winthrop University poll released Tuesday showed Perry narrowly ahead in South Carolina, which casts its ballots after New Hampshire.
If Perry wins Iowa and South Carolina, a big win in New Hampshire would allow Romney to take his campaign to the next tier of early-voting states, such as Nevada, Michigan, Florida and Arizona, where he would have the opportunity to capture the momentum heading into Super Tuesday.
The Suffolk University poll was conducted Sept. 18-20 for Boston-based WHDH-TV, surveying 400 likely Republican primary voters. The margin of error is +/- 4.9 percent.
Image credit: Brian Snyder/Reuters