Israel and Obama: Big Issues in the Race to Replace Weiner
A new poll shows the Republican in the lead in this traditionally Democratic Queens district. We talked with the Democrat about his chances.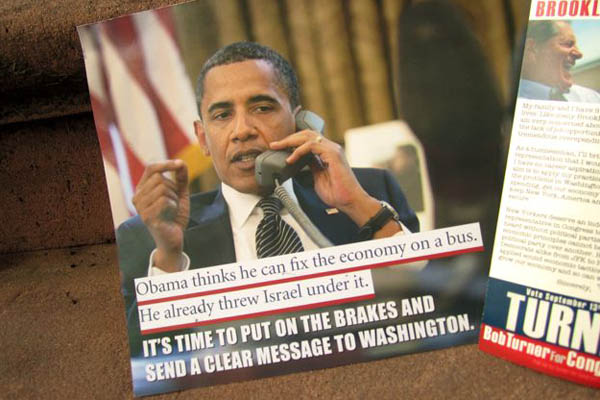 BROOKLYN, N.Y. -- National Democrats are scrambling to retain the New York City congressional seat once held by Anthony Weiner as a new poll shows Republican Republican Bob Turner with a six point lead in advance of voting Tuesday in the special election in state's 9th District.
I caught up with Democratic candidate David Weprin last night and asked him what role he expects the big Democratic groups to play in these final heated days of the race, which has taken on an increasingly national tone and will certainly been seen as having national significance should Turner take the seat. The Democratic Congressional Campaign Committee already has dropped $500,000 on ads in the unexpectedly close race.
"Yeah, I read that," the New York State Assemblyman observed shortly after 10 p.m. last night outside Bet Shaul U'Miriam in south Brooklyn's Midwood section. "I read the same blogs you do," he said with a laugh. "We're not coordinating anything, and I have no idea the amount or degree."
Whatever help it has given, the DCCC also was curiously tone-deaf when it announced it would launch an ad the week before the 10th anniversary of the September 11 attacks showing Turner in a plane over the New York City skyline. The committee pulled the original ad and edited out that image.
How about Organizing for America? "Organizing for America?," Weprin said, turning to an aide. "Avi, is Organizing for America doing anything?"
Weprin turned back to me. "Who are they again?"
The White House, I offered. Or, rather, President Obama's organization inside the Democratic Party. The aide indicated in the negative. Said Weprin, "No, they're not doing anything, as far as I know."
OFA's national field director Jeremy Bird sent out an email earlier this week calling for volunteers to phonebank against the alleged intention of Turner, a former cable executive, "to make massive changes to Medicare and Social Security that would raise costs for future retirees." But that effort seems to have been invisible to the candidate. The DCCC also has called for volunteers to turn out on his behalf.
Both Weprin and Turner have proved hungry to inject national issues into the race, with the Democrat's surrogates branding the Republican "Tea Party Turner" and Turner painting Weprin as someone who shares Obama's stand on Israel, particularly his support for returning the country to its pre-1967 borders. The 9th has a large and vocal Jewish population, and Obama's allegedly confused record on Israel is being tied to his equally adrift economic stewardship.
"Obama thinks he can fix the economy on a bus," reads an anti-Weprin flier handed out yesterday afternoon at a GOTV rally at Aron's Kissena Farms, an upscale kosher supermarket in Queens. "He already threw Israel under it."
The flier was paid for by the Turner campaign and the National Republican Congressional Committee, it said.
"If you vote for Weprin," said Michael Greene, 70, outside the supermarket, where shoppers stocked up pre-Sabbath, "you're telling Obama that you support dividing our tiny state into two sides: one terrorist, and one side that has to defend itself day and night. A vote for Weprin is a vote for that man."
Weprin, who is an Orthodox Jew, rejected the idea that Turner's election in the overwhelmingly Democratic district would be some sort of meaningful slap against the President's Israel policy. He'd have more influence as a freshman member of Obama's own party, Weprin has argued, than Turner would in opposition. The local Jewish Press seconded that idea in its endorsement of Weprin.
Regardless, he's not going out of his way to tie himself to the president. Outside the Midwood Shul, the candidate responded to an older couple who asked about the president.
"I've never met him," said Weprin of Obama. "But I know he's not happy about some of the statements I've made disagreeing with him. And I look forward to meeting him."