'I Wasn't Born at Harvard': Elizabeth Warren Meets the Voters
Now running for the U.S. Senate, the consumer advocate conservatives love to hate turns out to have a deft touch on the stump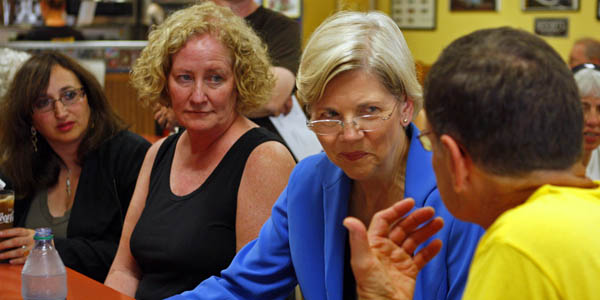 SPRINGFIELD, Mass. -- "Could we get a picture? Let's do a picture! I love doing pictures!" Elizabeth Warren exclaimed. It was Day One of her U.S. Senate campaign and about Minute Five of her visit to The Student Prince, a German bierhaus bedecked with thousands of beer mugs. And to my surprise, the bespectacled Harvard professor seemed in her element.
I confess I was among the many who wondered if Warren would come across as the out of touch Ivy-Leaguer that Republicans are trying to portray her as -- and curious if, like the ill-fated Martha Coakley, she would be terrible at politics. Maybe it's rash to make a judgment so early in her campaign, but Wednesday's appearance suggested that if she wins the Democratic nomination, she could give Republican Sen. Scott Brown quite the race.
Warren has no barn-coat, battered-truck "schtick," as one voter called Brown's everyman campaign persona. Nor does she plan to pose for a nude centerfold, as Brown did for Cosmopolitan while a young man. "I'm not competing there," she told me with a laugh.
But she will be competitive in ways that people may not expect. First, Warren seems to enjoy campaigning and demonstrates as much warmth and "relatability" as any seasoned pro on the trail. Hardly anyone went untouched of the dozens waiting to greet her at The Student Prince, the fifth and last stop of her announcement tour. I mean that literally -- she dispensed hugs and arm-pats to nearly everyone, clasped many hands with both of hers, and seems to have perfected the art of intense eye-contact, the kind that makes people think they are the only person in the room.
Few can match Brown's gripping biography, from his upbringing amid alcoholism, poverty and domestic violence, to his education at Tufts and Boston College law school, to his careers in modeling, the military and politics. Yet Warren, a native of Oklahoma, also has a compelling tale that she often telescopes into a few vivid sentences. After her father had a heart attack, she says, her family existed on "the ragged edge" of the middle class. "We lost our car. We almost lost a house," she told one man at The Student Prince. She later told reporters that she was babysitting by age 9, waiting tables at 13, married at 19, a mother and elementary school teacher at 22.
As for Republicans who dismiss her as a liberal academic, "I grew up hanging on to the edge of the middle class by my fingernails," Warren said. "All I can say is I've been there. I've lived this. My family lived one pink slip, one bad diagnosis away from falling off the economic cliff. Yeah, I've got a fancy job at Harvard and I've gotta tell you, I'm proud of that job. I worked hard to get there. I wasn't born at Harvard. I was born to a family that had to work for everything it's got."
Brown cultivated independents and a moderate image en route to his stunning victory in the special election for Ted Kennedy's seat early last year. His voting record is a pastiche that offers ammunition for both parties. On the conservative side of the ledger, he opposed the DREAM Act and the Affordable Care Act and voted against Supreme Court nominee Elena Kagan and Craig Becker, named to the National Labor Relations Board. On the other hand, he voted against GOP Rep. Paul Ryan's controversial budget cuts, for the Dodd-Frank Wall Street regulation law and for the repeal of the military's don't ask, don't tell policy on gay troops.
Warren is by far the biggest name in the Democratic primary and is already pulling in national money from Democrats determined to oust Brown. By midday Thursday, she was the "busiest recipient" at the ActBlue.com fundraising clearinghouse, with more than $310,000 in contributions. EMILY's List sent out a fundraising email on her behalf headlined "It's on in Massachusetts," asking members to "stop Scott Brown and the Tea Party in their tracks."
In addition to liberals and women, Warren can expect strong support from labor. She energized a union audience on Labor Day in a populist speech that included a mention of her brother, a retired crane operator who was a union member. She also has close ties to small business. Her daughter runs one, she told a voter, and wants a simpler tax code. She knows there are loopholes that might help her, Warren said, but she can't afford to hire a lawyer to find them.
While Warren is a heroine in some circles for conceiving, pushing and setting up a Consumer Financial Protection Bureau that passed last year in a Wall Street reform bill, it's unclear how much Massachusetts voters know about her. Six men walking into The Student Prince during her visit said they were there for dinner, not Warren. "Who's she?" one of them asked.
Given the money flowing to her campaign, it's a good bet almost everyone in the state will end up knowing some version of Warren's David & Goliath tale: Taking on banks and Wall Street to protect regular people just trying to get fair deals on mortgages, credit cards and student loans. It's a message with potential. Philip Jubinville, 58, of Holyoke, an accounts manager for a manufacturing firm, quoted a TV clip in which Warren talked about seniors getting by on less while big corporations don't pay any taxes. "That sticks in my craw," Jubinville said as he awaited Warren at the bar. "There's something fundamentally wrong with that."
When Republicans vowed to block Warren's nomination to head the agency she created, Obama nominated someone else. That was a disappointment to many, but maybe one with a silver lining. It seems likely that Warren in the Senate would have more and broader influence on the course of the nation -- if she can figure out how to accomplish anything within that clotted institution.
"It's a kind of question of what you see as possible," Warren told me when I asked about that. She said the new consumer protection bureau is proof that even outsiders, as she has been until now, can make a difference. "If you're actually on the inside making that kind of noise, pushing that hard, organizing a lot of people to push in the same direction, I think change is possible," she said.
EMILY's List says Republicans have been "quaking in their boots" at the prospect of a Warren run. That's probably an overstatement. Still, the word you hear most often from Warren supporters, when asked what they like about her, is "tough." As James Harmon, 32, a Springfield minister, put it: "She's very tough. She speaks her mind. She really knows what she wants."
Right now that's a Senate seat. Quaking or not, Republicans and her Democratic primary rivals are well aware that the last thing Warren wanted, she got.
Image credit: REUTERS/Adam Hunger