GOP Debates Will Draw Contrasts in the 2012 Field
Televised forums matter in the current Republican race, as candidates can sink or swim with performances on the big stage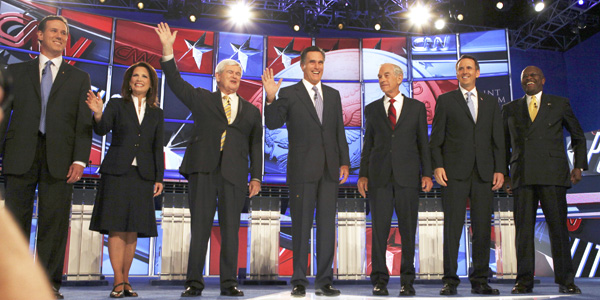 Those who say that presidential campaign debates don't matter should talk to Tim Pawlenty and Michele Bachmann.
Fairly or not, the air seeped out of Pawlenty's once-promising presidential campaign about 17 minutes into the June 13 Republican debate in New Hampshire, when he balked at confronting rival Mitt Romney over his health care record. It was pretty much downhill from there to his third-place finish in the Iowa Straw Poll on Aug. 13. He dropped out of the race the next day.
Bachmann, in contrast, burst onto the national scene in that debate, declaring right then that she was running for president. Her poised, dynamic performance announced Bachmann as a force to be reckoned with. She went on to become the first woman to win the Iowa GOP's famed straw poll.
Considering the ramifications of that one night in Manchester, imagine the potential rat-tat-tat impact of three nationally televised debates in 16 days. With Pawlenty out and Texas Gov. Rick Perry now in, these high-stakes events will set the post-summertime rhythm of the 2012 campaign and reveal how the candidates engage with one another as more voters start tuning into an increasingly hectic race. In one of the most volatile Republican primaries in decades, the lines of argument among the contenders are likely to come into sharp relief by the end of the month.
First up is Wednesday's debate at the Reagan Library in Simi Valley, Calif., sponsored by NBC News and Politico. It will be broadcast live on MSNBC beginning at 8 p.m. ET. Four days later, the candidates will be in Tampa, Fla., for a debate sponsored by CNN and the Tea Party Express. Ten days after that comes a Fox News debate in Orlando just before the state Republican Party's straw poll.
Two high-profile speaking engagements are also in the mix: The first came Monday, a forum in Columbia, S.C. that Perry skipped to return to his state where wildfires have been burning out of control. The second will be the American Conservative Union's conference the day after the Orlando debate. By the time that's all over, the rivals may be finishing each other's sentences.
The biggest question looming over all of these matchups is whether Romney, who has watched Perry erase his months-long lead in national polls, will confront the newly minted front-runner. In two earlier debates, Romney declined to attack his rivals, saving his criticism for President Obama. It's a strategy that has worked for him--so far.
"When you're out ahead as far as Romney was, there wasn't a reason to take the risk and alienate other candidates' supporters, because ultimately you want to gather those supporters when you win the nomination. But that's not his current predicament," said Rick Tyler, a former spokesman for Newt Gingrich, one of the eight candidates who will be on stage on Wednesday. "Romney is going to have to demonstrate that he is a better choice than Governor Perry, and that's a high hurdle.... I think those two will be center stage."
Even before the Texas governor entered the race, Romney had started downplaying his own single term as governor of Massachusetts while highlighting his business career. That presents an obvious contrast with Perry, who has been governor since 2000 and was first elected to public office in 1984. "I am a conservative businessman," Romney recently told a convention of veterans in Perry's backyard of San Antonio. "I have spent most of my life outside of politics, dealing with real problems in the real economy. Career politicians got us into this mess, and they simply don't know how to get us out."
Expect to hear a lot more from Romney during the debates about the "real economy" and "career politicians," although this strategy is far from foolproof. "Real" is an adjective not often applied to Romney, a buttoned-down multimillionaire from Massachusetts who recently has faced awkward questions about his plans to expand his beachfront house in La Jolla, Calif. Perry may be a "career politician," but he is much better than Romney at connecting with an audience.
Still, the less-seasoned debater from Texas is new to the extraordinary pressures of a nationally televised debate with eight candidates on stage. His rocket-fueled trajectory in the polls demands that he back it up with a strong debate performance. He's already come up with a snappy retort to Romney's "real economy" line, insisting: "Texas is the real economy."
Perry is also expected to draw elbows from some of the lesser-known candidates as they bid for more attention. Rick Santorum has questioned the sincerity of Perry's opposition to same-sex marriage, while Jon Huntsman has mocked his skepticism of climate change and evolution. Polls suggest that Huntsman's criticism is unlikely to carry much weight with the conservative majority in Republican primaries, but it might complicate Perry's path with better-educated GOP voters, for whom he has displayed a strong appeal in recent surveys.
Perhaps the candidate with the most to lose from Perry's entrance is Bachmann, because the Texan directly threatens her tea party and evangelical base. Their dynamic will be one of the most important takeaways from the debates. While Huntsman has come at Perry from the left, Bachmann's potential swipes would come from the right, possibly questioning his moderate stance on immigration or his efforts in 2007 to require girls to receive vaccinations for a sexually transmitted disease that causes cervical cancer.
Few would be surprised if Bachmann simultaneously escalates her attacks on Romney's Massachusetts health care plan, too. As the Republican contenders navigate this month's closely bunched round of debates, the arrows may be flying in all directions.
Image credit: Shannon Stapleton/Reuters