Famous Reality TV Star Laments That Politics Resembles Her World
Sarah Palin also accused Fox News of media bias and tried to articulate who counts as a real American during a time of recession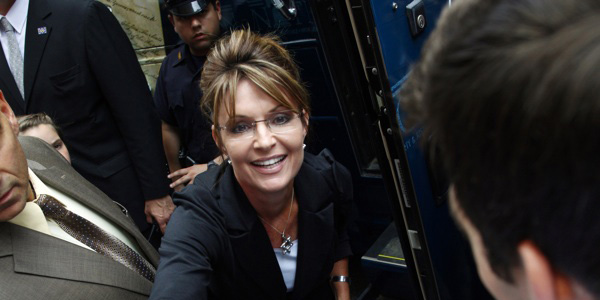 After starring in her own reality TV show, camping with Kate Gosselin of Jon & Kate Plus 8 fame, dining with Celebrity Apprentice host Donald Trump, and cheering for her daughter on Dancing with the Stars, Sarah Palin has taken to Fox News, where she is paid handsomely as a contributor, to lament that the media creates "reality show intrigue" around possible GOP candidates.
In what is perhaps the least self-aware 16 minute television interview ever given, Palin then proceeded to assert that "I am a proponent though of the media providing as much coverage of candidates in order to vet these candidates as possible," even harkening back to the 2008 election cycle, when she refused most interviews and championed the idea of reaching voters directly, by saying that "we learned our lesson in electing Barack Obama who was not vetted by the media." Who'd have imagined, based on coverage during the 2008 campaign, that he'd pass a liberal health-care bill, seek to raise taxes on the rich and wind up having been born in America? In all seriousness, it's hard to think of anything that the news media has dug up about Obama that went unreported before the election but has since proven even marginally consequential.
Let us now marvel at the former Alaska governor's latest attempt at determining who counts as a real American. "What's going on in the real world, outside the political beltway where they call it flyover country I guess, the heartland of America, we're having a hard time finding jobs and keeping jobs, believing that our economy is going to be solvent, and that we won't be a country on the path toward bankruptcy," she said. Already, the "we" makes this problematic: Alaska is not flyover country, nor is New York, where Fox News has its studios, or Arizona, where Palin owns a second home, and she doesn't seem to be having a hard time getting work. Also note that, according to the Bureau of Labor Statistics, the states with the lowest unemployment rate in America during August 2011 were North Dakota, Nebraska, South Dakota, New Hampshire, Oklahoma, Wyoming, Vermont and Iowa in that order -- and that the places with the highest unemployment in America, starting with the worst, were Nevada, California, Michigan, South Carolina, D.C., Florida, Rhode Island, North Carolina, Mississippi, and Georgia, in that order. The lesson: Palin's obsession with privileged "coastal dwelling elites" and the long-suffering "real Americans" in flyover country and the heartland blinds her to reality.
Finally, watch as Palin zings her employer, Fox News, for allegedly spreading misinformation. "I think it's kind of humorous to see the way that the media is covering these candidates. Let me give you an example of this," Palin said. "Earlier today, Greta, on Fox News, you had a host who said, 'Sarah Palin in the polls, she's way way down there in the polls.' And I'm kinda scratching my head going, 'Wait a minute, on another network, on CNN just the other day, they showed a poll where I was within five points of President Obama.' I was doing well, much better, than many of the other candidates, and I'm thinking, all this misinformation and contradictory information even from hosts on this network itself, it adds to the disconnect of not just the permanent political class, but many in the media also, because sometimes they don't do their homework, and many times a host or a reporter, they have their own agenda. And they interject their agenda in the information." If ever a network got what they deserved from an employee, it's Fox News.
Image credit: Reuters