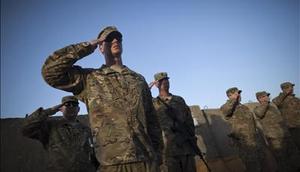 We have had gay generals and captains, colonels, lieutenants, staff sergeants, airmen, and admirals in the past -- many of them -- who have fought and sacrificed for the country. 
For the most part, these men and women have had to hide who they were if they wanted to serve.  Many, particularly enlisted men and women, joined the uniformed military services out of high school discovering that he or she might be gay or lesbian along the way.
It was a shameful deal between Pentagon commanders and then US Senator Sam Nunn on one side and Bill Clinton on the other that resulted in gays only being able to serve in the US military if they hid their true selves.  This was the purgatory of Don't Ask Don't Tell.  As Joint Chiefs of Staff Chairman Admiral Mike Mullen stated on many occasions, this state of affairs forced a moral crisis on those who served -- and this policy itself was immoral.

Today, one of the most bigoted and discriminatory laws passed in modern times fades completely from the scene.  Gays may now serve openly in the services without fear of being discharged or officially harassed.
Here is a copy (pdf version) of the US Air Force memorandum that went out today, as I assume similarly went out in other of the uniformed services, under the signatures of Secretary of the Air Force Michael B. Donley, USAF Chief of Staff General Norton A. Schwartz, and Chief Master Sergeant of the Air Force James A. Roy.