Can Rick Perry Save the Big 12—and Should He?
Major-conference athletics are on the verge of drastic change. Why the Texas governor might be sports fans' last hope.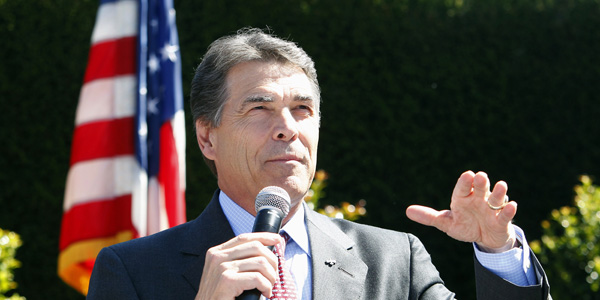 As college football fans are painfully aware, the Big 12 conference might implode at any moment, triggering a wave of NCAA realignment.
The conference's member schools were sufficiently irked by the domineering University of Texas and its new Longhorn Network -- a partnership with ESPN that will broadcast Texas high school games under the University of Texas brand -- that some are ready to bolt. Already the Universities of Nebraska and Colorado jumped to the Big Ten and the Pac-12, respectively, just last year.
The crisis has multiple lynchpins, and it carries wide ramifications for college sports. With Syracuse and Pittsburgh jumping from the Big East to the Atlantic Coast Conference this week, major changes are afoot.
In the Big 12, Texas A&M moved last week to join the Southeast Conference (SEC) but was blocked by Baylor University's threat to sue the SEC if Texas A&M leaves. On Tuesday, the boards of regents at the University of Texas and the University of Oklahoma gave their respective presidents the go-ahead to explore ways to leave the Big 12, paving the way for both schools to seek entry into the Pac-12. On Wednesday, the Pac-12 said it didn't want them -- not now, at least.
If all this sounds complicated, it is. It's like Jenga, but with universities instead of wooden blocks, and with billions in TV revenue at stake. If the Big 12 folds, America may end up with four megaconferences, doing away with some century-old rivalries and radically changing the landscape of college sports.
For now, Big 12 schools are waiting to see what happens with Texas A&M and the Universities of Texas and Oklahoma.
Enter Texas Gov. Rick Perry, the Republican Party's leading presidential contender, who happens to be a former yell leader for the Aggies. Oil man T. Boone Pickens, an Oklahoma State booster, recently called on Perry to save the Big 12 by leaning on Texas A&M to stay put.
Perry should step in and show America that "you fix problems, don't contribute to 'em," Pickens told The Oklahoman.
Nobody in Texas particularly cares what Oklahoma sports fans have to say, but Pickens lives in Dallas and has a big voice in the Lone Star State, so the Pickens Plan (get it?) for Big 12 preservation merits a look.
COULD PERRY DO IT?
The answer: maybe. How? With soft power and hard threats.
Perry appointed all 20 members of the University of Texas and Texas A&M boards of regents, so there's that. The governor could, conceivably, take a 20 minute break from campaigning to call up Texas A&M board chairman Richard A. Box and ask, casually, "So, Dick, remember when I gave you this job seven months ago, on March 24? I'd really like to see that Big 12 hang together ..."
None of the regents' terms will expire until Feb. 2013, and Perry can always threaten not to reappoint them should he fail to become president.
Texas universities also rely on the state legislature for money. See Texas A&M's giant fiscal-year 2012-2013 appropriations request here. The state legislature's House Committee on Higher Education is looking into Texas A&M's desire to leave. Working with the legislature, Perry can apply some pressure to the Aggies.
The same goes for the University of Texas. The Longhorns caused the Big 12's problems by striking a deal with ESPN in the first place, creating an exclusive TV network for high school football games that spawned the Big 12's discontent. The Longhorn Network will generate money and untold recruiting advantages, with revenue going strictly to Texas. Perry can use all the same tools to pressure Texas into sharing Longhorn Network revenue with the rest of the Big 12. Texas's university president is open to that idea; it's athletic director isn't. Perry might be able to tip the scales, sticking it to his alma mater's rival all the while.
Working against Perry's ability to do anything meaningful is the difficult fact that no one really knows what's going on. There are too many factors. If the Pac-12 wants Oklahoma and Texas, and the conference is willing to endure a lawsuit from Baylor and other Big 12 schools, Perry can't control that.
SHOULD PERRY DO IT?
The answer here is an unequivocal yes, simply because the Big 12 is a good thing, and no one wants to see the ugly megaconference scenario play out. It is unquestionably strange that Nebraska now plays in the Big Ten. The Big 12's disintegration could eventually grant more power to the conferences and weaken the NCAA, which may or may not be a good thing, but that's a different story altogether.
Politically, from Perry's vantage, the question is more complicated.
Saving the Big 12 would help him in Iowa. Among the biggest losers of Big 12 disintegration would be Iowa State. The Cyclones haven't been very good at football since the 1990s rushing heydays of Troy and Darren Davis. They appeal to no major TV markets. If the Big 12 folds, Iowa State will probably end up in the Mountain West -- a step down that will only lead to suffering and mockery at the hands of Iowa Hawkeyes fans.
If Perry tries to keep the Big 12 together, he will win the gratitude of every Iowa State fan on the planet. It'll make for great stump material. Nobody will care about Social Security anymore.
But as far as a political windfall goes, that's about it. By sticking his nose in Big 12 conference politics, Perry would win favor from fans of the University of Kansas, Kansas State, Baylor, Oklahoma State, and possibly the University of Missouri. None of those states play big roles in the Republican presidential nominating process.
If Perry follows T. Boone Pickens's advice, it could backfire. He could wind up looking like a chump who refuses to let economic markets make their own decisions -- which is generally bad, if you're a Republican candidate. His rivals have already grilled him on government intervention, thrashing him for signing an executive order requiring HPV vaccines for girls. Imagine the catcalls if he ventured into the big business of college sports.
It's also unclear whether Perry would want to spurn his alma mater by pressuring Texas A&M to reverse a decision it's already made. The Aggies don't like the fact that the University of Texas has all the power in the Big 12. Why would Perry want to suppress A&M's attempt to buck Texas's heavy hand?
It would be exciting, at least, to see Rick Perry try to save the Big 12. It might go well, it might go badly. Many would thank him if he pulled it off. Realistically, a few public statements from him are probably the best we can hope for.
Image credit: Alex Gallardo/Reuters