Bob Turner Wins New York 09 Special Election
A Republican snagged Anthony Weiner's seat, taking the district for the GOP for the first time since 1923
A Republican snagged Anthony Weiner's seat, taking the district for the GOP for the first time since 1923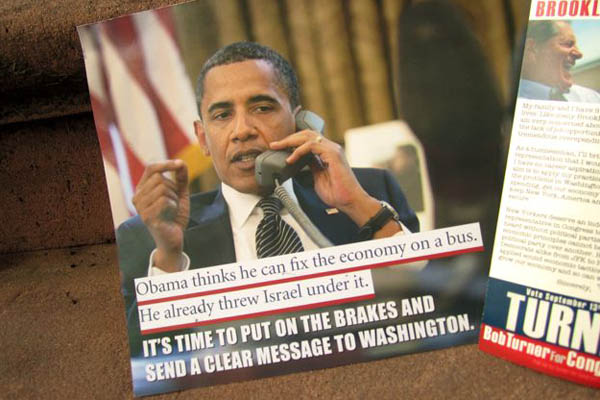 Updated 11:59 p.m.
QUEENS, N.Y. -- With more than half of precincts reporting, retired media executive and Republican Bob Turner beat New York State Assemblyman David Weprin in the special election to fill the congressional seat vacated by Anthony Weiner Tuesday in an upset capture of a solidly Democratic seat last in GOP hands in 1923. Results from 329 of 512 precincts in the 9th congressional district -- a largely white ethnic, middle- to upper-middle class community that spans parts of Queens and Brooklyn -- found Turner leading 53 percent to 47 percent over Weprin.
"I've seen enough, it's done...now very comfortable making this projection: Bob Turner (R) defeats David Weprin (D) in #NY09" concluded Dave Wasserman, the U.S. House editor of the nonpartisan Cook Political Report, as early results trickled in and before the Associated Press called it for Turner. Observed Nate Silver of The New York Times, "A crude extrapolation from borough-wide results would have Turner winning this by about 10 points."
The race, like many special election contests, had become a closely watched as national party analysts on both sides of the aisle predicted it would show just how damaged President Obama is as the economy continues its years-long stall. Democrats had begun pre-spinning a potential Weprin loss after a Siena College poll showed him trailing Friday, seeking to cast it as nothing more than a quirky election with a bad candidate before an Israel-obsessed Queens electorate. But Turner's surge in the district once held by Sen. Chuck Schumer and one-time vice presidential candidate Geraldine Ferraro also offers a cautionary tale.
"This is not a district that Republicans have any right to believe we could win," said House Speaker John Boehner before polls closed at 9 pm EST. Democrats hold a three-to-one registration advantage in the 9th.
In many ways, the compressed special election triggered by Weiner's resignation produced a strange race. Weprin repeatedly attempted to paint Turner  as what New York State Assemblyman Andrew Hevesi described Tuesday as "a scary, scary guy [who] wants to cut Medicare and Social Security." Picked to go on the ballot by the Queens Democratic machine, Weprin was at times an uncertain candidate, though his performance on the stump improved by the end. Which candidate would be the more adamant friend to Israel in the House was a constant debate, with Weprin, who an Orthodox Jew, charging Turner, a Catholic, with being a recent convert to the cause. But in the end the Queens machine led by Rep. Joe Crowley wasn't able to muscle Weprin, who didn't spark much enthusiasm amongst the Democratic base, toward a solid showing.
Ling Tsou, a leader of the Hell's Kitchen branch of Organizing for America, pretty much summed up sentiment on the Democratic Tuesday side after organizing an election eve phonebank for Weprin.

"I think Anthony Weiner was a really progressive voice in Congress," she said. Then she paused. "And David Weprin is the Democratic candidate."
The strangeness continued right into Election Day. During last-minute campaigning Tuesday, Turner served Weprin with papers alleging improprieties with absentee ballots.
One of the major issues in the race was U.S. policy towards Israel. Weprin, a former city councilman from a prominent Queens political family, repeatedly came under attack for President Obama's Mideast policy, and in particular Obama's call in May for negotiations over Israel to use the country's pre-1967 boundaries as a starting point. The so-called Ground Zero Mosque also made an appearance in the race, with Turner framing Weprin as a supporter -- even though Weprin has advocated moving the building to a place "less offensive to 9/11 families."
To be sure, passions on the Israel issue ran high. Late Thursday night, waiting for the candidates to show at a forum at the Bet Shaul U'Miriam synagogue in Brooklyn's Midwood neighborhood, an Orthodox Jewish man loudly railed about Schumer and the Democratic Party for holding a late Friday afternoon fundraiser that blocked a neighborhood street, making it so that locals couldn't get home in time for Shabbos. "Everyone that hates Israel, that hates America, votes Democrat,"  he said.
But while Obama's Israel policy certainly mattered here, it mattered most to just a small slice of the district. One-third of the 9th is Jewish, and an even smaller percentage of them are Orthodox. The Turner campaign micro-targeted those voters in hopes angry Orthodox Jewish residents would be enough to make him a congressman.
Unions countered with an aggressive GOTV campaign in and the support of the usual unions, such as the United Federation of Teachers, the Patrolman's Benevolent Association, and AFSCME.
Also at issue in the contest was same-sex marriage. Weprin's vote in favor of it while a state legislator came up often in the district, with rabbis in particular hammering the topic. But in the end its importance may have been overstated. If same-sex marriage was so central to the race, why were the favorability ratings of Democratic Gov. Andrew Cuomo, so closely identified with the push for same-sex marriage's legislative affirmation in New York, so sky-high? Buried in the same Siena College poll Friday that drew enormous attention to Weprin's fading chances, Cuomo held a favorability rating of 75 percent amongst likely voters in the 9th district. And a full 62 percent of Turner voters thought highly of Cuomo in the survey.
Economic policy may in fact have been the central issue in the race -- and that's what should really worry Democrats. That same Siena College poll that gave Turner the lead found a large chunk of voters said the economy and entitlements were the primary issues on which they would vote. In the special election race to replace Craigslist congressman Chris Lee in New York's 26th district earlier this year, Democrat Kathy Hochul was able to pull out a victory after focusing a great deal of attention on her party's efforts to preserve Medicare in the fact of efforts to radically alter it, like Paul Ryan's budget plan.
Weprin couldn't revive that message -- which, after all, was quashed by the Weiner Twitter pictures scandal -- and Turner volunteers in the district handed out fliers featuring a color photo of Obama in full feet-on-the-desk mode, with the tag line "Obama thinks he can fix the economy on a bus. He already threw Israel under it."
Outside Aron's Kissena Farms, an upscale kosher grocery store Thursday night, Phil Orenstein, 63, explained Turner's appeal: "Bob impresses me as a person. He's a businessman. He's not just talking. He really has a plan to cut spending. He's on the level of a sort of Paul Ryan."
That Wisconsin representative isn't necessarily the sort of character that Queens voters generally elect, a point made by Rep. Joe Crowley, head of the Queens Democratic Party. But it was Ryan's party they'd chosen when results came in Tuesday.
Weprin, for his part, had tried distancing himself from Obama, who has just 31 percent support in the district, according to a recent poll. Outside the Midwood shul, Weprin told an older couple: "I've never met him. But I know he's not happy about some of the statements I've made disagreeing with him. And I look forward to meeting him."
Democrats have been eager to play the "bad candidate" game, as they did after Martha Coakley upset loss to Scott Brown in the Massachusetts Senate race to replace Ted Kennedy. Hardly the most compelling of candidates, Weprin has had his gaffes, including famously underestimating the size of the national debt by $10 trillion, right in the midst of the debt-ceiling debate. The DCCC has dropped close to half a million on last-minute broadcast television ads. Media watchers, though, suggest that if the national party had been more prepared, they'd have focused their resources on print and cable campaigns.
But Turner has had his own flubs, such as saying that "As a Republican, I never met a loophole I didn't like," before dismissing the remark as "debate levity." And many think there should never have been a close race to begin with.
"This is outer-borough New York," says Joseph Mercurio, a New York Democratic political media consultant. "It's more conservative, it's more Jewish, it's older, it's white. You have to assume it's a competitive race." Mercurio suggest that House Democrats bungled the situation from the start. "If they'd let Anthony Weiner go to rehab and then reapportioned the district out of existence, they'd have saved everybody a million dollars."
Image credit: Nancy Scola