Barack Obama Is Your New Plaintive Boyfriend
Once upon a time he was your new bicycle. But now his new media campaign makes him sound like a different stock character.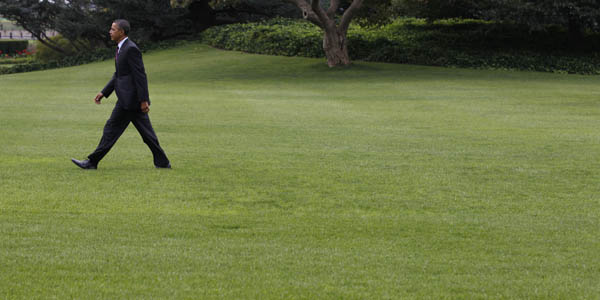 Some are marveling over the informal tone of the president's reelection campaign emails, asking: "Obama campaign email subject or message from my aunt?"
But I say forget the aunties. The false intimacy of the Obama online media campaign has finally gotten to the point where the president sounds like a plaintive boyfriend worried about trying to save the relationship.
He's texting again. He's emailing regularly. He wants to take us to dinner, maybe. He's full of reasons he hasn't called recently. He made us a T-shirt, tweeting, "Hey, Twitter: we made a shirt just for you."
Can a Mix-Tape for America be far behind?
He knows he's got a problem, and the problem is maybe we don't love him any more -- not like we did in the heady days when he swept us off our feet and we decided we wanted him to move in with us.
"If you love me, you've got to help me pass this bill!" he told an audience at North Carolina State University earlier this month. If we love him, we will do what he says. But we all know that the "if you love me" stage of any relationship means trouble.
Barack Obama wants to talk, and talk, and talk. But the American people are frustrated and depressed. "You just want to have the same conversation over and over again," they seem to say, sending his approval rating into the 40s. It's almost like they don't want to talk about it anymore -- they just want him do something.
Can this relationship be saved? He's relaunched a focus on jobs again and again, but sometimes it seems as though he is just pivoting in circles.
And so today America's sad boyfriend campaign sent an email with an even sadder email subject line: "If I don't call you."
If he seems distant, we shouldn't interpret that as meaning he's just not that into us anymore, he tried to reassure. After all, "if I don't call you, there's a chance I'll see you at dinner with three other supporters sometime soon," he writes. A chance. But we all know the odds are stacked against us. And also what it means when he finds it easier to avoid seeing us alone....
But maybe he is trying to say it's not us, it's him.
"Sometime soon, can we meet for dinner?" he asked in an email last week, unsure of when we were free or how we would respond. He sounded like he missed us, but was afraid he'd become a bore.
"If this sounds a bit familiar to you, it's because we've done this before," he reminded.
Yes we have, Barack Obama. Yes we have.
Image credit: REUTERS/Larry Downing