After Special Elections, Democrats' Prospects Look Dim for 2012
Punished by voters in New York and Nevada on Tuesday, the president's party faces a daunting enthusiasm gap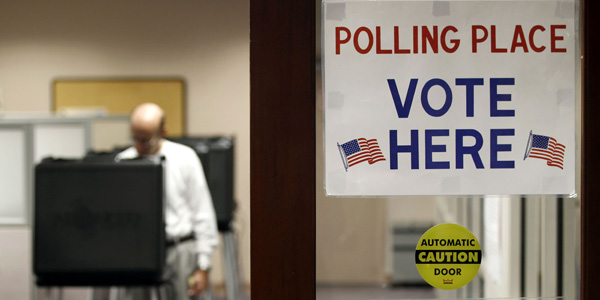 For much of the year, the battle for control of Congress looked unclear. President Obama's approval ratings were dropping, but Republicans in Congress were even more unpopular. Senate Democrats faced a tough landscape, defending many more seats than Republicans, but the races hadn't jelled. Voters were registering historic levels of anger at their own representatives, making a 24-seat House pickup for Democrats appear doable--even with redistricting helping Republicans.
---
MORE FROM NATIONAL JOURNAL:
Perry Becomes the Punching Bag in Florida Debate
Rethinking the 2012 Landscape
Burned by the Economy, Voters Want to Look Forward
---
But Tuesday's special elections for two House seats, one in New York and one in Nevada, are starting to put the picture in clearer focus--and it's not good for Democrats. Democrats lost a deeply-Democratic New York City district that had been in party hands for nearly a century, and they lost by over 20 points in a congressional race in the battleground state of Nevada, a contest that once promised to be a bellwether because of the GOP's positioning on Medicare.
Put simply, Obama and Republicans in Congress are both unpopular--and voters are taking out their anger on Democrats--even in a reliably Democratic district. The president's base of supporters isn't showing up, while his opponents are as mobilized as ever. Obama's approval ratings are lower than they were in 2010, when Republicans picked up a historic number of House seats.
Look at the congressional generic ballot, where Democrats traditionally hold an advantage even in lean years. The latest NBC/Wall Street Journal poll shows Republicans holding a 47 percent to 41 percent edge, the largest margin for Republicans since 1996, when the question was first asked. When Republicans picked up 63 House seats in 2010, Democrats actually held a 46 percent to 44 percent advantage on the poll's generic ballot.
Do a deeper dive into some of the district-wide polling and early vote numbers, and things get even scarier for the president's party. Discontent with the president is at the heart of Republican Bob Turner's surprisingly strong campaign in New York for the seat based in Queens and Brooklyn. Within the district, Obama's favorability rating is at 43 percent, with a whopping 68 percent of independents holding an unfavorable view of the president, according to last week's Siena poll. More than one-third of Democratic voters view him unfavorably.
Jewish voters, who make up a small but important part of the Democratic base, abandoned Democrat David Weprin in droves. Obama's perceived less-than-favorable treatment of Israel has driven Jewish voters in the district from the party, even though Weprin is an Orthodox Jew whose pro-Israel bona fides are solid. They're supporting Turner, the Catholic nominee, to send a message to Washington about the president's Israel policies.
If Jewish voters are abandoning a Democratic Jewish candidate to send a message to Obama, it raises serious questions about the president's standing in battleground states with a sizable Jewish population, like Florida, Ohio and Pennsylvania. The Jewish vote may not be huge, but if a reliably Democratic constituency breaks away, it could make the difference in a close presidential race.
The Nevada special election, held in a rural, Republican-leaning district that Obama nearly carried in 2008, looked several months ago like a real opportunity for Democrats. The party was fresh off a special-election victory in upstate New York, where the Democratic victor lambasted her opponent for supporting entitlement cuts. Democrats boasted the stronger candidate in state Treasurer Kate Marshall, while Republicans ended an intra-party food fight by tapping Mark Amodei, a Republican Party chairman who had voted for tax hikes in the state Legislature. With a sizable number of seniors in the district, it looked like Democrats could at least make it close.
Instead, Republicans and allied groups also went on the attack, spending nearly $1 million on ads to portray Marshall as a supporter of Obama's health care plan, which proved to be even more unpopular with voters than entitlement cuts. Internal GOP polling showed Marshall with a clear edge on Medicare at the campaign's outset, but she trailed badly on the issue by the end. In Washoe County (Reno), a key bellwether, Marshall lost by 10 points.
In addition, the enthusiasm gap between the two parties, as evidenced by early voting, was also striking: Fifty-four percent of the early voters were registered Republicans, compared to 34 percent identifying themselves as Democrats. The 20-point gap is far greater than the eight-point registration advantage Republicans hold in the district.
In the Senate, Democrats are defending seats in much more Republican territory than New York City - in Nebraska (Ben Nelson), Montana (Jon Tester), and Missouri (Claire McCaskill). If a highly-regarded Democratic recruit can't compete in a district Obama nearly carried, what does that say about Rep. Shelley Berkley's prospects against Sen. Dean Heller (or Obama's in the battleground state)? In the House, 50 Democrats hold more Republican seats than New York 9 - even after last year's GOP landslide.
As I've written before, special elections don't necessarily predict the outcome of future elections, but they can offer a wealth of insight about a slice of the electorate at a point in time. Democrat Kathy Hochul's surprise victory in upstate New York's 26th Congressional District in the spring demonstrated Medicare is a potent issue for the party. (Heck, just witness Mitt Romney's aggressive attempts to attack Rick Perry on that front in a Republican presidential primary.) But that was before Obama's approval ratings tanked, along with the economy.
There's still plenty of time before the November 2012 election--14 months is a lifetime in politics. But the fundamentals of a weak economy look to be holding firm. For a while, it looked like that would cause voters to take out their anger on both parties, resulting in a broad anti-incumbent backlash. The lesson from Tuesday's election: It's looking like they're still mad at the Democrats.
Image credit: Larry Downing/Reuters