9 Things We Learned From Wednesday's GOP Debate
Perry and Romney hog the spotlight. Gingrich hates questions. Galileo makes an entrance. Highlights from the third major 2012 forum.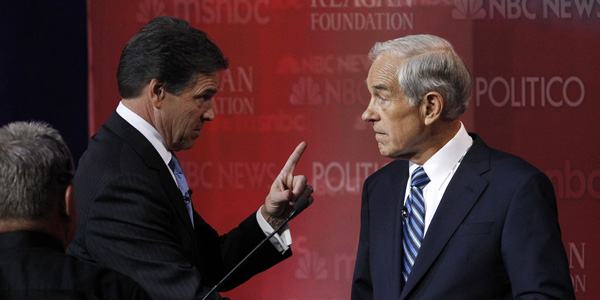 Republican candidates took the stage for their third major nationally televised presidential debate on Wednesday night at the Ronald Reagan Presidential Library in Simi Valley, Calif., and -- just in case anyone was worried -- Republican presidential candidates still love Ronald Reagan.
Aside from that, here's what else we learned from the first presidential forum to feature the race's new frontrunner, Texas Gov. Rick Perry:
1. It's all about Perry -- but also Romney. Since he entered the race in August, Perry has sucked up all the media attention. He didn't just shoot to the top of polls, where he now leads nearest-competitor Romney by an average of nine percent, he's dominated headlines and discussion (serious and otherwise) for weeks. Wednesday night was no exception.
The debate opened with a question to Perry, a question to Romney about Perry's strategist calling him a "buyout specialist," a follow-up to Romney, a rebuttal from Perry, and a rebuttal from Romney to Perry's rebuttal. "We could do this all evening," host Brian Williams said. And they almost did. From there, Perry and Romney sniped at each other over job creation.
As the debate became the Romney and Perry Show, viewers could see the GOP field separating. Visually and in terms of the time they were given to speak, it looked like the GOP race really had become a contest between Perry, Romney, and everyone else.
2. Which was too bad for Michele Bachmann. The Minnesota congresswoman attained real-contender status with her first debate performance in New Hampshire in June, then showed strong again in last month's Iowa debate, effectively forcing former Minnesota governor Tim Pawlenty from the race by getting the better of him in a testy back-and-forth, and by winning the Ames straw poll the next day.
But Perry's entrance has left her sinking in mid-ascent, like a hot-air balloon with some type of flap problem. Bachmann has enjoyed two benefits: tea-party appeal and a good stage presence. By sucking up support in polls and screen time on Wednesday, Perry is hurting her on two fronts.
3. Ron Paul can get you a gallon of gasoline for a dime. This debate was kind of boring, compared to the last one. In Iowa, candidates were all keyed-up for the next day's straw poll in Ames. On Wednesday, fireworks were supplied by Perry and Romney in the opening minutes, but things fell flat after that. It lacked the awkward tension of Pawlenty digging at Bachmann, desperately clawing for Iowa straw-poll votes, and Bachmann hitting right back.
Thank God for Rep. Ron Paul (R-Texas). His promise of gasoline "for a dime" was easily the most surprising line of the night. But -- psych! -- he meant silver dimes:
4. Newt Gingrich hates moderators, the media, and their silly questions. If you ask the former House speaker a question, you'd better be ready to endure an indignant snarl cast across the stage for all of cable-news-watching America to see.
In the Iowa debate last month, an outraged Gingrich accused Fox's Chris Wallace of playing "Mickey Mouse games" when the moderator asked him about his entire campaign team quitting. This time, Gingrich accused Politico's John Harris of trying to instigate intra-GOP squabbles. Harris asked Gingrich whether Romney or Perry had a better argument on health care. "I'm frankly not interested in your effort to get Republicans fighting each other," Gingrich said. Zing. He then suggested the media is broadly trying to divide the GOP in an attempt to shelter President Obama:
5. For a moment, Mitt Romney appeared to be funny and cool. And he had Rick Perry to thank for it. In the Perry-and-Romney-fest of the opening minutes, all that attention played to the advantage of the Massachusetts businessman, who has a lot more national debate experience than Perry does. The latter sounded kind of wooden in at first while he got his bearings. (The book on Perry is that he's unexciting in live debates but wins anyway -- at the outset, he lived up.)
By the end of the opening exchange, both men looked good.
"Michael Dukakis created jobs three times faster than you did, Mitt," Perry zinged.
"Well, as a matter of fact, George Bush and his predecessor created jobs at a faster rate than you did, Governor," Romney zinged back.
But most notably, Romney made the audience laugh with a joke about Perry, Al Gore, and the Internet. Perry served as Texas chairman of Gore's 1988 presidential campaign, but the joke wasn't driven by an inside reference. Campaign strategists and media types were not the intended audience. It was Romney -- the guy who always seems stiff, who's reportedly weird around voters in casual settings, who once inexplicably asked "Who let the dogs out?" while talking to a group in Jacksonville, Fla. -- actually being funny. Maybe he's loosening up a bit. Skip ahead to 1:25:
6. Emerging rivalry: Paul vs. Perry. Ron Paul attacked Rick Perry, Rick Perry attacked Ron Paul. The Texas congressman launched a TV ad this week criticizing Perry for backing Gore against Ronald Reagan in 1988, and that drama played out during the debate.
"The governor of Texas criticized the governor of Massachusetts for Romneycare, but he wrote a really fancy letter supporting Hillarycare. So we probably ought to ask him about that," Paul said.
"Speaking of letters, I was more interested in the one that you wrote to Ronald Reagan back and said I'm going to quit the party because of the things you believe in," Perry later responded.
The drama played out off screen too, as Paul's campaign blasted out no less than eight anti-Perry press releases during the debate, accusing the governor of "crony capitalism," outlining his "liberal past," etc.
8. Jon Huntsman's Tim Pawlenty moment? The former Utah governor pulled essentially the same move that earned Pawlenty so much criticism in the June debate, refusing to stand by a prior criticism face to face with his rivals. Huntsman was asked about something his strategist, John Weaver, had said about the Republican field -- that the GOP risks becoming "a bunch of cranks" -- and while Weaver is not Huntsman, the former governor's refusal to take the bait smacked a bit of Pawlenty backing off his aggressive charge against "Obamneycare."
"Well, I'm sure you have John Weaver's telephone number. You can go ahead and give him a call," Huntsman said. Harris appropriately let him off the hook, acknowledging that "you speak for yourself."
From this debate, it was evident Huntsman is running on an argument of electability. He repeatedly attacked Romney, the leading candidate in that mold, rather than Perry.
9. Rick Perry vs. Galileo. After saying two weeks ago that human-generated climate change "from my perspective is more and more being put into question," Perry was asked by Harris to name a climate scientist whose work he agrees with. Perry gave a long answer, but no name. "Galileo got outvoted for a spell," he said at one point, while arguing that "the science is not settled" and that it's not worth risking the U.S. economy on unsettled science.
Huntsman, meanwhile, continued to beat the I'm-with-science drum. "Listen, when you make comments that fly in the face of what 98 out of 100 climate scientists have said, when you call into question the science of evolution, all I'm saying is that, in order for the Republican Party to win, we can't run from science. We can't run from mainstream conservative philosophy. We've got to win voters," he said.
Image credit: Mario Anzuoni/Reuters