$16 for a Muffin?! A Justice Department Boondoggle
Yes, hotel food is overpriced. But $16 muffins, $5 sodas, and $8 cups of coffee are still pretty pricey for a government agency -- or anyone.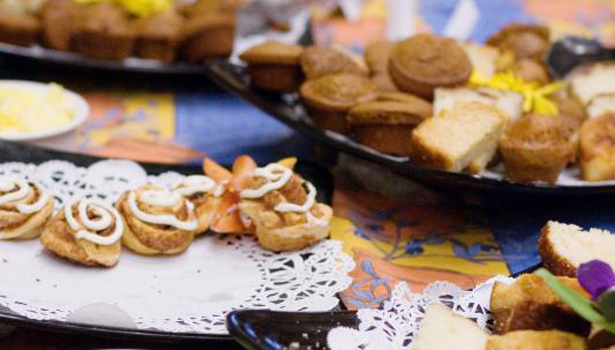 Flickr/CulinaryHistoriansOfCanada
Well, here is something you don't see every day.
The Justice Department's Office of the Inspector General Tuesday released a report blandly titled "Audit of Department of Justice Conference Planning and Food and Beverage Costs." The menu may be tough to digest -- it's 148 pages, after all -- but political gourmands of all persuasions are likely to find its main entrees simply delectable, especially since they are being presented for public consumption at a time when official Washington is supposed to be tightening its belt and pushing itself away from the table.
Internal inspectors -- from the same office which once upon a time investigated the Justice Department's role in the 2006 U.S. Attorney scandal -- have concluded that mid-level DOJ officials consistently failed in 2008 and 2009 to follow federal guidelines designed to keep food and beverage costs at reasonable rates for government-sponsored conferences. They were taken advantage of, in other words, by private contractors (See? It doesn't just happen with military contracts). Here from the report is a sample platter of the OIG's findings:
... DOJ spent about $490,000 (11 percent of costs) on food and beverages at the 10 conferences. All the conferences occurred at major hotels that applied service fees - usually around 20 percent - to the cost of already expensive menu items. Our assessment of food and beverage charges revealed that some DOJ components did not minimize conference costs as required by federal and DOJ guidelines. For example, one conference served $16 muffins while another served Beef Wellington hors d'oeuvres that cost $7.32 per serving. Coffee and tea at the events cost between $0.62 and $1.03 an ounce. At the $1.03 per-ounce price, an 8-ounce cup of coffee would have cost $8.24.
It's a bipartisan mess. Inspectors looked specifically at 10 DOJ conferences in 2008-2009, six during the last year of the Bush Administration, when the Justice Department was led by Michael Mukasey, the former judge selected to replace the hapless Alberto Gonzales as attorney general. They also looked at four conferences during the first year of the Obama Administration, when the Department was led, as it is today, by Attorney General Eric Holder. Alas, it will be Holder who will have to answer the inevitable questions and deflect the inevitable comparisons. "Let them eat cake? How about letting them eat a $16 muffin?"
At places all over the country and the world, the conferences took place after the Justice Department had been warned by the OIG in 2007 that there was too little oversight over food and beverage costs. Investigators determined, for example, that the DOJ "spent $600,000 (14 percent of costs) to hire training and technical assistance providers as external event planners for 5 of the 10 conferences reviewed. This was done without demonstrating that these firms offered the most cost effective logistical event planning services. Further, these event planners did not accurately track and report conference expenditures."
Here's another taste of what's in the new OIG report:
... conference attendees received Cracker Jacks, popcorn, and candy bars at a single break that cost $32 per person, including service charges and indirect costs... [There was also] a "deluxe" ice cream assortment that cost $10 per person including service charges and indirect costs... When one event planner applied an approved 15-percent indirect cost rate to the price of food and beverages at a conference, the cost of one soda increased from $4.84 to $5.57.
Hotel food is notoriously expensive. But talk about your stimulus package! All this time "event planning" has been the "winning" formula to get America working again. Someone, quick, tell Anthony "A.J" Soprano! Unsurprisingly, the report concludes that the event planners and others responsible for charging these prices ("components," they are cryptically called in the report) were "unable to provide adequate justifications for the expensive food and beverages." The OIG concedes that some of the conferences were planned before new cost directives were put into place in April 2008. But investigators also say they
remain concerned that not all components will take into account service fees, taxes, and indirect costs when deciding what food and beverages -- if any -- should be served at a DOJ conference. In our opinion, the lack of documentation we found regarding the necessity of costly food and beverage items indicated that not all sponsors were seriously questioning the need for expensive meals and refreshments at their events.
The Justice Department will say this is old news and that it has done much more since 2009 to reduce these costs. And Congressional Republicans and the GOP presidential candidates will likely use the report to take pot shots at Eric Holder and President Barack Obama for wasteful government spending. Perhaps the only appetizing "component" of this meal is that copies of Michael Kinsley's under-appreciated book "Curse of the Giant Muffins and Other Washington Maladies" now likely will soar. In fact, I hear the Justice Department just bought a few copies at $125 each.