With Debt Deal Finished, Will Geithner Quit Soon?
With the disaster averted, it will be easier for the Treasury secretary to walk away, and many expect him to do just that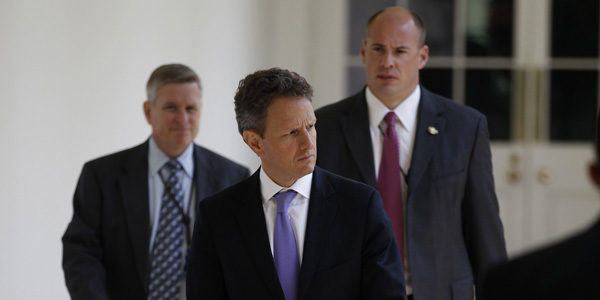 With the deal to raise the debt limit successfully reaching the finish line on Tuesday, speculation reemerged that Treasury Secretary Tim Geithner would soon announce his departure.
Treasury confirmed in June that Geithner was considering resigning once the debt issue was resolved, and he said in a Tuesday appearance on "Good Morning America" that "I haven't made that decision yet."
---
MORE FROM NATIONAL JOURNAL:
Debt Ceiling: How Long Until We Hit It Again?
Desperately Seeking Skills
Breaking Down the Debt-Deal Savings
---
Although it is unclear when Geithner plans to leave, many financial industry representatives and analysts said his exit has been expected once the debt-limit fight was resolved. Such a vacancy of a core cabinet position would come at a trying time for the economy and the financial system but would also provide fresh opportunities for President Obama to reinvent his image on the economic front before the 2012 elections. Given the fragile fiscal and political dynamics, analysts said Obama would need to nominate a successor with seasoned experience who could inspire market confidence and easily attract enough Republican support to clear the Senate, where a number of Obama nominees have been blocked by the GOP.
"With Geithner everyone is expecting something is going to happen now that we have a budget, if he's going to jump it would be soon," said Lawrence Kaplan a lawyer with Paul Hastings. "It is going to have to be someone with really impeccable credentials to keep a firm hand on the tiller, at the same time you want someone who understands what is going on. There is no time for on-the-job training, which could dictate an insider type person, someone who understands the macro-economic policies. But it has to be someone who is respected on both sides of the aisle because we cannot afford a fight over this."
Obama has seemed satisfied with Geithner's leadership and for continuity's sake some expect he would try and convince Geithner to stay. However many have said that if Geithner wants to go, now is the time. With the debt deal done and more budget and tax battles looming, the the long August congressional recess, when Washington slows down, would be an opportune time before Obama's reelection campaign heats up.
There are plenty of reasons why Geithner could be itching to leave. He has said that his son plans to finish his final year of high school in New York and that he might be commuting for a while because of that. But beyond the common justification of wanting to spend more time with family, Geithner has had a long tenure as a regulator dealing firsthand with the financial market meltdown and its aftermath and could be ready for a break. Before he was sworn in as secretary two and half years ago, Geithner had served as the president of the Federal Reserve Bank of New York since 2003. There he had a principal role in orchestrating the rescue of Bear Stearns and the Fed's handling of the 2008 financial crisis.
Even if Geithner is ready to bolt he might feel compelled to stay until a successor can be put into place, given the fragility of the economy and so much unfinished business. "With the current environment and the current agenda there is so much going on--obviously Treasury has a new role with so many responsibilities as the head of the Financial Stability Oversight Council--I would be very surprised if he wanted to hand that to a caretaker," said Brian Gardner, an analyst with Keefe, Bruyette & Woods. "The administration has to deal with tax reform and when you get into tax policy it has an impact on the mortgage market and the housing market. I would assume he would stay on until a successor was confirmed."
But a change in direction might be just the message Obama wants to send politically to position himself as a centrist, others speculated. A Wall Street type, some argued, could help bridge the divide with the financial industry, which is bitter over the onslaught of hundreds of regulations from the Dodd-Frank financial reform law.
"There have been so many battles with the administration on most of these issues so my guess is that at this point President Obama would pick a replacement who is very Wall Street friendly and probably looking to water down as many of the key provisions of Dodd-Frank that are still up in the air as much as possible," said Dean Baker, a co-director with the Center for Economic and Policy Study.
"It is clear he wants to be friendly to Wall Street and business in general ... so that he gets substantial campaign contributions so he can run a solid race. So I don't think he's going to pick anyone who would upset the apple cart."
Image credit: Larry Downing/Reuters