Will Obama Still Get His FDR Moment?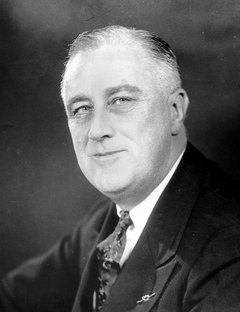 The debt deal struck by House and Senate Republican and Democratic leaders with the White House last night has key constituents around the country screaming.
Paul Krugman has said that if he had the privilege, he would vote No.  Senator Lindsey Graham will vote No.
MoveOn has said that it's 5 million members are overwhelmingly opposed to the compromise debt deal package.  The Club for Growth has also reported that it opposes the deal.  Nancy Pelosi's office says she is undecided.
Mitt Romney, Tim Pawlenty, and Rep. Michele Bachmann have also stated their opposition to the deal.  At least thus far, Senator Jim DeMint (R-SC) -- who I think is the key force of Congressoinal opposition behind the scenes -- has kept his powder dry and not indicated whether he is in the deal or out of it.
The leaders may think that they have the votes in hand to pass this debt ceiling deal and send to the President -- but there is a lot of opposition.  Much could still happen to undermine the appearance of progress announced by President Obama last night.
This may not be over.
Obama may then still get a chance to show that he is a real, FDR-style leader and invoke the Fourteenth Amendment of the Constitution protecting the commitment of the country to resolve past debts and then do so on his own terms -- which should include not throwing the jobless of this country under the bus.