Why Tim Pawlenty's Campaign Never Took Off
Once seen as a top-tier contender by pundits, the former Minnesota governor has exited the 2012 presidential race. What went wrong?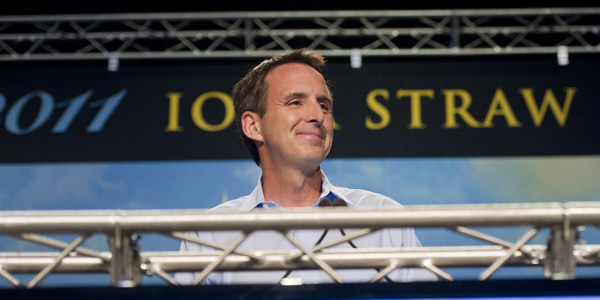 Former Minnesota governor Tim Pawlenty (R) is no longer a candidate for president of the United States, having dropped his bid like a steaming Lean Pocket Sunday morning, the day after he finished in a disappointing third place in the vaunted Ames, Iowa straw poll.
"We needed to get some lift to continue on and have a pathway forward and that didn't happen, so I'm announcing on your show that I'm ending my campaign for president," he said on ABC's "This Week."
Pawlenty began campaigning in 2009, long before he officially announced his bid in March. For the better part of a year, he was considered a potential top contender for the presidency, but he never really grew into that status. Which leads us to wonder, now that it's over: What went wrong?
A few thoughts:
He failed to excite. Pawlenty's biggest shortcoming was that he failed to move people. He's a nice guy. You'd invite him over to your house. He's pleasant to make small-talk with. But as a candidate for president, Pawlenty was boring, especially compared to his competitors. He presented himself as effective, rather than exciting, seeking a niche as the GOP's only experienced, results-oriented candidate who wasn't named Mitt Romney. For whatever reason -- his mild-mannered personality, his flat Midwestern accent, or the firebrands against whom he was competing for votes -- that image failed to rile anyone, and Pawlenty's operation found itself mired in a charisma deficit. There was no spark of inspiration, it seemed. Garance Franke-Ruta captured it nicely in her observation of Pawlenty's supporters at the Ames Straw Poll:

Why are you supporting Tim Pawlenty?" I asked Becky Reif of Cedar Rapids, who was one of many people wearing a green Pawlenty 2012 T-shirt.

"I don't have a candidate," she replied. "I'm still open to other people."

"But you voted for him today?" I followed up.

"I did vote for him today," she said. "He sounds like a good man. He sounds like he's got the same Christian values."

She'd come in with a group from the River of Life Church that was all voting Pawlenty, she explained. She was not in Ames out of any kind of personal passion for him.
Michele Bachmann and a failed Iowa strategy. It became clear early on that if Pawlenty was going to win this race, he'd have to do it in Iowa, which offered him the friendliest playing field of any early primary state. As a former midwestern governor, his politics and personality seemed naturally suited to the corn fields, and with Mitt Romney expected to invest heavily in New Hampshire, Pawlenty set up shop in Iowa and spent most of his time there. That strategy looked a lot worse after Rep. Michele Bachmann (R-Minn.) entered the race in mid-June. Though they hail from the same state, Bachmann is the anti-Pawlenty, a tea-party ideologue who riles up her impassioned followers by telling them, for instance, that under no circumstances should Congress raise the debt limit. As soon as she announced her candidacy, Bachmann shot to the top of the polls in Iowa, sucking attention and support away from everyone else. That hurt Pawlenty a lot.

Some of Pawlenty's problems had to do with Mitt Romney. The former Massachusetts governor entered the 2012 race with a big support base in Iowa, one that carried a pretty short half-life. Romney skipped the Ames Straw Poll and deprioritized the Hawkeye State in general, meaning his Iowa support would only erode over time, and his mainstream-Republican backers would gradually trickle away and vote for someone else -- most likely the mainstream, responsible, experienced Tim Pawlenty. In that regard, Pawlenty had some Bachmann insurance, a cache of potential votes that she wouldn't get anyway.

But Romney didn't fall fast enough. A July Mason-Dixon poll of Iowa Republicans showed Romney placing a close second to Bachmann, with 29 percent to her 32 percent. Pawlenty trailed in third with nine, still unable to become the leading even-tempered pragmatist in the caucuses.
Lackluster fundraising. Pawlenty demonstrated a solid ability to raise money after first launching his political group, the Freedom First PAC, in 2009, but after the presidential race began in earnest, Pawlenty struggled. In the second quarter of 2011, the first financial quarter of officially declared campaigning for top-tier candidates, Pawlenty took in a meager $4.2 million -- more than Jon Huntsman raised, for instance, but less than the $4.5 million taken in by Ron Paul. Romney, by contrast, raised nearly $18.3 million. Pawlenty remained mired in obscurity in national polls, collecting only single digits, and with sagging numbers in Iowa it presumably became tough for him to make an effective pitch to donors.

Pawlenty planned to invest heavily in the Ames Straw Poll, but without many resources at his disposal, he wasn't able to flood the zone. With more money in the bank, maybe Pawlenty would have done better than third and would still be in the race today.
Expectations were too high. There's always been a central disconnect at the heart of Pawlenty's 2012 bid: The Beltway loves him, but nobody else knows who he is.

Pawlenty launched his unofficial campaign early, by the standards of the 2012 election cycle. He formed his PAC in Oct. 2009. He left office in January 2010, effectively becoming a full-time candidate. He built a pro campaign team early on, hiring campaign manager Nick Ayres, well-known GOP strategist Phil Musser, and spokesman Alex Conant, among others, to assemble an operation that was expected to perform.

The constant political observers in Washington, D.C. -- reporters, political staffers, and pundits -- saw all this and figured Pawlenty would be a real threat. Since the fall of 2009, he's been mentioned in the same breath as Romney, Sarah Palin, and Mike Huckabee, but he was afforded this lofty status mostly on spec. Pundits saw potential, components that logically should add up to top-tier status. He had all the right attributes: experience as a governor of a purple state, social-conservative appeal, a willingness to attack President Obama in speeches to GOP activists, and a record to run on.

But these lofty expectations were being formed at a time when no one in Iowa, New Hampshire, or anywhere, really, had much reason to know who last occupied the Minnesota governor's mansion. Gradually, the "book" on Pawlenty shifted. He went from a sleeper pick for the nomination, to a wise-guy's best bet, to a flop. After a year and a half of media hype, predictions of top-tier status turned into questions about when Pawlenty would reach that status, and then into questions about why he wasn't reaching it already. It didn't help Pawlenty that, because of lofty expectations forged early in the election cycle, his positive buzz turned negative.

It's easy to see things going differently for Pawlenty had he waited, a la the most recently announced presidential candidate, Texas Gov. Rick Perry. If Pawlenty had taken on another term as governor, one can see him as a Chris-Christie-esque magnet for the hopes of disgruntled Republicans frustrated by the options at hand, able to make a splash with late entry. But we'll never know for sure.
Debate woes. Pawlenty appeared in two major televised debates, and he sort of blew it both times. In a New Hampshire debate televised by CNN on June 13, Pawlenty backed down from a challenge by moderator John King to repeat an attack line against Romney -- that week, Pawlenty had referred to Massachusetts' health care system as "Obamneycare" -- to Romney's face, since the two were standing in the same room. When Pawlenty refused to take the bait, he looked weak. In the Iowa debate televised by Fox last Thursday, he had the opposite problem. Early on, he transparently adhered to a plan to attack President Obama at every turn, even when he wasn't asked about Obama, but he later went after Bachmann a bit too forcefully, calling her congressional record "nonexistent" and telling her, "If that's your view of effective leadership with results, please stop, because you're killing us."

Debates give candidates face-time with the national GOP electorate. Pawlenty missed two big opportunities to introduce himself and win people over.
He ran in the wrong year. "Pawlenty looks better every day," a GOP operative said to me in a bar in early June, a week after Sarah Palin flubbed her history of Paul Revere. His point: The rest of the candidates, both announced and potential, look unelectable.

But this is a bad time to have a good record. Republican politics are now dominated by the tea party and those who align themselves not just with its politics, but with its attitude. It's telling that Bachmann, a charismatic ideologue with a lot of toughness but few substantive accomplishments in Congress, ultimately forced Pawlenty from the race.

That's what Democrats are saying about Pawlenty's exit. "A former two-term Governor of a neighboring state, a social conservative, a person who on paper should be everything Republicans should consider in a candidate for president, was run out of the race because he wasn't extreme enough," Democratic National Committee Communications Director Brad Woodhouse wrote in an email to reporters on Sunday. There's some truth to it, but, as is always the case with partisan talking points, there's a more complicated story to be told.

Pawlenty tried to straddle some tough lines in this campaign. He seemed to want to be the calm, experienced, non-outrage alternative to tea-party firebrands, but he also played to anti-Obama anger in some of his speeches. He seemed to want a piece of the outrage vote, too. Pawlenty accrued a political identity that could have united fiscal tea-partiers, social conservatives, and moderates. His brand was never strong enough to support that big-tent potential, seen by so many Beltway insiders.

Pawlenty's failures probably had less to do with policy and more to do with persona. It's not that he isn't conservative enough. Had Pawlenty won the nomination, the DNC would be crafting emails about his unmitigated extremity.

Unfortunately for Pawlenty, the GOP zeitgeist doesn't seem to support nice guys, when niceness is their most salient attribute. Republican activists are emotionally invested in their longing to beat Obama in 2012, and Pawlenty's candidacy failed to engage them on emotional terms. In a calmer election year, his big-tent appeal may have bloomed more fully in richer, less angry soil. But in 2011, it just didn't happen.