Why Rick Perry Might Not Be Conservative Enough
Don't be surprised if the governor's 2012 rivals question his credibility. Dating back to his days as a Democrat, he's taken moderate stances that leave him vulnerable to attacks from the right.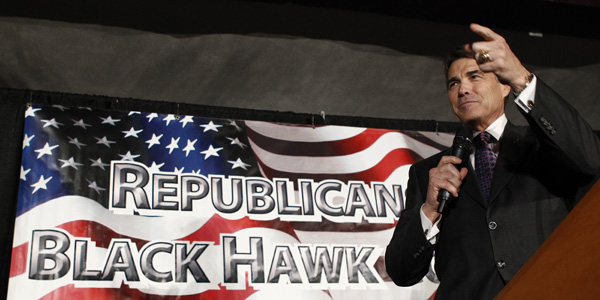 Texas Gov. Rick Perry has taken the Republican presidential field by storm since declaring his candidacy on Saturday, winning widespread praise for his outspoken conservative positions. But Perry has served 26 years since first winning election, as a Democrat, to the Texas state House in 1984. That means he carries a record - a long record - containing a few conservative blemishes that his leading rivals in the GOP field can seize upon.
Indeed, in an interview with a Des Moines radio station on Monday, Perry was deluged with questions from informed Republican voters about potential conservative heresies on his record - from his enthusiastic backing of an unsuccessful superhighway proposal that critics claimed was a land grab, to his support for Al Gore in the 1988 Democratic presidential primary.
(RELATED: Gibbs Scolds Perry Over Talk of Texas Secession)
Wondering about he playbook of attacks his Republican rivals may be digging from in the coming months? Here's an overview:
Immigration
Perry's record on immigration is similar to that of his predecessor, George W. Bush. He even supported a statewide law providing for in-state tuition for illegal immigrants - a federal version of which was opposed by most Republicans in Congress. His moderate views have won him support from a solid share of Hispanics (he took 38 percent of the Hispanic vote in 2010, according to exit polls) and would likely help him in a general election. But like Bush, his positions have fueled criticism from many immigration hardliners within his own party.
In 2001, Perry signed the Texas DREAM Act, which allowed children of illegal immigrants to receive in-state tuition at the state's universities. In a speech at the time, he underscored the need for children from all backgrounds to receive a quality education. "We must say to every Texas child learning in a Texas classroom, `We don't care where you come from, but where you are going, and we are going to do everything we can to help you get there,'" he said at the time. "And that vision must include the children of undocumented workers. That's why Texas took the national lead in allowing such deserving young minds to attend a Texas college at a resident rate. Those young minds are a part of a new generation of leaders; the doors of higher education must be open to them. The message is simple: Educacion es el futuro, y si se puede."
The Texas governor, in a 2006 editorial, also called a fence along the border with Mexico "cost prohibitive," remarks sure to draw the ire of many conservatives.
Immigration remains a heated subject among many conservatives. But Perry is fortunate the year is 2011, not 2006: With the economy limping, the issue has lost some resonance as most voters focus squarely on the economy. Still, don't be surprised if a Perry opponent like Rep. Michele Bachmann (R-Minn.) uses the issue to convince Republicans that Perry isn't the down-the-line conservative he claims to be.
Mandatory Vaccinations
One of the most noteworthy blunders of Perry's career is one he himself now admits was a mistake. In 2007, Perry issued an executive order to make a vaccine for the human papillomavirus, a cause of cervical cancer, mandatory for girls entering sixth grade. Even if parents were given the option to have their child opt out, the decision drew widespread outrage from social conservatives who suggested it encouraged sexual promiscuity. Perry's initiative was hurt further by the fact that Merck, the company that produced the vaccine Gardasil, had hired his former chief of staff to be its lobbyist.
The Legislature soon overturned Perry's order, but that didn't stop him from defending his decision for years afterward. But, as the Texas Tribune notes, the governor has changed his tune in his presidential campaign, telling a crowd at a New Hampshire event he made a mistake because he didn't realize the depth of opposition to it.
"I signed an executive order that allowed for an opt out, but the fact of the matter is that I didn't do my research well enough to understand that we needed to have a substantial conversation with our citizenry," Perry said, according to ABC News.
It's an issue that runs counter to his predominantly libertarian ideology, and also could hurt him with social conservatives, who have flocked to Bachmann. The governor has courted social conservatives - most notably holding an event in Houston a week before he declared that drew more than 30,000 Christians - to support his campaign. But they're unlikely to be thrilled when they learn he tried to mandate a vaccine for a sexually transmitted disease.
Image credit: Jim Young/Reuters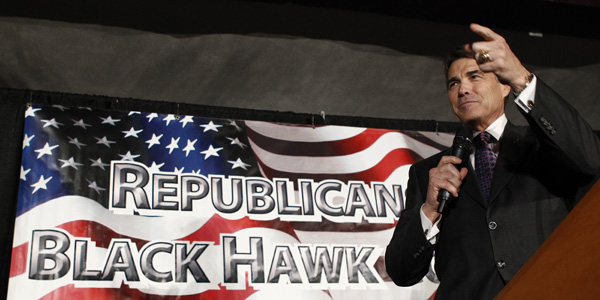 Texas Trans-Corridor
In 2003, Perry unveiled a plan to build a network of highways across Texas, called the Texas Trans-Corridor. Six years later, the $175 million, 6,000-mile project had been dumped. What happened? Although Perry said the plan, which would construct a network of toll roads connecting major cities along with room for power and rail lines, was necessary to help the state keep up with its robust growth, landowners complained it took up too much private property and could bring traffic and crime to rural areas. He also took heat among critics who called the plan a de-facto "NAFTA superhighway."
In an interview Monday with an Iowa radio station, Perry defended the plan as the best way to avoid raising taxes or waiting for Washington to help. But the project's political bottom line is the fact that his opponents could characterize it as the kind of big-government boondoggle that a big-spending liberal would support. For a candidate whose fiscal conservative bona fides are his strongest quality as a candidate, that's a dangerous message.
Charges of Crony Capitalism
A Wall Street Journal column published Saturday raises questions about Perry's use of the Texas Emerging Technology Fund, which Perry helped create in 2005. The fund was designed to help funnel taxpayer money to technology start-ups in the Lone Star State, but, as the column points out, many of those funds went to big Perry donors. For instance, Convergen LifeSciences, which received $4.5 million, is run by David Nance, who the Wall Street Journal found had donated $75,000 to Perry's campaigns between 2001 and 2006. He was just one of several donors to receive large grants from the Technology Fund, according to the newspaper.
Along with the vaccine imbroglio, the apparent conflict of interest opens Perry up to charges of crony capitalism. For a governor who cut billions from the state budget in areas like education, being seen as doling out favorites to political allies is not a good image.
Endorsing Al Gore in 1988
Perry supported the former Tennessee senator when he ran for president in 1988. At the time, both men were different: Perry was still a Democrat (he switched parties in 1989), and Gore was known more for his defense of family values than for trumpeting the danger of climate change. As Perry put it Monday, "This was Al Gore before he invented the Internet and got to be Mr. Global Warming."
Of all of Perry's conservative foibles, however, this is likely the least severe. Conservative southern Democrats were more common in the late 1980s than they are currently. Another outspoken conservative governor, Ronald Reagan, was a former Democrat but that was a non-issue in his presidential campaign.
Still, don't be surprised if one of Perry's rivals makes light of his past support for Gore, who remains one of the most disliked figures within the conservative movement.
Image credit: Jim Young/Reuters