Why Defense Cuts Are Nothing to Fear
Recent budget trends and the behavior of other countries suggests we're giving the Pentagon too much money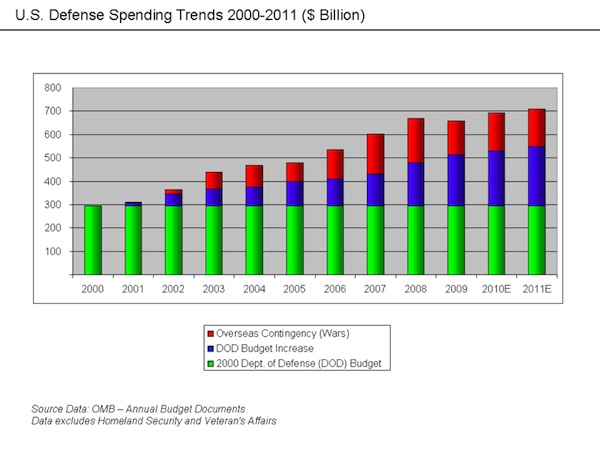 Ponder the part of the debt ceiling compromise that has
some conservatives in a state of upset
: if a future deal isn't reached to reduce the deficit, automatic cuts to defense spending will result, something they're calling a threat to national security.
Is it?
Above is a
chart
that shows growth in the Pentagon budget over the last decade. Keep it in mind as you evaluate John Bolton's widely cited
reaction to the deal
(emphasis added):
While the trigger mechanism comes into play only if the Congressional negotiators fail to reach agreement on the second phase of spending cuts, it verges on catastrophe to take such a national security risk.

Defense has already taken hugely disproportionate cuts under President Obama, and there is simply no basis for expanding those cuts further. Republican negotiators must hold the line, since the Obama Administration plainly will not.

It is fantasy to suggest that the Pentagon has suffered under Obama. Nor is it likely to start suffering: the Obama Administration's 2012 request for Defense Department spending "grows the base defense budget by 3.0 percent in real terms from the level enacted in FY 2011,"
says
the Center for Strategic and Budgetary Assessments. Its only "cut" is to request 27 percent less in additional funds for fighting in Iraq and Afghanistan, conflicts where our role is winding down.
But what if we do spend less on our military. Does that mean that we'll suddenly be vulnerable to being attacked by other countries? Courtesy of the Cato Institute, here's global spending on defense
put into perspective
(using 2010 numbers):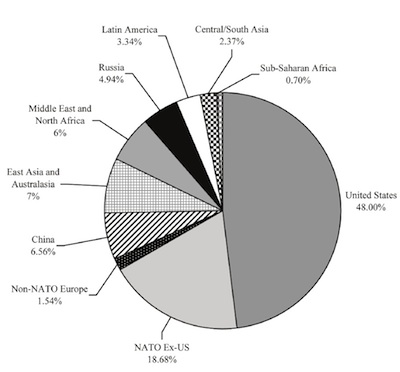 The United States could substantially cut its defense budget and still spend more money on our military than every country that even plausibly threatens us
combined
. Can someone explain why that isn't enough? There is one explanation. If you're someone like
Bill Kristol
, who wants to maintain American troops in countries all over the globe forever, favors military intervention in countries like Libya that pose no threat to us, is ideologically committed to remaking more foreign countries via force, and favors ratcheting up the likelihood of military confrontation with countries like Iran and China, current levels of "defense" spending makes perfect sense. Imperial garrisons are expensive to maintain, after all, and more foreign wars will be costly to wage.
Defense cuts make that sort of foreign policy untenable (not that Kristol will stop calling for those same policies even if cuts happen). For most rank and file Republicans, that's a feature, not a bug.
Image credit: Wikimedia Commons