What a Super-Committee Compromise Might Look Like
Charged with slashing the deficit by trillions, the new bipartisan commission could deadlock or reach a grand bargain. Is there a third option?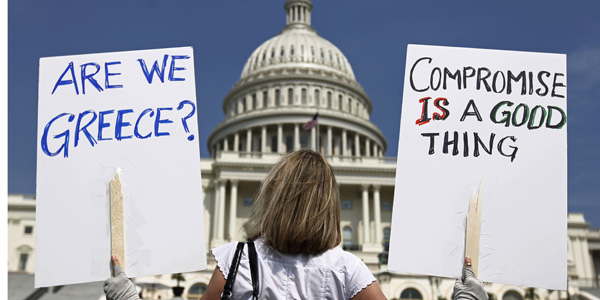 Speculation on a special deficit-reduction committee has focused on the prospect that members will either reach a so-called grand bargain or bog down in gridlock, but it is more likely they will do something in between.
Aides to panel members and other sources believe the members may well fall back on what could be dubbed a "not-so-grand" strategy. That would entail recommending deficit cuts identified in talks led by Vice President Joseph Biden as the base of a deal.
The recommended cuts might total less than the $1.2 trillion over 10 years in reductions the committee is being asked to achieve to avoid across-the-board cuts -- or sequestration -- of the same amount in 2013. But any panel-recommended cuts adopted by Congress will be subtracted from the total to be sequestered. By recommending, for example, $600 billion in spending cuts and reduced interest payments, the panel would halve the onerous amount required by the enforcement mechanism, or trigger, laid out in this month's legislation raising the federal debt ceiling and creating the new committee. Because half the sequestered funds under the bill would come from defense spending and entitlements would be mostly exempted, Republicans aides in particular cited the fallback option as a preferable outcome to sequestration. But Democrats, too, may see that approach as better than surrendering authority for major spending cuts to the executive branch.
As a first step, congressional leaders this week named the 12 special committee members. House Minority Leader Nancy Pelosi (D-Calif.) on Thursday picked Democratic Reps. Chris Van Hollen of Maryland, Jim Clyburn of South Carolina and Xavier Becerra of California to serve on the committee that will now seek $1.5 trillion in additional deficit-reduction cuts by Nov. 23.
The panel of six Republicans and six Democrats will be co-chaired by Sen. Patty Murray (D-Wash.) and Rep. Jeb Hensarling (R-Texas). The other Democratic members are Sen. John Kerry (D-Mass.) and Senate Finance Chairman Max Baucus (D-Mont.). The Republicans are House Energy and Commerce Chairman Fred Upton and House Ways and Means Chairman David Camp, both of Michigan, and Sens. Jon Kyl (R-Ariz.), Pat Toomey (R-Pa.), and Rob Portman (R-Ohio).
Republican appointees have generally indicated they will refuse to recommend any tax revenue increases.
GOP committee members will support "the preference of their caucuses" and not agree to tax increases, said a staffer to a panel Republican. The staffer said no plan that raises taxes can pass the House.
House Speaker John Boehner (R-Ohio) and Senate Minority Leader Mitch McConnell (R-Ky.) have also indicated that they appointed committee members with the expectation they will oppose tax cuts.
"My main criteria for selecting members was to identify serious, constructive senators who are interested in achieving a result that helps to get our nation's fiscal house in order," McConnell said. "That means reforming entitlement programs that are the biggest drivers of our debt, and reforming the tax code in a way that makes us more competitive and leads to more American jobs."
GOP aides say such statements mean leaders have not ruled out tax reform, but expect committee members to oppose any plan that would raise tax revenue overall. That stance eliminates chances for a grand bargain resembling one recommended by the "Gang of Six" senators, or a somewhat similar approach discussed at one point by the White House and Boehner.
An initial question will be whether committee Democrats, who have not ruled out entitlement cuts the way the GOP has objected to new revenues, will agree to any cuts that target entitlements by limiting, for example, payments to Medicare providers. But they will likely agree to minimal entitlement reductions.
Democrats and Republicans are evenly divided on the panel, which needs a majority of members to make recommendations which then must win a majority vote in both chambers to pass. That makes for good odds the committee will not produce $1.5 trillion or more in enacted spending cuts.
But that does not mean the committee can do nothing.
The Biden group, which attempted to craft a deficit-reduction deal in May and June, stalemated over the tax issue, but members in both parties said it had identified a combination of mandatory spending cuts and new non-tax revenues group members could have otherwise agreed on.
House Majority Leader Eric Cantor (R-Va.) and Kyl, the Senate minority whip, have claimed the savings exceed $700 billion over a decade. Democrats have put them at closer to $400 billion.
These savings, not included in the debt ceiling deal, are a likely target for the new committee because they come from mandatory spending. The panel, due in part to more than $900 billion in discretionary cuts already included in the debt ceiling deal, will have to find mandatory cuts.
The cuts do not hit entitlements, a key for Democrats. They include an estimated $33 billion in agriculture subsidies and about $47 billion from federal employees' pensions, for example. New revenues identified in the talks included increased fees for airlines and government-sponsored entities. Kyl has said those fees are not taxes and are acceptable to Republicans.
Increasing the odds the committee taps the Biden group's savings is the presence of four veterans of those talks on the new panel: Van Hollen, Clyburn, Kyl and Baucus. Should the committee recommend cuts proposed by the Biden group, it can add to the total an additional 18 percent in assumed reductions in interest payments on debt, under a Congressional Budget Office formula. Such savings would likely total less than $1.2 trillion.
If entitlements remain off the table, committee members could then consider savings that fall into the category of budget gimmickry.
Topping the list is the more than $1 trillion in savings that can be claimed under CBO scoring from Overseas Contingency Operations funds for wars in Iraq in Afghanistan. Many lawmakers, especially Republicans, have labeled those savings phony since the war funding is set to fall anyway. But members might more plausibly make the case for claiming a smaller portion of those funds. And Republicans might prefer tapping some of those assumed savings to acceding to a sequestration process that hits defense spending hard while limiting entitlement cuts.
With sequestration a bitter pill for both parties, "it's in everybody's interest to take a bunch of crappy little gimmicky provisions," said a K Street analyst tracking the committee.
Image credit: Kevin Lamarque/Reuters