The Texan Persona of Rick Perry
The governor already reminds people of George W. Bush. Now that he's joined the 2012 presidential race, he'll have to decide how to wield his cowboy image.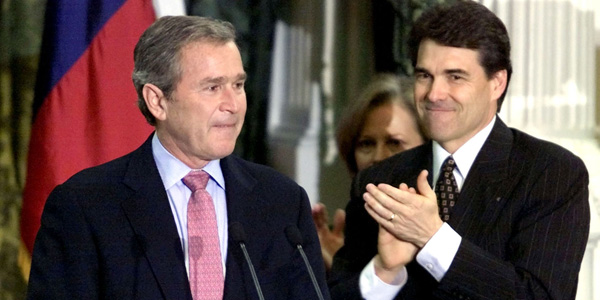 Editor's note:Texas Gov. Rick Perry officially entered the 2012 presidential on Saturday, launching a new website where he wrote in a statement, "It is up to us...to this present generation of Americans...to take a stand for freedom...to send a signal to Washington that we are taking the country back from the grips of central planners who would control our healthcare, spend our treasure and micro-manage our businesses."
With his cowboy boots, deep West Texas drawl and inclination to brag about shooting a coyote during a jog, Rick Perry has made a full-throated embrace of his image as governor of Texas. Now that Perry prepares to end months of speculation on Saturday and officially announce that he's running for president, the inevitable question arises: Is the rest of the country ready for yet another Lone Star State candidate?
(RELATED: Doggett Dogs Perry as Texas Governor Enters GOP Presidential Race)
---
MORE FROM NATIONAL JOURNAL:
Ready to Roll
Pictures: Scenes From the Iowa Straw Poll
The GOP Campaign, in Full Effect
---
How Perry navigates the Texan persona he shares with George W. Bush - Perry's, longtime state political observers say, is far more overt than Bush's - is one key to his chance of capturing the Republican nomination and, should he win the primary, whether he can defeat President Obama. He is expected to begin that journey during a speech at RedState Gathering in Columbia, S.C., an annual meeting of conservative activists.
Perry took over as governor in December 2000 from Bush, who was preparing to move to Washington. Although both men are Republicans, analysts say they have markedly different styles. The former president, a self-styled "compassionate conservative" when campaigning for the White House, tried to achieve bipartisan consensus in Texas. Perry, by contrast, has been content to pass bills largely on party-line votes.
That divisive style was evident earlier this year, when Perry and a new wave of tea party conservatives closed a two-year, $27 billion budget gap without tax increases, instead slashing government spending, including $4 billion in education funds. Perry and the lawmakers, to the fury of Democrats and the chagrin of even some moderate Republicans, also left more than $6 billion in a reserve account untouched.
"When Bush ran for president, I can name countless of Democratic Party members, Democratic legislators, particularly House members, who went and campaigned for him," said Bill Miller, a longtime Republican lobbyist in Austin. "You won't find one person to do likewise for Perry."
(FROM OUR ARCHIVES: The Truth About Perry's Texas Record)
What Perry's image amounts to is a doubling-down on the cowboy persona that Bush brought to the White House -- one that was often maligned by the end of his term. But there's evidence to suggest that, at least in a Republican primary, Perry's association with Bush could do more good than harm.
A Gallup poll from late last year suggested that the previous president remains popular with GOP voters. Eighty-seven percent of Republicans had a favorable image of Bush, the poll reported, compared to just 11 percent unfavorable.
But there are obvious caveats to that legacy. Bush's tenure as president is a time Republicans almost now universally acknowledge was marked by federal overspending. Perry himself said in 2007 that Bush "was never a fiscal conservative."
In a broader context, Perry could also struggle as a southerner in at least one early primary state: New Hampshire. The Granite State has been notoriously difficult for candidates hailing from south of the Mason-Dixon line. Among those who learned that the hard way was then-Sen. Phil Gramm, another Texas Republican, in 1996.
(RELATED: Get Ready for a GOP Roller-Coaster Ride)
"Phil Gramm just could not sell," said former state GOP Chairman Fergus Cullen, who worked on that effort. "He used to always say, 'I don't make a great first impression, but I wear well.' The political reality is he neither made a great first impression nor wore well." Though the cultural disconnect does lead New Hampshire voters to penalize Southern candidates, Cullen said, Perry might have a chance to break the trend this time because the field remains wide open. In the opinion of the former chairman, Perry just needs to sell himself as a fiscal conservative--something he already has been doing for months. But Perry faces other challenges, not the least of which is that, unlike Bush, he doesn't have any Northeast ties.
(PROFILE: Gov. Rick Perry)
"Rick Perry is much more Texan than George W. Bush ever was," Cullen said. "Everyone knew George W. Bush was a Northeasterner, not an authentic Texan the way Rick Perry is."
Image credit: Adrees Latif/Reuters