The 'Mittness Protection Program'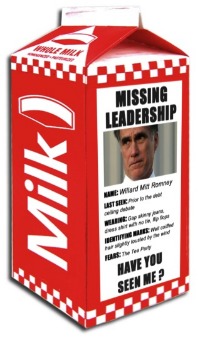 Ben Smith has come up with a brilliant new coinage, and Matt Lewis a hilarious illustration, to capture Mitt Romney's conspicuous absence from thorny political debates like the one over raising the debt ceiling. Here's Smith:

Call it the Mittness Protection Program.

Through the hot summer of 2011, the frontrunner for the Republican nomination has been in hiding.

Romney was hit repeatedly by his opponents and the Democrats for refusing to offer an opinion on the debt deal until twelve hours after Congressional leaders accepted it - but that's just been the most obvious example of a campaign that's keeping the candidate far from the front lines and the headlines.


I took my own -- in comparison, lame -- stab at capturing this aspect of Romney in a column last May ("The Do-Nothing Frontrunner") about how Romney was putting the "invisible" in "invisible primary" by just not showing up much. But the larger point of the column was that this was a good strategy for him. Romney's opponents were not exactly covering themselves in glory, and he's prone to making gaffes. Sometimes, less is more.
The debt ceiling debate has tarnished the image of both President Obama and Speaker Boehner - about a third say they have come to have a less favorable view of each leader in recent weeks, while relatively few say their impressions have improved.

Mitt Romney certainly won't win any "Profile in Courage" awards. But in terms of raw politics, steering clear of this fight seems like a shrewd move and the Mittness Protection Program not such a bad place to be.
In light of the toll that the debt-ceiling fight has taken on the politicians who were most involved, I'd say that's more true now than ever. President Obama's approval ratings hit their lowest level last week. According to Pew: