The GOP's Fall Jobs Agenda: Roll Back Regulations and Taxes
In a memo to Republicans, Majority Leader Eric Cantor previewed a slate of bills the House could take up when Congress returns next week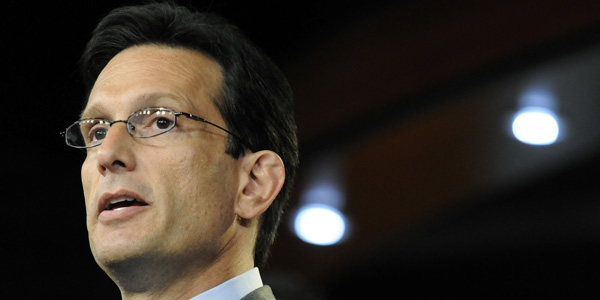 While the spotlight will be on the workings of the new deficit-reduction "super committee" after Congress returns next week, House Republican leaders said on Monday they also have set a legislative agenda for fall and winter that concentrates heavily on regulatory and tax relief.
"When we return next week, the Joint Select Committee on Deficit Reduction will begin meeting to take an additional incremental step toward addressing our debt crisis. During this time, it is essential that the House continue our focus on the jobs crisis," Majority Leader Eric Cantor (R-Va.) said in a memo being sent on Monday to rank-and-file House Republicans.
In partisan language, Cantor's memo goes on to describe a schedule that includes tackling what he identifies as "10 job-destroying regulations," with more than one of these efforts being intended to highlight legislation from freshmen GOP House members.
In broadest terms, Republicans appear determined to counter Democratic claims that they are not doing enough on the jobs front. Cantor wrote that the various regulations or rules to be targeted "are reflective of the types of costly bureaucratic handcuffs that Washington has imposed upon businesspeople who want to create jobs."
Many of the planned moves are certain to prompt resistance from the Obama administration and Senate Democrats. The office of House Minority Leader Nancy Pelosi (D-Calif.) was expected to release a response to the memo later on Monday.
Cantor wrote that Republicans will kick off their efforts the week of September 12 by seeking to overrule a National Labor Relations Board ruling that restricts Boeing's efforts to move an assembly line from unionized Washington state to South Carolina, a right-to-work state. Business leaders accuse the Obama administration of seeking to to help labor allies. Cantor noted that freshman Rep. Tim Scott (R-S.C.) has introduced legislation to prevent NLRB from "restricting where an employer can create jobs in the United States."
Other regulatory proposals or rules to be targeted in following weeks and months touch on Environmental Protection Agency standards for cross-state air pollution from power plants, boilers, coal ash in mining-heavy states, cement production, and farm dust; new ozone standards; greenhouse-gas performance standards; and some rules under the new health care law.
Cantor also wrote that in the winter, the House will consider legislation in light of an NLRB notice of a proposed rule regarding union election procedures - legislation he said will "protect the interests of both employers and their workers."
On taxes -- another area described as hindering the creation of "middle-class jobs" -- Cantor's memo said House Ways and Means Chairman Dave Camp (R-Mich.) will lead efforts to provide relief for businesses.
Cantor writes that those will include a planned vote on terminating a requirement due to start in 2013 that would mandate federal, state, and local governments to withhold 3 percent of all government payments made to contractors in excess of $100 million. According to Cantor, this move will "lift the uncertainty" being brought upon construction contractors, medical providers, manufacturers, farmers, and many others who provide goods and services under government contracts.
Cantor wrote that Republicans also intend to continue pushing a plan to allow businesses with fewer than 500 employees to take a tax deduction equal to 20 percent of their income. He noted that the goal of the proposal - part of the GOP's 2010 election "Pledge to America," was simple: to "immediately free up funds for small businesspeople to retain and hire new employees, and reinvest in and grow their businesses."
House leaders also expect Obama to advance three free-trade agreements sometime this fall, and Cantor wrote that "when he finally sends them our way, I will not hesitate to schedule them." The protracted battle over the debt limit stalled plans in July to ratify pending trade deals with Colombia, Panama, and South Korea.
Image credit: Jonathan Ernst/Reuters