The Day of Reckoning in Wisconsin Recall Fight
Outside groups, finger-pointing and acrimony have nearly eclipsed the original reason six state senators face voters today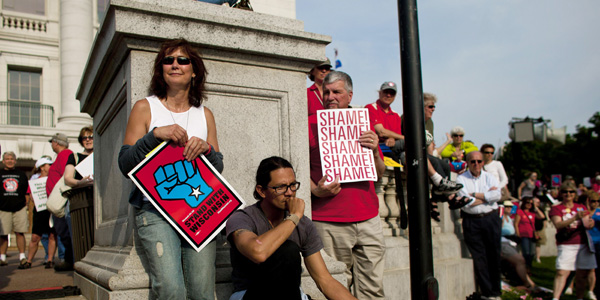 Wisconsin is tired of standing.
First the state was told to "Stand with Walker."
Ever since then, it's been "Stand with Rob Cowles." "Stand with Shelia." "Stand with Senator Kapanke." "Stand with Senator Dave Hansen." Nationally, the AFL-CIO asked all of America to "Stand with Wisconsin." Meanwhile, outside parties are waterboarding Wisconsin voters with cash as wild accusations become the norm and the entire state devolves into a Tennessee Williamsian dysfunctional family.
On Thursday, Republican Senator Dale Schultz leveled a shocking allegation that Governor Walker had dry-gulched him into missing the vote on the budget bill that eliminated collective bargaining, where, Schultz claims, he had planned to offer a compromise amendment. Schultz, a moderate, avoided recall earlier this year, even though he faced an outraged constituency.
That came just a week or so after a Green Bay business leader came forward with a tale of other Walker shenanigans. The businessman told the Milwaukee Journal Sentinel that recalled Republican Senator Robert Cowles had confided that the only reason he voted for the bill was because "the governor's office told us if we didn't give them our support, they would run a tea party candidate against us." Cowles immediately shot back against the claims, but the two senators' allegations together suggest the GOP hardline may be cracking. Indeed, none of the Republican senators facing recall have featured Walker in their campaign ads. A comedic demonstration of this distancing come froms GOP Senator Randy Hopper, whose recall campaign website features the legislator standing beside former Republican governor Tommy Thompson instead of Walker.
(Thompson, a heavyweight in Wisconsin politics, has been curiously absent in the recall brouhaha, likely because he is expected to run for retiring Senator Herb Kohl's seat in 2012, and fears alienating voters statewide.)
For the record, six of the historic eight remaining recall elections occur on Tue., Aug. 9:
District 32 General: Recalled Republican Senator Dan Kapanke vs. Rep. Jennifer Shilling
District 14 General: Recalled Republican Senator Luther Olsen vs. Rep. Fred Clark
District 18 General: Recalled Republican Senator Randy Hopper vs. Jessica King
District 10 General: Recalled Republican Senator Sheila Harsdorf vs. Shelly Moore
District 8 General: Recalled Republican Senator Alberta Darling vs. Rep. Sandy Pasch
District 2 General: Recalled Republican Senator Robert Cowles vs. Nancy Nusbaum
Even the Democrat candidates have largely abandoned the original reason for the recalls -- state restrictions on collectively bargaining -- for the language of the national debate: Obamacare; Ryancare; taxes; debt; abortion; jobs. In a few cases, Republicans have leveraged stewing,1960s-era state sentiments about lily-livered hippie protesters.
The Wisconsin hippodrome has provided no shortage of electoral spectacle.
Last week I gave up keeping track of which accusations the Government Accountability Board was investigating and which would be left to the judgement of AM talk radio and Twitter. Americans for Prosperity claims it made a printing error when it mailed absentee ballot applications with a return date Aug. 11, two days after most of the elections. That AFP, a "nonpartisan" 501(c)(3) organization was using the return mailing address of Wisconsin Family Action, a 501(c)(4), was hardly sexy enough to even elicit mention in the scandal.
Wisconsin Right to Life was accused of running (another) misinformation GOTV campaign similar to AFP's. Pro-union group Wisconsin Jobs Now was accused of giving away food as a reward for those who voted early, an election violation.
The press release roll at Wiscpolitics.com swells daily with a litany of accusations, denials and counter-accusations, inspiring a desire to take a steamy shower after each reading. In the last week, it seems nearly every campaign's messaging has largely devolved to calling the opposing campaign liars. And outside groups appear to have hired an army of monkeys to type "For immediate release..."
Sample recent releases:
"Wisc. Jobs Now: Files GAB complaint against Friends of Alberta Darling, We're Watching, and other voter suppression agents"
"Cowles Campaign: Cowles to Nusbaum: Stop lying about my record"
"WisDems: Randy Hopper repeats job lies"
"We Are Wisconsin: Grasping at straws, Harsdorf continues to lie about record of raising taxes, defending corporations"
"WisDems: The truth behind Republican lies about Sandy Pasch"
"WisGOP: Files complaint over voter bribery by Pasch connected interest group"
"WisDems: BREAKING: Is Jonathan Steitz renting to sex offender in noncompliance?"
Oh Jesus, is he?!
Dem. Senator Wirch, who faces a recall election Tuesday, claimed to have brought a company to Wisconsin, only to have that company issue a statement more or less calling him a liar.
An ad running against Dem. Rep. Clark accused the challenger to recalled GOP Senator Olsen of having run a red light and plowed down a bicyclist, a charge Politifact actually took up, finding it true, mostly because of the existence of a Faces-of-Death-like traffic video of the accident (which was of course included in the ad).
Mistresses. Wives. Unpaid child support. People who happened to be in the same room for a few minutes. It's all become fair game.
Things became truly absurd when a state Capitol worker, driven mad by cleaning up the heart-shaped balloons released daily in the dome, accidentally cut himself with a knife in an altercation with a protester. For conservative news organizations it was a gift from heaven: Unionized state employee stabs self trying to pop heart balloon of leftist hippie.
Then, last week, the La Crosse offices of the union-organized third party We Are Wisconsin were reduced to rubble by a sudden fire, providing the perfect visual metaphor for the whole state's political atmosphere. As an appropriate coda to the whole shebang, the Tea Party Express, which came out of some little corner of American political hell, toured the the state in the days before the elections.
So berserk with oratory and patriotic zeal, one had to wonder if it wasn't a Colbert Show bit, the bus' speakers went from town to town making statements such "[the left] has killed a billion people in the last century." Bus rider and radio host Andrea Shea King literally just screamed "Waaaa" at the crowds. The tour banged away on the war drums of such 2009 greatest hits as Obamacare, the stimulus, and Cap and Trade. (Remember Cap and Trade?)
The Our Country PAC-sponsored Tea Party Express bus tour presented attendees with a flight of Tea Party seed group brews, including those from FreedomWorks and the Patriot Action Network. There was even a musical act with a folk song customized to the trip.
This machine thrills Baptists.
What the Tea Party Express example demonstrates is how the "conversation" surrounding the individual recall campaigns has become a shrill shambles due the domination by out-of-state third party organizations for whom Wisconsin is just a (fat) pawn piece to be moved about the board.
Ironically, the Tea Party's statewide magical liturgy tour may have backfired spectacularly as it perfectly coincided with a credit downgrade which even many conservatives blamed on the movement. By the end of the bus' final event on Monday, the very day before the six elections when the stock market nosedived 600-plus points, news releases connecting the Tea Party and recall-race facing Republicans flooded the zone. Nearly every Monday release from Union-backed We Are Wisconsin referred to the GOP candidate as "Tea Party-backed."
When Dem. Senator Dave Hansen won his early general recall election in July, spending on the race totaled just over $1 million. This suggested that spending for all nine races might end up in the $15 to 18 million range. Now that number looks antiquated.
At least five of the nine recall elections have already surpassed the Wisconsin record of $3 million spent on a single state legislative election, and total spending on all races looks like it will top out around $32 million, with only about a sixth of that spent by the candidates themselves. Even corporations one wouldn't expect to see devoting attention to state senatorial elections are cutting huge checks. For example, Indianapolis-based health insurer WellPoint gave $450,000 to the Republican State Leadership Committee to sway the Wisconsin elections. Why? Who knows, probably Obamacare.
Using 2008 voting numbers in the nine recall districts, if the $32 million figure is close, it means around $44 per vote will be spent in the Wisconsin elections. (That's not a perfect estimate, as for example, Sen. Luther Olsen was unchallenged). For perspective, in the 2008 presidential election, the most expensive of all time, it's estimated Obama spent about $7.40 per vote, and John McCain, $5.80 per vote. The 2010 Wisconsin election for governor, another record, worked out to approximately $17.30 per vote cast.
But wait, here's what will really put curd on your cheese.
That $32 million being spent on the recalls is targeting a minute fraction of undecided Wisconsin voters. The few polls that have been done on the recall races have found anywhere from 2 to 4 percent of voters are undecided. Using a middle 3 percent as the undecided total of potential voters, based on those 2008 district numbers, around $1,557 is being spent on each undecided vote.
While a few of the Tuesday elections are sure to be nail-biters, there is good reason to expect the Democrats will either take four or more of them or two or less -- but not three. If the Democrats split the Aug. 9 recalls, it's very likely the Aug. 16 Northwoods District 12 race could be the decider.
In District 12, incumbent Democrat Senator Jim Holperin faces GOP challenger Kim Simac. Simac, a Tea Party organizer, makes Bachmann and contemporaries look like the flabby reasonable middle. Simac even one-upped the Minnesota pol by signing a pledge of religious sovereignty called "The Manhattan Declaration." Forget that Simac is herself divorced or that signing such a document should raise the hackles of those who worry about a candidate's true allegiance.
Oddly enough, a bit of state political trivia that's been largely forgotten is that this is the second time Senator Holperin has been recalled.
In 1990, he was recalled for supporting then Republican Governor Tommy Thompson's position on Native American spearfishing treaties. At that time, Holperin was targeted as part of a Republican-led recall that he eventually beat. Yet, as Holperin told me, "I have not been able to use any lessons learned from the 1990 recall in this race."
One big difference, in 1990, Holperin won after raising just over $40,000. Twenty-one years later, it will be closer to $400,000, to say nothing of outside spending, which will probably at least double that.
Holperin told me he will not run in the next cycle if Simac wins.
Again: If Tuesday's results are split, the Holperin-Simac race may determine control of the state senate. If that happens, expect the most out-of-hand state senate race in history between a half-cocked Tea Party member who refuses to debate and a 30-year moderate Democrat, endorsed by the NRA. Simac has already become a favorite punching bag for how her anti-tax talk squares poorly with her actual taxpaying record, her pro-USA books being printed in China and her statements about Nazis and how Richard Nixon "deserves a pardon."
If it all does comes down to District 12, it will be a test of just how far Republicans are willing to go to preserve their majority; will they hold their nose and vote for Simac, a candidate most non-Tea Party Republicans statewide consider an embarrassing vulgarian? If Wisconsin is lucky on Tuesday, it will never have to find out.
Image credit: Darren Hauck/Reuters