Senate Sends Debt Deal to Obama
After the House passed a compromise measure on Monday, the Senate approved it overwhelmingly Tuesday afternoon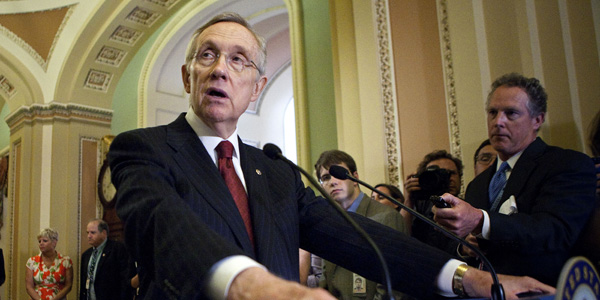 Ending an acrimonious months-long stalemate, the Senate reached more than 60 votes to pass a bill raising the $14.3 trillion debt ceiling through the 2012 election and reducing the deficit in multiple steps. The Senate is still voting.
The hard-fought bill will be sent to President Obama before the end of the day, aides and senators said.
During the anticlimactic floor debate early on Tuesday, several senators lamented that the measure could have been more wide-ranging. Minority Whip Jon Kyl, R-Ariz., said, "At best, it is a reversal of previous tax-and-spending policy." He said he would vote for the bill despite his objections.
---
MORE FROM NATIONAL JOURNAL:
Pictures: Giffords Returns to Congress
Breaking Down the Debt-Deal Savings
Obama Tied with Romney, Santorum in Pennsylvania
---
Many Democrats said they were backing the bill reluctantly because it does not mandate added revenue.
"There are parts of it that I will struggle to explain and defend," said Senate Majority Whip Dick Durbin, D-Ill. "But we can't let the American economy descend into chaos if we fail to extend the debt ceiling."
"You're told in life to follow your conscience," Durbin said. "Well, Madam President, on this matter my conscience is conflicted."
The Senate vote, followed quickly by Obama signing the bill, will bring an end to a months-long battle that featured closed-door negotiations, a half-dozen dueling plans, market worries, and the risk that the United States would for the first time ever default on its debt.
"We need to send this to President Obama as soon as we can," Senate Majority Leader Harry Reid, D-Nev., said on Monday. "It has been a long process. I am confident we did the right thing for the American people."
But Reid was blunt about where the $2.4 trillion debt-ceiling compromise cut between the White House and congressional leaders leaves the country. Asked if additional deficit-reduction efforts will be necessary, Reid said, "The answer is not only yes, but hell yes." Reid sought a unanimous-consent deal for a vote to pass the bill on Monday, but leadership aides in both parties predicted the vote would occur on Tuesday due to the late hour of the Monday night House vote and a demand by several GOP conservatives for a day to review the bill.
Any senator can force delays that bar passage of the measure until after the end of Tuesday--the deadline set by the Treasury Department for the country to begin defaulting on its debts. GOP conservatives are most likely to slow a vote. But members were expected to sign off on a unanimous-consent deal to allow a vote to proceed with a 60-vote threshold. "We're not gonna hold it up," said Sen. Jim DeMint, R-S.C., a likely "no" vote.
GOP senators grumbled on Monday about defense cuts in the bill. Sens. Lindsey Graham, R-S.C., and David Vitter, R-La., were among those who announced their opposition.
Sen. Mike Crapo, R-Idaho, and GOP aides predicted more than 30 of 43 GOP senators would vote for the bill. Democrats expected fewer than 15 of their 53 members to oppose it.
DeMint said he and other conservatives wanted the day to read the bill with a vote on Tuesday but would likely not otherwise slow it.
"I think most Republicans would agree with that," he said.
Sen. Bernie Sanders, I-Vt., an opponent of the bill on the left, also indicated that though opposed, he would not slow action.
The Senate could adjourn early for the August recess after passage of the measure.
Image credit: Joshua Roberts/Reuters