Rick Perry's Advantage: Hispanic Votes
The Texas governor has won support from Latinos in his home state, and that appeal would help him in a general election against Obama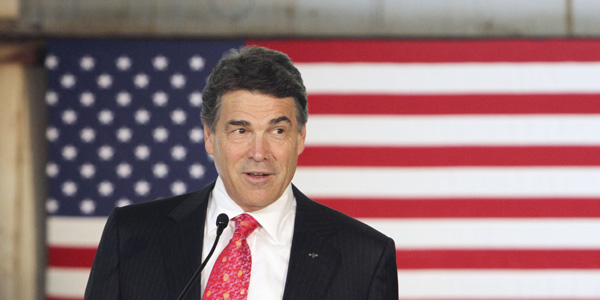 Since Gov. Rick Perry burst into the Republican primary less than a week ago, his shortcomings as a potential general-election candidate have been closely scrutinized. Critics say he's too inflammatory, too Texan, too evangelical.
Largely overlooked is the undeniable advantage Perry would bring to November 2012: a track record of appealing to the Hispanic community, the fastest-growing part of the electorate and an increasingly pivotal swing bloc.
---
MORE FROM NATIONAL JOURNAL:
Will Perry, Bachmann Divide the Vote Against Romney?
Poll Redux: Obama's Tipping Point
Presidential Vacation Criticism Is as Old as Washington
---
The Republican nominee will need to muster an estimated 40 percent of the Hispanic vote to defeat Obama. That's the high-water mark set by former President Bush in his 2004 reelection campaign.
In contrast to leading rivals such as former Gov. Mitt Romney of Massachusetts and Rep. Michele Bachmann of Minnesota, Perry hails from a large state with a sizable Hispanic population. Exit polls show that he won 38 percent of the Hispanic vote in Texas, a solid showing, in his race for governor in 2010.
What's more, Perry boasts a mixed record on immigration issues that supporters say Republican conservatives can live with and independents will appreciate. He signed legislation in 2001 that allows children of illegal immigrations to pay in-state tuition at public colleges. But the Texas governor opposed the federal version of the so-called Dream Act' and has been an outspoken critic of the federal government's border policies, lavishing about $400 million in state money on border security since 2005 "He has shown the ability to walk the fine line between being an advocate for border security while recognizing the contributions by Hispanics to this nation. Many Republicans have fallen short in this regard,'' said Carlos Curbelo, a Florida-based GOP consultant on Hispanic issues. "If we're going to defeat Barack Obama, it's fundamental for the Republican nominee to draw significant support in the Hispanic community, and Perry has a proven record.''
Fervent opposition to immigration reform was partly blamed for the GOP's losing control of the House in 2006. Barack Obama won the White House with support from 67 percent of Hispanic voters. But with approval of Obama slipping amid his inability to rapidly boost employment and pass immigration reform, some Republicans see an opening for their 2012 ticket. No wonder that Florida Sen. Marco Rubio, a Cuban-American and conservative Republican, is on the top of most short lists for vice president. Perry's team acknowledged his experience courting Hispanic voters but said his campaign agenda would be consistent.
"He doesn't change his message for one community over the other. It's about jobs, the economy, and quality-of-life issues,'' Perry spokesman Mark Miner said. "Hispanic parents want to provide a better life for their children just like everybody else.''
Perry has steadily improved his standing with Hispanics since he won only 13 percent of the vote when he faced Mexican-American businessman Tony Sanchez in his 2002 election. Perry's predecessor, Bush, laid some of the groundwork in the Hispanic community that helped him get to 38 percent of the vote in 2010 against Democrat Bill White.
Perry supporters describe his immigration record as nuanced; critics call it contradictory. In a recent interview, he stood by his support of in-state tuition for illegal immigrants who graduate from high school. "To punish these young Texans for their parents' actions is not what America has always been about," he told the New Hampshire Union Leader earlier this month. Yet he opposed a federal version of the legislation.
Perry said that Arizona's controversial crackdown on illegal immigration in 2010 "would not be the right direction for Texas,'' but he pushed a ban on "sanctuary cities'' in the state's most recent legislative session that would have expanded the powers of local police to enforce immigration law.
Image credit: Jim Cole/AP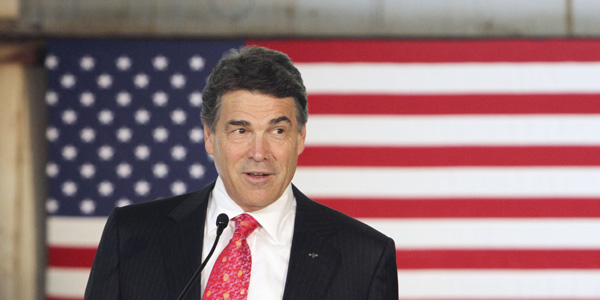 When he spoke at a conference of Hispanic elected officials in June, Perry boasted about appointing the first Hispanic women to serve on the Texas Supreme Court and as secretary of state. But audience members cringed when he joked about appointing Jose Cuervas to the Texas Alcoholic Beverage Commission because his name sounds like the brand of tequila.
He never mentioned the sanctuary cities' bill.
"That issue was really brewing in the state, and for him not to mention that was really odd,'' said Arturo Vargas, executive director of the National Association of Latino Elected and Appointed Officials, which held its conference in San Antonio. "He certainly has a familiarity with the Hispanic community, but I don't know whether that will translate into support in an election.''
Perry has an opportunity to make a splash in a Hispanic-heavy state when the Florida Republican Party hosts a mock election in Orlando on September 24. Bachmann and Romney have said they will not contest the straw poll, though their names will likely appear on the ballot. That means that Perry would have a chance to score a victory over his two biggest challengers if he chooses to participate.
So far, only a couple of the lesser-known Republican candidates have made a point to demonstrate outreach to the Hispanic community. Jon Huntsman recently announced that Jeb Bush Jr., the son of the former governor, will lead a program targeting young voters, while Republican fundraiser Ana Navarro will serve as his national Hispanic chair. Newt Gingrich also announced a Hispanic outreach program and an endorsement from Republican consultant Lionel Sosa.
Huntsman is the only Republican candidate who has clearly favored a pathway to citizenship for illegal immigrants. Perry did not take a strong stance for or against former President Bush's comprehensive immigration reform plan in 2006, though he was part of a bipartisan group of border-state governors who urged Congress to pass legislation that "secures the border, protects taxpayers, and restores the rule of law by practically dealing with the estimated 12 million illegal immigrants in the country."
That sounds like amnesty to some conservative Republicans. During the Republican primary, expect Perry to call for border security, above all else. Though he has criticized the idea of a border fence that could fully cover the entire border, he has said that "strategic fencing" in some areas are helpful.
"There's a concern about who is the real Rick Perry,'' said Antonio Gonzalez, president of the William C. Velasquez Institute, a think tank. "We'll see if he can neutralize the perception that Republicans are the anti-immigration party.''
Image credit: Jim Cole/AP