Rick Perry Upstages Bachmann in Waterloo
But it's Iowa, and she's a hometown girl, and that gets him an inch. It will be a long road from here to the caucuses.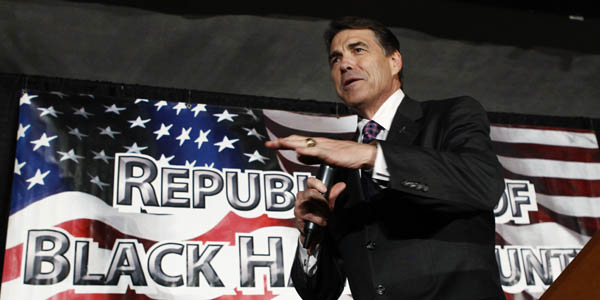 WATERLOO, Iowa -- The electricity in the Electric Park Ballroom was palpable when Texas Gov. Rick Perry took the stage Sunday night at the Republicans of Black Hawk County Lincoln Day Dinner. Moving away from the podium and holding a handheld-mic, he worked the crowd from his first applause line -- that he had been a 4-H "gold-star boy" -- to the last of a folksy speech that was at turns biographical, combative and policy-oriented. His antics on the stage marked him as a master performer and deft politician who will be able to deliver what will appear to be plain talk on the economy and debt.
It was the sort of performance that made congresswoman Michele Bachmann, daughter of Waterloo and winner of the Ames Straw Poll the day before, seem almost an afterthought when she spoke after him to tepid applause under changed lighting conditions (to give her "a different color temperature," according to her "lighting guy" Kenneth Morton) in the room.
But while Perry certainly won converts from the Cedar Valley area last night -- not to mentioning wowing the national press -- this is Iowa. Things run different here. While the day's chatter at the national level was all about how the GOP presidential primary contest was now a three-way race between Bachmann, Perry and former Massachusetts governor Mitt Romney, in Iowa, the only contenders that mattered were those who were committed to playing on the ground.
"You're number three now!" Marc Lattin of Cedar Falls greeted former senator Rick Santorum, who was shaking hands and talking to attendees at the early-bird dinner.
"That's what I'm looking at," Santorum replied with a smile. The exit of former Minnesota governor Tim Pawlenty from the race earlier in the day meant that fourth-place Ames finisher Santorum, who also spoke briefly at the dinner, was able to savor having moved up a notch in the game, at least in theory.
After the speeches, I ran into a couple I'd lunched with the previous day at the straw poll in the Pawlenty tent who'd been intrigued by Perry. Lavada Dennis was now totally sold. "I think right now I'm in Perry's camp," she said.
Agreed her husband, Erv Dennis, "He's got depth. He's got experience....This was a great event."
But Russ Knoll, who represents central Iowa to the state GOP and was for seven years the Black Hawk County GOP chair, was less immediately impressed.
"I was a little taken aback by Perry's non-preparedness. He got stuck a couple of times. Being the governor of Texas I expected a little more," he said.
"I took that as him choosing his words carefully," Erv said.
Knoll clearly had already developed an eye for local gal Bachmann. "We was down here when she announced and she gave a great speech then and a great speech tonight. She's a little ball of dynamite."
And that's Iowa in a nutshell. Perry and Bachmann could not have more different personal styles, even as they are both charismatic tea party figures and social conservatives. Where he was all bluster and testosterone, her voice got high and breathy at times as she touted her Waterloo roots and told the story of her grandmother who changed snow-tires in a dress. She ended her remarks by giving away an apple pie to the oldest GOP mother in the room, 100-year-old Mary Canfield. Perry, in an act of chivalry, had taken off his jacket mid-speech and given it to his daughter, saying he could see she was cold.
It's too early to say which approach will play better here in February when the caucuses take place, though Perry's executive experience and greater time in public life seem likely to make him a more formidable campaigner, and Texas's jobs picture as he presents it is already making people take notice.
Clay Trittle, for one, was still undecided after hearing Perry speak. "That's kind of why I'm here," he said. "We know Bachmann. We know Romney." But Perry was an unknown quantity and he'd need to see more of him to know what he thought. Perry was still a newcomer to the scene.
One thing he did know, "It's gonna be a tough, bloody race. I can see it coming."
Image credit: REUTERS/Jim Young