Powell: Cheney's Book Is Full of 'Cheap Shots'
Rehashing Bush-administration divides, the former secretary of state took the controversial VP to task over accusations in his new memoir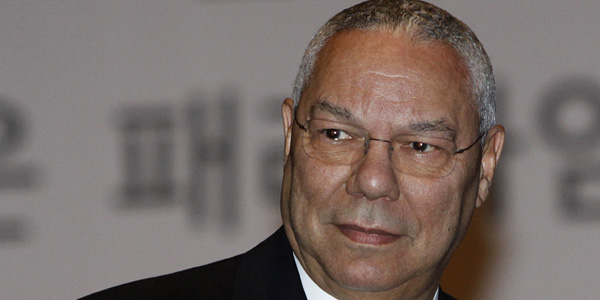 A visibly angry Colin Powell used an appearance on CBS's "Face the Nation" on Sunday to blast former Vice President Dick Cheney for using "cheap shots" and "barbs" to drive up sales of his new memoir, which accuses Powell of trying to undermine President Bush during the run-up to the Iraq War and tacitly allowing his deputy to leak the name of a covert CIA agent.
---
MORE FROM NATIONAL JOURNAL:
Behind the Miracle: What Kinds of Jobs Has Texas Created?
Will an Obama-esque Vision of Manufacturing Sell?
Bachmann Charms Florida Seniors
---
Powell, who had a rocky tenure as Bush's first secretary of State, said that the allegations in Cheney's book were better suited to "supermarket tabloids" than the memoir of a former vice president of the United States. He said Cheney was using misleading anecdotes and unfounded personal attacks to "pump up" sales of the memoir, In My Time, which will be officially released on Tuesday. Multiple media outlets have published excerpts from the book in recent days.
"They are cheap shots," Powell told CBS' Bob Schieffer. "It's not necessary to take these kinds of barbs."
The new war of words between Cheney and Powell underscores the degree to which members of the Bush administration continue to publicly relitigate decisions taken years earlier. The two men have had a rocky relationship for decades. During the first Gulf War, then-Defense Secretary Cheney told colleagues that he felt then-Chairman of the Joint Chiefs of Staff Powell was intentionally upstaging him at press conferences and other public events. Those tensions carried over into their shared time in the Bush administration, where Powell and Cheney were on opposite sides of multiple debates, most notably over the Iraq War.
Cheney's new book has harsh words for a number of his one-time colleagues, from former CIA Director George Tenet to Powell's successor at the State Department, Condoleezza Rice -- whom he describes as "tearfully" admitting she had been wrong to urge Bush to apologize for wrongly alleging that Iraq had tried to obtain yellowcake uranium in Niger.
But the pugnacious former vice president reserves his toughest language for Powell. Cheney accuses Powell of effectively going behind Bush's back by "criticizing administration policy to people outside the government" and says the former secretary of State stood by silently as his former deputy, Richard Armitage, leaked the identity of CIA officer Valerie Plame to conservative columnist Robert Novak. Novak's subsequent column naming Plame triggered a public relations scandal and criminal probe which ultimately led to the conviction of Cheney's former chief of staff, Scooter Libby.
In the book, Cheney writes that he tried to persuade Bush to fire Powell and says that Powell's later resignation was "for the best."
On CBS Sunday, Powell said Cheney's assertion that he had privately expressed opposition to the Iraq War was "nonsense," noting that he was the one who famously told Bush that "if you break it, you own it." Powell pointed out that he had been the one to make a high-profile appearance before the United Nations Security Council to lay out what proved to be wholly unsubstantiated claims about Iraq's weapons of mass destruction. And Powell on Sunday blasted Cheney for failing to properly prepare for the aftermath of the U.S. invasion of Iraq, which was marred by widespread looting and violence.
"Mr. Cheney and many of his colleagues did not prepare for what happened after the fall of Baghdad," Powell said.
Powell said Cheney's comments about Rice were "condescending" and said it was inappropriate for the former vice president to describe a high-ranking female official as crying.
"I think it's a bit too far," Powell said. "I think Dick overshot the runway with that kind of comment."
Cheney had earlier told ABC as part of a pre-publication media blitz for his book that the memoir -- particularly in its comments about officials such as Powell and Rice -- would have "heads exploding all over Washington." Powell dismissed those remarks sarcastically on the CBS show.
"I don't see any heads lying on the streets," he said.
Image credit: Truth Leem/Reuters