Picture of the Day: When Bush and Perry Were Friends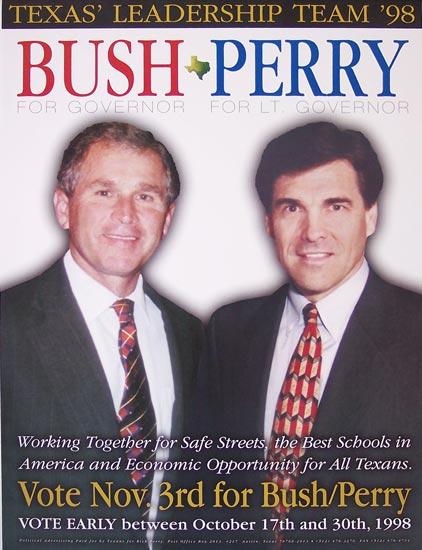 Long before Texas Gov. Rick Perry officially launched his presidential bid last weekend, we learned that some of former president George W. Bush's longtime supporters aren't too fond of him.
What's their beef?
Perry served as Bush's lieutenant governor in 1999 and 2000, after running as the GOP's candidate to replace Bush's retiring Democratic lieutenant governor in 1998. Former president George H.W. Bush campaigned for Perry during that race, but Perry's later criticisms of the younger Bush evidently angered some Bush-family supporters.
In Feb. 2010, as Perry's reelection race was heating up, NPR's Ken Rudin explained why prominent Bush hands, such as former VP Dick Cheney and former Bush strategist Karly Rove, were backing Perry's primary opponent, Sen. Kay Bailey Hutchison:
In running again this year, for an unprecedented third full term, Perry has taken some swipes, both overtly and obtusely, at Bush. He talks about how Texas has grown as a state in the last decade -- or, since Bush left office. He talks about the "corrupting ways" of Washington -- lumping Bush, Cheney and Hutchison as "country-club Republicans," or simply part of an "insider's club." Even while he was governor of Texas -- Bush "has never, ever been a fiscal conservative. ... I mean, '95, '97, '99, George Bush was spending money."

Bush loyalists have not forgiven him for this.
Bush associates are sniping at Perry now that he's running for president, and that sniping is becoming a mini-theme surrounding Perry's White House ambitions. Rove already scolded Perry for his remark that it would be "almost treasonous" for Fed Chairman Ben Bernanke to print more money before the 2012 presidential election, and The New Yorker's Ryan Lizza tweeted yesterday about more behind-the-scenes, anti-Perry griping by Bush supporters.
Expect more of this as Perry's campaign rolls on.
Image credit: RonWadeButtons.com