Picture of the Day: Small Child Sitting on the Oval Office Desk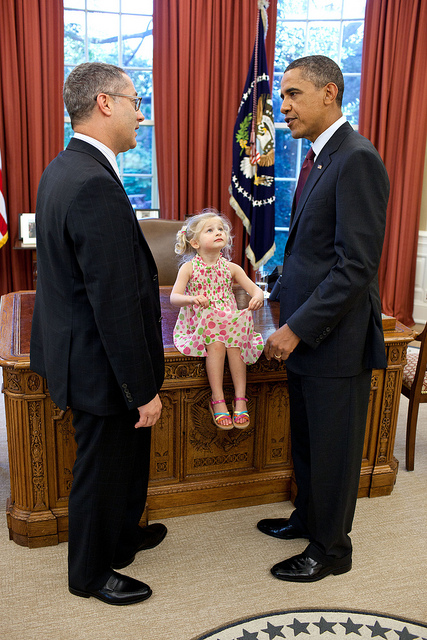 The tiny girl sitting on President Obama's desk is the daughter of Andrew Kline, the other man in the photo, who left his job as chief of staff of the White House's Office of Intellectual Property Enforcement this summer. This month, Klein signed on to become GoDaddy.com's deputy general counsel for global policy.
The photo was taken July 12 and recently uploaded to Flickr in White House photographer Pete Souza's July photo album.
In case you're wondering how a child was allowed to sit on the historic and stately Resolute Desk -- commissioned by Queen Victoria, made from the timbers of the HMS Resolute, presented to Rutherford B. Hayes in 1880 -- we'll just note that she probably wasn't the first. John F. Kennedy, Jr. actually got to play under it.
Image credit: Pete Souza/White House