Picture of the Day: Mitt Romney Eating a Corn Dog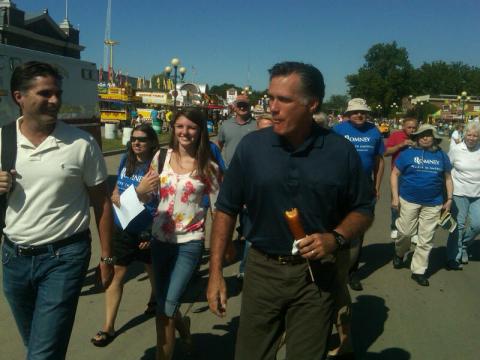 Today marks the beginning of the Iowa State Fair, an 11-day event that will feature fried food, animals, country music, a Ferris wheel, and Republican presidential candidates.
It's going to be an intense weekend in Iowa for those Republicans. After a long day of glad-handing at the fair grounds and elsewhere around the state, they'll square off in a televised debate at 9 p.m. Thursday. On Saturday, they'll jockey for position in the vaunted Ames Straw Poll, considered a checkpoint on the way to the caucuses.
As part of all this, the candidates will eat hot dogs and funnel cakes, just like everyone else. Above, Mitt Romney chews on a corn dog as he walks through the fair grounds, proving that even millionaires can appreciate the corn dog's undeniable goodness.
Image credit: Andrea Saul