Picture of the Day: Happy Hour Gets Political on Martha's Vineyard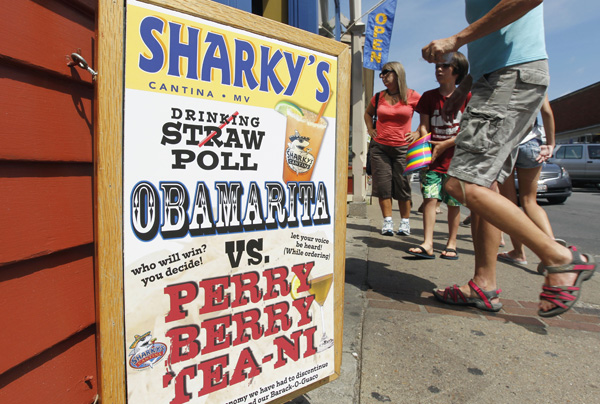 President Obama and the First Family left Washington on Thursday for a vacation on Martha's Vineyard, just as the GOP campaign to replace the president has heated up. Last weekend, Iowa Republicans voted for Rep. Michele Bachmann (R-Minn.) in the Ames Straw Poll, and Texas Gov. Rick Perry officially joined the 2012 fray.
These political storylines have met their mashup at Sharky's Cantina, a bar on the island. Sharky's will greet Obama's arrival with a margarita named after him, a pun about straws, and a reminder that he may face Perry and a wave of tea-party opposition in his reelection contest next year.
Based on this Aug. 5-7 CNN poll, the latest national survey to pit Obama against Perry in putative general election, the Obamatini would beat the Perry Berry Tea-ni 51 percent to 46 percent in a national taste test.
Image credit: Steven Senne/AP