Pawlenty Expects a Campaign Surge After Ames Straw Poll
According to pundits, the former Minnesota governor will need to perform well in Saturday's contest in Iowa to have a shot at the White House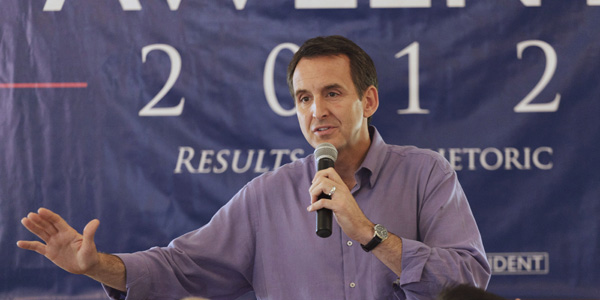 Republican presidential candidate Tim Pawlenty predicted his struggling campaign would move "closer to the front of the pack" after the straw poll in Ames, Iowa, next weekend.
---
MORE FROM NATIONAL JOURNAL:
A Battle Royale Over Credibility
Lobbyists Already Angling to Influence Deficit 'Super Committee'
Education Dept. Moves Forward With State NCLB Waivers
---
"We are seeing momentum on the ground," Pawlenty said in a "Fox News Sunday: interview from West Des Moines, Iowa. "You are going to see good progress."
He stopped short of predicting victory in the straw poll, an unofficial but important early test of the GOP candidates' organizational strength in Iowa. The state's caucuses kick off the primary season in 2012.
The former Minnesota governor said the next president needs executive experience and a record of getting things done, a thinly veiled criticism of Rep. Michele Bachmann (R-Minn.). "I don't just flap my jaw," he said.
Without directly comparing Bachmann to President Obama, Pawlenty's target was unmistakable: He said voters made a mistake in 2008 when they elected an inexperienced legislator president before he was prepared for the office.
"We don't want to repeat that mistake," Pawlenty said.
Image credit: Brian Frank/Reuters