Obama's 2012 Battlegrounds
State-by-state polling suggests a narrow path to reelection, as the president's electoral map evolves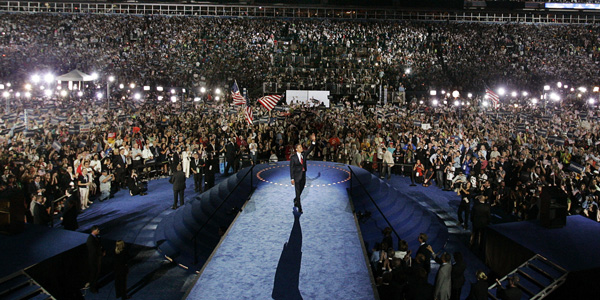 Newly released state-by-state approval numbers for President Obama suggest that in 2012 he could face fewer options for assembling an Electoral College majority and increased pressure to capture racially diverse states. As a result, Colorado, Virginia, North Carolina, and Florida, among others, appear to be evolving into critical battlegrounds on the campaign map.
The polling results, released earlier this week by Gallup, underscore both the stability of each party's Electoral College base and the shifting roster of swing states that could decide the 2012 contest.
In all, the compilation shows that Obama's approval rating exceeds his disapproval rating in states with 301 Electoral College votes--well down from his 365 total in 2008 but still enough to win. That total, however, includes North Carolina, where Obama's approval and disapproval ratings are virtually even, and Georgia, where Republicans remain skeptical that he can seriously compete, despite signals from his reelection campaign that it intends to. If those two are removed from the list, the states in which Obama's approval number exceeds his disapproval rating provide exactly 270 Electoral College votes, the bare majority needed to win.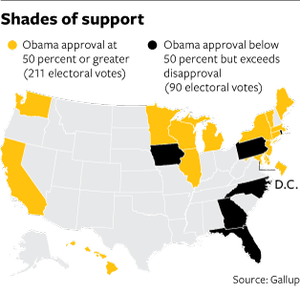 In 2008, the Obama campaign prided itself on expanding the playing field by contesting states previously considered reliably Republican. Next year, the president may find fewer plausible pathways to victory. "In 2008, there may have been many paths ... but at this stage it looks like he's got to thread the needle to get reelected," said Carl Forti, a founder and partner of the GOP consulting firm Black Rock Group, and the director of an independent-expenditure group supporting Mitt Romney. "There is no margin for error in the road they are going down."
Bill Burton, the former deputy White House press secretary who is now directing a pro-Obama independent-expenditure campaign, agrees that the numbers point toward a close election, but he argues that they portray a more durable floor of support for Obama than many analysts now assume. "The bottom line here is what we already knew: Which is that it's going to be really close," Burton said. "In a cycle where there are going to be pretty stiff headwinds [for the president], it should be a small breeze of fresh air to know that there is a [stable] structure to the map."
Today, Obama would be in a slightly weaker position almost everywhere than the Gallup numbers indicate. The state-by-state approval numbers are based on the aggregated results of Gallup's nightly tracking poll from January to June -- some 90,000 interviews in all. Gallup divided the results by state, and reweighted the findings so that they are demographically representative of each local electorate. In the interviews used to generate the state-level results, Obama's overall national approval rating averaged 47 percent; in the most recent weekly Gallup average, Obama had fallen to 42 percent. That decline is reflected in some more recent state polls showing Obama in a more vulnerable position than the Gallup findings, for instance Quinnipiac University surveys in Florida and Pennsylvania.
If Obama's national approval rating next fall remains around its current 42 percent, it's almost inconceivable that he could win enough states to assemble an Electoral College majority. But if the president manages to restore his national approval rating to at least the 47 percent level reflected in the Gallup results, the state-level breakdown offers a preview of what the map might look like in a competitive race.
At that level of national support, the Gallup numbers show, Obama's potential 2012 map features elements of stability -- albeit, at a lower baseline than in 2008. Obama's approval rating in the Gallup compilation trailed his 2008 share of the vote in every state except Alaska, Louisiana, Mississippi and, intriguingly, Georgia. Most of the sharpest declines have come in states that Obama won last time, including New Hampshire, Oregon, Rhode Island, Vermont, New Mexico, and Nevada.
Yet despite that slippage, Obama retains an approval rating of 50 percent or greater in 15 of the 18 "blue-wall" states that have voted Democratic in at least the past five consecutive presidential elections, plus the District of Columbia which has also backed Democrats that reliably. Those bricks in the blue wall are the only states in which Obama's approval rating reaches the 50 percent level, considered the most telling indicator of an incumbent's prospects. Obama's approval rating checks in just slightly below 50 percent, though it exceeds his disapproval rating, in two of the other three blue-wall states, Rhode Island and Pennsylvania. Among the blue-wall states, only in Oregon does Obama's disapproval rating (48 percent) exceed his approval rating (44 percent).
Conversely, Obama's disapproval rating exceeds his positive marks in all 11 states that have voted Republican in at least the past five consecutive elections. Eight of those states are among the 12 in which Obama receives his lowest ratings in the Gallup compilation, including each of the four most negative states: Oklahoma, Utah, Wyoming, and Idaho.
Image credit: Brian Snyder/Reuters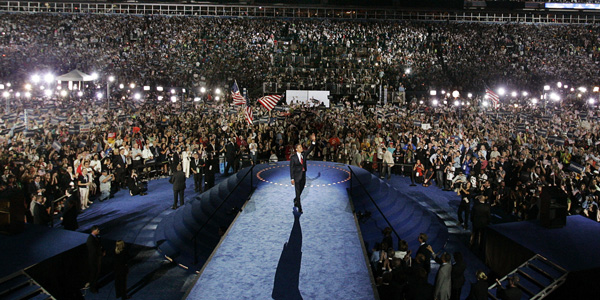 To Burton, these results dramatize the durability of the basic electoral alignment that has shaped recent presidential elections. "There's a stability to the structure of presidential politics and the shifts are not as huge as the [fluctuation in the] day-to-day national approval ratings of the president," Burton said.
Overall, the states (plus the District) in which Obama's approval rating reaches the bellwether 50 percent level will cast 211 Electoral College votes. His approval rating exceeds his disapproval rating in another six states totaling 90 Electoral College votes: In addition to Rhode Island and Pennsylvania, that list includes Iowa, Georgia, Florida, and North Carolina. (North Carolina, which Obama carried by only about 14,000 votes, again divides almost exactly in half, with Obama's approval rating at 46.2 and his disapproval at 46.1.) In 2008, Obama won each of those states except Georgia, where he finished with 47 percent despite spending little money.
Obama's situation looks more precarious in several states that he won last time. In addition to Oregon, his approval rating now trails his disapproval rating in New Hampshire (where just 40 percent approve), Indiana (42 percent), Colorado and Nevada (44 percent), Ohio (45 percent), New Mexico, and Virginia (each 46 percent).
The states on the bubble in Gallup's polling -- those where Obama's approval and disapproval ratings are most closely balanced -- fall almost entirely into two baskets that reflect the changing nature of both parties' national coalitions.
The first is filled with Rust Belt and Midwestern states crowded with the kind of older and blue-collar white voters who are moving sharply toward the GOP; that list includes Ohio, Pennsylvania and Iowa. Neil Newhouse, the pollster for Republican front-runner Mitt Romney, says that those states represent prime targets of opportunity for the GOP in 2012, along with demographically similar Michigan and Wisconsin, where Obama's approval rating stands exactly at 50 percent. "There is real potential to expand the playing field there," Newhouse said. "What Democrats did to us in the 2008 election, which was expand the playing field and put us on defense, there is at least the opportunity for us to do the same to them in the blue-collar, white Midwest states."
The second basket of places on the bubble is filled with diverse, well-educated states that reflect a Democratic coalition increasingly reliant on the votes of minorities, young people and socially liberal college-educated whites, especially women. That list includes Colorado, Virginia, North Carolina, Florida, Nevada, New Mexico, and, potentially Arizona, and Georgia.
In the past, Democrats have viewed those states as valuable, but not indispensable, in constructing an Electoral College majority. In 2012, though, Obama may find it impossible to draw a winning map without capturing several of them, especially if his weakness among blue-collar whites allows Republicans to crack blue-wall states such as Wisconsin, Michigan, or Pennsylvania. Privately, for instance, most Democratic strategists now consider Florida a much better bet for the president in 2012 than Ohio, which Democrats previously have treated as more essential. As each party's coalition evolves, Democratic hopes in national elections may increasingly turn on states shaped by the same tidal forces that Obama himself embodies: increasing diversity and rising education levels.
Scott Bland contributed
Image credit: Brian Snyder/Reuters