Michele Bachmann Wins the Ames Straw Poll
The tea party congresswoman is dominating in Iowa. Does her victory on Saturday mean the end of Tim Pawlenty?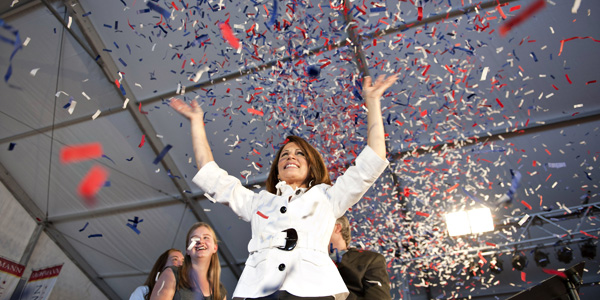 AMES -- A strongly favored Michele Bachmann became the first Republican woman to win the Iowa Straw Poll on Saturday, while sluggish, third-place finish by Tim Pawlenty in the state party's mock election threatened to hobble his presidential campaign.
The Minnesota congresswoman's bounty of 4,823 votes after only two months in the race was a testament to her infectious enthusiasm on the stump and proudly populist message at time when polls show confidence in government at all-time lows. Rep. Ron Paul of Texas came in a close second with 4,671 votes. Pawlenty received 2,293 votes.
---
MORE FROM NATIONAL JOURNAL:
Ready to Roll
Pictures: Scenes From the Iowa Straw Poll
The GOP Campaign, in Full Effect
---
The nominal frontrunner in the race, Mitt Romney, didn't attend the straw poll and received even fewer votes than Texas Gov. Rick Perry, who launched his campaign only hours earlier in New Hampshire. Perry wasn't listed on the ballot, but 718 voters wrote in his name.
Branded by a disciplined, well-organized campaign as both a tea party icon and devout Christian, Bachmann offered a unifying, upbeat theme to the crowd at the Hilton Coliseum at Iowa State University.
"Whether we are tea party or social conservatives or fiscal conservatives or national security conservatives, if we stick together, and this will happen, the greatness will once again belong to the United States of America,'' she said. "As I look across this arena here in Ames, I know we are the team that can't be beat.''
Straw poll voters frequently cited her religious faith and strong convictions as the main sources of her appeal. Bachmann was one of the most outspoken members of Congress against the deal struck with President Obama to raise the debt ceiling, which allowed the government to avoid an economy-shocking default.
"I think she's tough and firm and will make things happen,'' said Andrea McDannald, an insurance agent from Des Moines.
"I appreciate her Christian faith,'' said Jeff Rekers of Winthrop. "Good moral values. We need that now,'' added his wife, Sandy, also sporting a Bachmann T-shirt.
But as Iowa Gov. Terry Branstad explained on Saturday before the results were announced, "It's not about who won. It's about who beats expectations.''
By that measure, Pawlenty fell hard, though he has been downplaying the importance of a top finish. The former governor of Minnesota has been steadily campaigning in neighboring Iowa for months and invested about $1 million in a top-flight staff and television advertising.
He was the first candidate to release a statement congratulating Bachmann, with whom he sparred repeatedly during Thursday's FOX News debate. Pawlenty now faces the daunting task of persuading donors that he's still a viable, national candidate after trailing Paul, widely viewed as more of a cult favorite than a plausible nominee.
"We made progress in moving from the back of the pack into a competitive position for the caucuses, but we have a lot more work to do,'' he said. "This is a long process to restore America -- we are just beginning and I'm looking forward to a great campaign."
Republican strategist Mike Murphy, who is not working for any of the current candidates said Pawlenty faced an "impossible choice.'' To win the straw poll, he said, would have meant stripping away his appeal to more moderate voters.
"To take the positions the Ames voters want with the intensity they demand puts you in a position where you become a hopelessly weak general election candidate. As is Bachmann,'' Murphy said.
Only two of the past five winners of the straw poll have gone on to win the GOP nomination: George W. Bush in 1999 and Bob Dole in 1995. The quadrennial event is known more for winnowing the field than anointing the nominee.
"You're sending a message to America,'' Rep. Steve King, R-Iowa, told the boisterous crowd, plied with barbecue, corn dogs and country music by candidates jockeying for votes. "We have the first chance to give a boost to some candidates and give a recommendation to the rest of this country. This matters.''
While the poll tests each campaign's grassroots strength in the state that will host the first nominating contest in 2012, the straw poll has a more practical purpose: a fundraiser and recruiting tool for the state party.
"It's a party building effort. It builds energy and enthusiasm,'' said Branstad. "This is about winning elections and recruiting candidates for the state Senate and House, not just for the presidential campaign.''
The poll drew a robust turnout of 16,892 - the second highest in the state's history. "The size of today's crowd is evidence of the resurgence of the Republican party in our state,'' said Chairman Matt Strawn. President Obama won the battleground state in 2008.
Iowa's pivotal role in the nominating process is facing pushback as some major GOP candidates -- for the second election cycle in a row - are minimizing their time in the state where evangelical Christians dominate the caucus. Their influence was reflected by the candidates overt and fervent appeals against abortion and gay marriage.
Bachmann praised Iowa voters for recalling three state Supreme Court justices in 2010 who had ruled in favor of same-sex marriage. Paul, best known for leading the tea party movement's rallying cry against the federal deficit, said he wanted to focus his speech to the crowd on "life, and I mean all life...All life is precious.''
A fourth-place ribbon went to Rick Santorum, who dubbed himself "the little engine that could'' and scolded the media for focusing on the "shiny engine,'' presumably, the female one from Minnesota. Echoing former Alaska Gov. Sarah Palin - who said Friday at the Iowa State Fair that she's still considering the race -- Santorum mocked the "media elite'' in Washington and New York.
The sports arena in Ames served as the lone polling place in the state, drawing an eclectic mix of Iowans passionate about everything from guns to wind energy to Alzheimer's disease. George Washington and Abraham Lincoln look-alikes, tattooed bikers, young suburban parents and college-aged activists mingled outside on a beautiful summer's day before casting their votes and dipping their index fingers in blue ink.
Each of the candidates hosted parties in tents outside the arena, aiming to one-up their rivals with the most alluring food, entertainment and giveaways. The smell of grilled corn on the cob and strains of country music permeated the grounds. Paul's booth featured a giant inflatable slide for kids, dubbed "The Sliding Dollar.'' Bachmann volunteers steered supporters to sign up with the campaign and vote -- before allowing them to enter her air-conditioned tent.
Image credit: Daniel Acker/Reuters