Meet Rick Perry, the Anti-Romney
With potential to unite tea partiers and mainstream Republicans, party insiders say the Texas governor is a leading 2012 contender
With potential to unite tea partiers and mainstream Republicans, party insiders say the Texas governor is a leading 2012 contender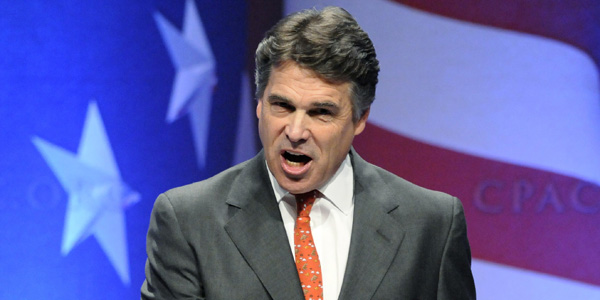 Republican political operatives continue to see former Massachusetts Gov. Mitt Romney as the frontrunner for their party's 2012 presidential nomination, but Texas Gov. Rick Perry has become his primary challenger according the this week's National Journal Political Insiders Poll.
A separate poll of Democratic Insiders, released Thursday, also showed Perry as Romney's main GOP challenger.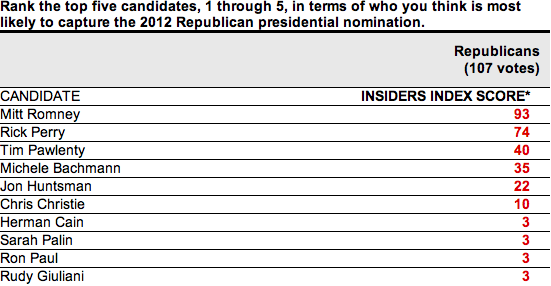 Also receiving an index rating: Rick Santorum , 2 percent; Jeb Bush, Newt Gingrich, Paul Ryan, Buddy Roemer, and none, 1 percent; Gary Johnson, less than 1 percent.
*Methodology: In tallying the rankings, a first-place vote was worth 5 points, a second-place vote was worth 4 points, and so on. The Insiders Index reflects the percentage of points that each contender received out of the maximum possible. For example, Mitt Romney scored an Index rating of 93, meaning he received 93 percent of the possible 535 points, the number he would have if all 107 participants in the poll this week had ranked him first. Some Republican Insiders ranked fewer than five candidates.
---
MORE FROM NATIONAL JOURNAL:
Congress Hands Over the Keys
Why Hasn't the Mortgage Process Been Fixed Yet?
With Debt Deal in Hand, When Does Geithner Quit?
---
For five consecutive Political Insiders Polls dating back to January, 2010, Romney has held onto his first-place ranking in this survey. And his most recent rating is the highest score he's achieved in any of the surveys. But as some prospective Republican presidential contenders decided not to make the race--like governors Haley Barbour of Mississippi and Mitch Daniels of Indiana--and GOP White House hopefuls like former governors Tim Pawlenty and Jon Huntsman of Utah have slipped, Perry has rocketed into contention, even though he has yet to declare he's a candidate.
Pawlenty is ranked as the third leading contender for the nomination, but his fellow Minnesotan, Rep. Michele Bachmann is breathing down his neck in fourth place in the rankings. Two months ago Pawlenty was ranked second and his Insiders Index ranking was more than five times Bachmann's score. The intervening CNN New Hampshire Republican presidential debate where Bachmann showed passion and Pawlenty punted an opportunity to challenge Romney on health care, apparently made a big impression on Republican Insiders in this relatively fluid contest. Huntsman rounds out the top-five.
At the same time, some of the biggest names in the GOP have now become afterthoughts to lead the party in 2012: former Alaska Gov. Sarah Palin, who remains a popular figure among conservative Republicans, has tumbled to eighth spot in the GOP Insiders ranking. And former House Speaker Newt Gingrich, the architect of the party's 1994 takeover of the House, has fallen out of the top-ten rankings altogether.
Romney's strengths remain what they have always been: his fundraising ability, the experience he gained from his losing 2008 presidential bid, the tendency of Republicans to nominate someone who has been around the track and his years running a private equity firm before he became governor which give him credibility on the economy.
"Republicans decide whose turn it is before the race even starts," said one GOP Insider. "Nobody announced or otherwise, has the stature, passion or money to take this away from Romney." Another observed, "The debt crisis plays to the economic cluster of issues that he owns. Changers come and challengers go and he remains constant." Added a third: "The Republican electorate is predictable and Romney will be the nominee if the tea party doesn't overtake the process."
Indeed, some Republican Insiders think Romney has thrived because the race lacks strong establishment choices like Barbour and Daniels. "The three-ring circus going on around him makes him look more presidential by the day," opined one GOP Insider.
In this unsettled GOP race, Perry has emerged as Romney's leading rival. He's seen as a candidate who could blend rank-and-file Republican support with tea party backing. The solid job growth in Texas over the past decade while he's been in the governor's chair could also burnish Perry's credentials on the economy.
"If and when Perry gets in he will shoot to the top as he can draw from the tea party and establishment voters," said one GOP Insider. "He has more juice than Bachmann and is viewed as more authentic than Romney." Another GOP Insider described Perry this way: "He's a tea partier with governing credentials. That's a tough combo to beat, in a primary anyway."
But other Republican Insiders remain skeptical and say that while Perry looks good on paper, he's still untested on the national stage. "It is a conceptual candidacy based totally on assumptions," said one GOP Insider. "Assumptions don't always stand up when you get in the game and have to play by another set of rules than your own." Another said Perry was "today's flavor, but will likely fade under close scrutiny."
Pawlenty was previously seen as Romney's lead challenger, but his status as a serious contender is now in doubt. "Pawlenty's best shot is if everyone above [him] collapses," averred one GOP Insider. "He is running on fumes, but he can still turn it around," said another. "The only story the press likes to write more than the end of a candidacy is the return to life of a candidacy seen as on the edge of defeat," observed one Insider. "That is the good news, but the reality is that's hard to do."
While Bachmann, a three-term congresswoman who was previously best known for her blistering conservative rhetoric, impressed in the CNN debate, many Republican Insiders remain dubious. "She will never be nominated but this is where she fits right now," said one GOP Insider. "She does have an undeniable brand and passion on her side." Echoed another, "She will eventually implode, but for now she is formidable." Added a third, "Bachmann's surge is already starting to hit a philosophical ceiling."
With his record as a popular two-term governor, a sub-cabinet official in the George H.W. Bush and George W. Bush administrations, ambassador to China for President Obama, and a father who is a billionaire industrialist, Huntsman is seen as a credible candidate. His prospects depend on a strong showing in the New Hampshire primary. "Huntsman is ranked [in the top five] because we are assuming that he will fund a significant percentage of his campaign through, at least thru New Hampshire," said one GOP Insider. "He'd have to beat Perry and Romney in New Hampshire," said another." I guess it's possible." But others see him as just a niche candidate. "Not sure about the strategy, but he is appealing to a specific wing of the party in a crowded field--the elitist and moderate wing," demurred one skeptical GOP Insider.
The National Journal Political Insiders Poll is a regular survey of political operatives, strategists, campaign consultants and lobbyists in both parties. Below are the names of the Republican Insiders who are surveyed:
Dan Allen, Stan Anderson, Gary Andres, Saulius (Saul) Anuzis, Rich Ashooh, Whit Ayres, Brett Bader, Mitch Bainwol, Brian Baker, Gary Bauer, David Beckwith, Paul Bennecke, Clark Benson, Wayne Berman, Brian Bieron, Charlie Black, Kirk Blalock, Carmine Boal, Jeff Boeyink, Ron Bonjean, Jeff Buley, Luke Byars, Nick Calio, Al Cardenas, Danny Carroll, Alex Castellanos, Ron Christie, Jim Cicconi, Jonathan Collegio, Rob Collins, Cesar Conda, Jake Corman, Scott Cottington, Jay Cranford, Greg Crist, Diane Crookham-Johnson, Fergus Cullen, Tom Davis, Mike Dennehy, Ken Duberstein, Debi Durham, Sara Fagen, Frank Fahrenkopf, John Feehery, Don Fierce, Mindy Finn, Mindy Fletcher, Carl Forti, Alex Gage, Bruce A. Gates, Sam Geduldig, Adam Geller, Benjamin Ginsberg, David Girard-diCarlo, Bill Greener, Jonathan Grella, Lanny Griffith, Janet Mullins Grissom, Doug Gross, Todd Harris, Steve Hart, Christopher Healy, Ralph Hellmann, Chris Henick, Terry Holt, David Iannelli, Ed Ingle, Jim Innocenzi, Clark Judge, David Keating, David Kensinger, Bob Kjellander, Ed Kutler, Chris LaCivita, Jim Lake, Steven Law, George S. LeMieux, Steve Lombardo, Kevin Madden, Joel Maiola, Gary Maloney, David Marin, Mary Matalin, Dan Mattoon, Brian McCormack, Mark McKinnon, Kyle McSlarrow, Ken Mehlman, Jim Merrill, Lisa Camooso Miller, Tim Morrison, Mike Murphy, Phil Musser, Ron Nehring, Terry Nelson, Neil Newhouse, David Norcross, Ziad Ojakli, Jack Oliver, Todd Olsen, Kevin O'Neill, Connie Partoyan, Dana Perino, Billy Piper, Van B. Poole, Tom Rath, Scott Reed, David Rehr, Tom Reynolds, Steve Roberts, Jason Roe, David Roederer, Dan Schnur, Russ Schriefer, Rich Schwarm, Brent Seaborn, Rick Shelby, Andrew Shore, Kevin Shuvalov, Don Sipple, Ken Spain, Fred Steeper, Bob Stevenson, Terry Sullivan, David Tamasi, Eric Tanenblatt, Richard Temple, Heath Thompson, Jay Timmons, Warren Tompkins, Ted Van Der Meid, Dirk van Dongen, Jan van Lohuizen, Stewart Verdery, Dick Wadhams, John Weaver, Lezlee Westine, Dave Winston, Ginny Wolfe, Fred Wszolek, and Matthew Zablud.