Jon Huntsman Is Too Likable, Superficially Appealing to Win
In the Republican primary, positive mainstream-media attention is considered a bad thing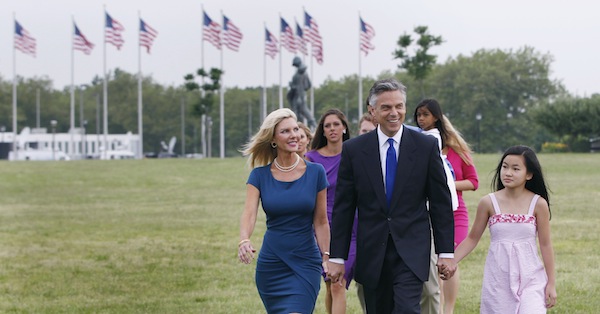 It's usually considered a good thing when a presidential candidate is given a glowing introduction to hundreds of thousands of people. Even better if those people happen to be wealthier than average -- especially early in a campaign, fundraising is a big deal. But Jon Huntsman's appearance in a Vogue profile is being reported as something that is going to hurt him among Republicans. In National Review, Mark Krikorian called the feature spread "Huntsman's political obituary." Said Katrina Trinko, "The Vogue profile of Jon Huntsman, online today, is not likely to make his candidacy any more palatable to Tea Partiers." And maybe the article will do him more harm than good. It certainly won't endear him to the hard right.
But every time that I read about a controversy like this, where a Republican candidate is criticized not for any particular position, but for the mere fact of his superficial appeal to moderates and "the mainstream media" (is there any clearer example of appeal that's superficial than a profile and fashion spread in Vogue?), I can't help but think back to 2008. Do you remember the line of attack that Hillary Clinton and her husband used against Barack Obama?
It never occurred to them to attack Obama by saying, "It tells you something that conservatives like Christopher Buckley and Doug Kmiec say nice things about this guy." Quite the contrary. It was "a fantasy," they said, that a guy like Obama could muster enough mainstream appeal to get elected. Quite a contrast, isn't it? It makes sense for a primary electorate to punish candidates who stray from hard line policy positions. The idea, for a lot of voters, is to elect the most conservative or liberal person who could still win in the general election. Given that end, you'd think that the ideal candidate would be someone who had superficial appeal to moderates, but who was actually more conservative/liberal than their image and rhetorical style would suggest.
In Barack Obama, Democrats thought they'd found that candidate and embraced him. But GOP primary voters are drawn to exactly the opposite type: guys like Rick Perry, whose polarizing rhetoric suggests someone far more conservative and uncompromising than is in fact the case.
Image credit: Reuters