How Sarah Palin Got a AAA Credit Rating for Alaska
The former governor has a lot to teach Washington about earning a strong credit rating. Her secret: raise taxes.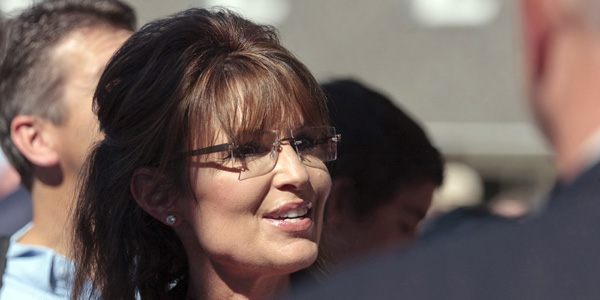 In light of Friday's decision by Standard and Poor's to downgrade the United States' credit rating to AA+, it's worth mentioning again -- as I first did in this Atlantic piece -- that Alaska recently had its bond rating raised to AAA for the first time in the state's history, largely due to fiscal improvements brought about by Sarah Palin while she was governor. The state currently enjoys a $12 billion budget surplus. I was reminded of this fact over the weekend by Ian Lazaren, the indefatigable supporter-cultist behind Conservatives4Palin.com.
This is unquestionably a good thing for the people of Alaska, just as the country's downgrade is a bad thing. The state enjoys lower borrowing costs as a result. But especially in light of the current dysfunction in Washington, it's important to understand
why
Alaska's fiscal situation improved: It was largely because Palin raised taxes. Specifically, the state oil tax. Her central achievement as governor was signing a law, Alaska's Clear and Equitable Share (ACES), that dramatically increased the state's share of oil profits just as oil prices began to take off. There's a direct line between increased revenue and improved fiscal health. (Alas, the good folks at Conservatives4Palin have posted
a gloating item
about Alaska's credit-rating that both attacks Obama for raising taxes and neglects to mention that Palin's own tax increase was the basis for the improvement.)
This chart from the Alaska Department of Revenue nicely illustrates the result. For purposes of comparison, ACES is best measured against ELF, since the intervening tax (PPT) was tarnished by corruption and ultimately replaced by ACES, a story recounted
in my piece
: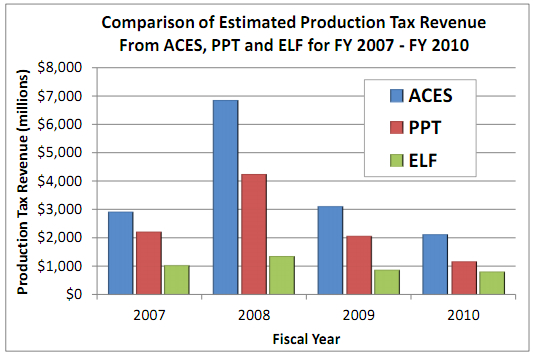 Image credit: Brian Frank/Reuters