How Rick Perry Got Rich While Working Government Jobs
The Texas Republican is either an incredibly savvy real estate investor or adept at leveraging his political connections for profit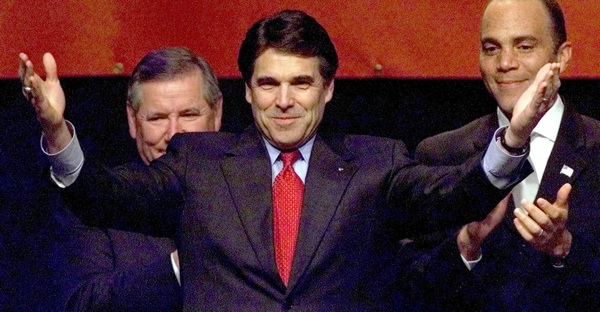 Gov. Rick Perry's boots must have some sturdy straps. In the mid-1980s, when he began serving as a Texas state representative, he earned roughly $45,000 per year. He spent the next couple decades in government jobs. And now? Unlike most of us, Perry hasn't yet filed his 2010 tax return. But his net worth is in the low seven figures -- in fact, he earned over $1 million dollars in 2007 alone, although he made just $150,000 as governor, a job that tends to take up all of one's time.
An investigative piece in the Forth Worth Star Telegram explains how he made so much money over the years. One example occurred during his tenure as the Texas Commissioner of Agriculture:
Perry bought another 10 acres of undeveloped land in 1993. That property drew interest from Michael Dell, a computer magnate who needed Perry's tract to connect his new home to municipal sewer lines. Dell took the property off Perry's hands for $465,000, more than triple what Perry had paid for it two years earlier. Perry reported a $342,994 profit on the sale in his 1995 tax return.

Texas Democrats have repeatedly questioned the sale over the years, in part because Mike Toomey - an influential lobbyist who would later become Perry's chief of staff - closed the deal for Perry while Perry was out of town. Perry has always maintained he didn't know that the land would be so valuable to Dell when he purchased the property.
Here's another example:
Perry purchased the land from state Sen. Troy Fraser, R-Horseshoe Bay, in 2001 for $314,770. Six years later, Perry sold it for $1.1 million, pulling a profit of $823,776. Perry has attributed the gain to a favorable market for Hill Country land. "We bought a piece of property, the property appreciated and we sold it," Perry said last year.
In a post that insinuates corruption, David Frum characterizes the deal as follows:
A Texas real estate developer sells land to a Texas state senator - the senator who happened to represent the development's district. The state senator sold the land to Gov. Perry. Gov. Perry then sold then land - back to the real estate developer's business partner. Perry scored a profit of $823,000. Tidy. And how remarkable that Perry and his state senator friend could see a value proposition that the two professional real estate developers overlooked. So it goes through investments in stock, load, and energy properties. Perry just kept seeing things that other people apparently didn't.
Jim Geraghty, a generally fair-minded reporter from National Review, thinks that Perry's critics are being unfair -- he can't help it if he's lucky!
I'd note that for the Horseshoe Bay property, Perry bought at a relative trough in the real estate market (2001) and sold near the peak of the bubble (2007), and Texas home prices enjoyed some particularly good years in there. One of Perry's earliest land deals ended with a modest profit ($70,000 over three years) and for another one, Perry enjoyed the good fortune of owning the land that computer magnate Michael Dell needed to connect his new home to municipal sewer lines.

Perhaps I'm just cynical from my days covering California's Inland Empire, where elected officials also seemed to be adept at making advantageous land deals, but this is too much. Yes, anyone can get lucky, and it makes sense to judge Perry's profits in the context of the housing market, but seriously? A lobbyist bought a parcel for the State Agricultural Commissioner that a rich businessman needed to connect his new home to the sewers, and that was just "good fortune"? This is exactly the sort of information that political insiders know about and exploit, and it's naive to think that Perry's position as an elected official has played no role in his "luck," or for that matter, that Barack Obama just happened to get a good deal on a house from Tony Rezko, or that Members of Congress just happen to outperform the stock market.


Image credit: Reuters