Gov. Perry Sets Forth His Criteria for Federalizing an Issue
He says he'll go against the states if something is "important," part of "the fabric of our nation" or essential to "the soul of this country"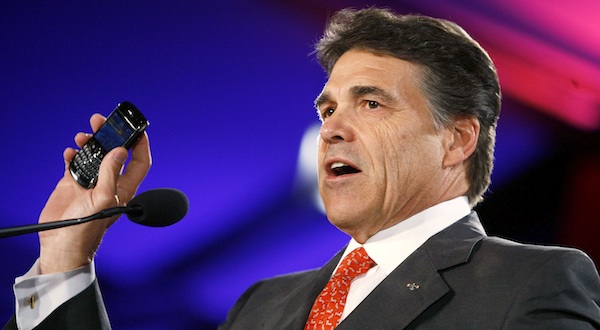 In a Tuesday
interview
with
CBN News
, Texas Gov. Rick Perry reiterated his support for federalism and his desire to pass a Federal Marriage Amendment to ban gay marriage in all states. Attempting to persuade his interviewer that these positions are not
transparently inconsistent
with earlier support for a state-based approach, Perry went on to explain when he thinks it is okay to usurp local decision-making and impose on the people of some states policies their legislatures and residents would rather not have. 
Here are the relevant quotes:
-- "If there are issues that are so important to the nation like traditional marriage which I agree, this is a very important issue."  
-- "It's part of the fabric of America to support traditional marriage and that being between one man and one woman."
-- "I support that for issues that are so important, I think, to the soul of this country and to the traditional values which our founding fathers, on the issue of traditional marriage I support the federal marriage amendment."
So it seems that if elevated to the White House, Perry will respect states rights unless he thinks the issue is "very important," or is "part of the fabric of America," or if it "matters to the soul of our country." He goes on to characterize this view as "what our Founding Fathers meant for this country to do."
In fact, our Founding Fathers understood that phrases like "the fabric of our nation" and "the soul of our country" are made up of weasel words that effectively mean nothing, which is why the 10th Amendment doesn't leave to the states and the people all non-enumerated powers except the ones that compose our soulful American fabric. Moreover, many of the Founders would've been horrified by the idea that the federal government was to be in charge of the "important" stuff, and the states and the people would be left in charge of everything else, so long as it was unimportant.
Perry is, of course, right that the Founders gave us the ability to amend the constitution. But his account of when and why it is appropriate to do so amounts to little more than when an issue he cares a lot about would resolve itself more to his liking at the national rather than the state level. He isn't a principled federalist so much as an opportunist. Or a panderer. If you like states rights, the upshot is the same.
Image credit: Reuters