When the House passed a bipartisan debt-limit deal on Monday, the biggest surprise of the night wasn't the all-but-certain end of Washington's weeks-long stalemate, it was the presence of Rep. Gabrielle Giffords.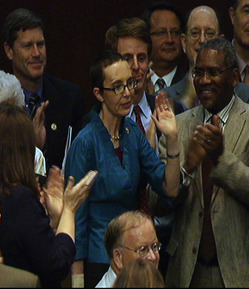 For the first time since January, when she was shot in the head outside a Safeway in Tucson, Ariz., the Democratic congresswoman traveled to the Capitol for a vote -- returning, briefly, to active duty as a member of Congress. Giffords voted in favor of the bill.
Giffords was met by applause from ever corner of the chamber. As House Minority Leader Nancy Pelosi (D-Calif.) lavished praise on Giffords from the podium, Giffords waved to her fellow lawmakers and to TV cameras, leaning against a pew with one hand.
Word of Giffords' planned return didn't leak until just before the vote. Her official Twitter account, maintained by staff, announced her arrival about 15 minutes before Giffords stepped onto the House floor:
Gabrielle has returned to Washington to support a bipartisan bill to prevent economic crisis. Turn on C-SPAN now: http://t.co/ddhmVMBless than a minute ago via web
Favorite
Retweet
Reply
Gabrielle Giffords
Rep_Giffords
Just seven weeks ago, Giffords's staff released the first public photos taken of her since the shooting. A few days earlier, Giffords's chief of staff had told The Arizona Republic that Giffords was still struggling to speak. Before then, the public had remained uncertain as to how her recovery was proceeding.
The deal passed, 269-161. One reporter speculated that Giffords's arrival swayed lawmakers to vote so overwhelmingly in is favor.
Image credit: AP
We want to hear what you think about this article. Submit a letter to the editor or write to letters@theatlantic.com.
Chris Good
is a political reporter for ABC News. He was previously an associate editor at
The Atlantic
and a reporter for
The Hill
.