From 'Mom in Tennis Shoes' to One of the Nation's Most Powerful Democrats
Having come to Washington as an outsider, Patty Murray earns two high-profile jobs: cutting trillions as a member of the deficit "super committee" and running her party's Senate campaign arm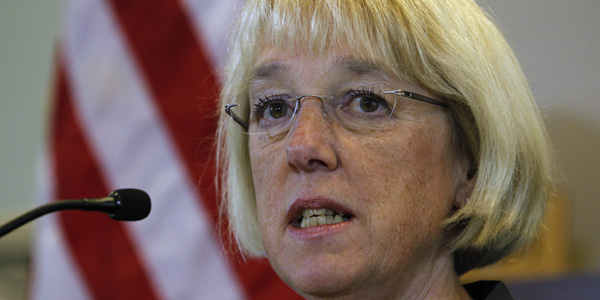 Senate Majority Leader Harry Reid's decision to name Sen. Patty Murray (D-Wash.) to cochair the super committee tasked with finding $1.2 trillion in deficit cuts gives him a reliable ally on a crucial panel. It is also a sign that the onetime Mom in Tennis Shoes has quietly become one of the more powerful members of the Democratic caucus.
Republicans have reason to be skeptical; after all, Murray does chair the Democratic Senatorial Campaign Committee, giving her an indisputably political role as she ostensibly seeks bipartisan compromise among the super committee's 12 members. But Reid, in need of a leadership representative, had few options other than the Washington state Democrat. Reid wasn't a fan of the work of the bipartisan Gang of Six, which included Sen. Dick Durbin, his second-in-command. And appointing Sen. Chuck Schumer, the third-ranking Senate Democrat, would have infuriated Durbin, who sees him as a rival for the top leadership job, once Reid leaves.
Instead, Reid once again turned to Murray, who will share chairman duties with Rep. Jeb Hensarling (R-Texas). The move allows Murray to have a hand in choosing which cuts to make and, importantly, which to avoid; that's a big boon to the Pacific Northwest, which has a long history of exerting influence over Congress's budget process.
Three of the past seven chairmen of the Senate appropriations committee--Sens. Warren Magnuson, Mark Hatfield, and Ted Stevens--have hailed from Washington, Oregon, and Alaska, respectively. (When Hatfield took over in 1995, he told then-Sen. Slade Gorton that the regional balance of power had shifted: "Now I'm chairman. And now Oregon is getting all of the money," he said, according to Gorton's former top aide.)
The big winner: Boeing. Sen. Scoop Jackson (D-Wash.), who served on the Senate Armed Services Committee his entire career, was jokingly referred to as the Senator from Boeing for his defense of the company's government contracts. That mantle has fallen to the Congressman from Boeing, Washington Democrat Norm Dicks, the top Democrat on the House Appropriations Committee.
Now, Murray has the chance to take up that mantle and defend the company that employs nearly 80,000 people in her state.
From Gingrich's Ashes
Texas Gov. Rick Perry has insisted for years that he would not be a candidate for national office. As far back as a 2009 roundtable with reporters, held in the shadow of the Capitol, Perry was declaring his disgust with Washington and his revulsion at the prospect of living here.
But that very disgust is what makes Perry a potent candidate. His feelings mirror those of the national electorate, and especially the conservative Republican primary electorate. He can point to an economic record that no other candidate can match. And his credibility among social conservatives is better than former Massachusetts Gov. Mitt Romney's--making him the candidate best able to position himself as the anti-Romney.
Perhaps most importantly, no statewide Republican has run a campaign that dovetailed better with the tea party base than Perry's 2010 reelection bid. Trailing Sen. Kay Bailey Hutchison by a wide margin early in the race, Perry leaned on the 10th Amendment and seemed to inadvertently touch a nerve to which the tea party movement responded. Tapping the populist vein at exactly the right moment helped Perry reverse an early polling deficit, and Perry dispatched Hutchison with ease.
There are plenty of contenders who claim a connection to the tea party movement: Rep. Michele Bachmann (R-Minn.), founded the Congressional caucus; Rep. Ron Paul (R-Texas), once dismissed as a crackpot, is the foundation for more than a few of the tea party's core principles; and Herman Cain's rise, even if he finishes in the second tier, has been completely fueled by the movement. But none have actually run a campaign that struck such a cord with those activists.
Perry's primary also gave him outsider credentials, especially given that Hutchison had backing from most of former President George W. Bush's top Texas-based advisors, some of whom harbor deep resentments toward Bush's gubernatorial successor. It's hard to make the argument that someone who has been in office for 10 years is an outsider; Perry, by virtue of both his ideology and his political history, has managed to present himself as one.
Perry's sort-of-outsider campaign will be handled by a number of prominent strategists and advisers who once helped another establishment-cum-antiestablishment candidate pitch himself as an outsider: Perry's top consultant, Dave Carney, his likely campaign manager, Rob Johnson, and a top advisor in South Carolina, Katon Dawson, are all exiles from Newt Gingrich's flagging campaign.
Democrats' Blue State Nerves
Democrats are defending 23 Senate seats this cycle, making their bid to hold onto the Senate an uphill fight. How bad is it? To the list of vulnerable incumbents or open seats--states like Montana, Missouri, Nebraska, Virginia, and Wisconsin--add reliably blue states like Hawaii and Connecticut.
The Democratic Senatorial Campaign Committee has been making clear that they won't take anything for granted in President Obama's native state, where former Gov. Linda Lingle is contemplating running for a seat left vacant by Sen. Dan Akaka's retirement. Democrats want to stay aggressive, and painting Lingle as a typical Republican works a lot better in a Senate race, in which federal issues are predominant, than in a gubernatorial race.
It helps, too, that Obama likely will win Hawaii by a wide margin next year. Still, Democrats face the prospect of yet another bitter primary between former Rep. Ed Case and a candidate with backing from the state Democratic establishment--in this case, Rep. Mazie Hirono. Case and Hirono will face off in a September primary, leaving open the possibility that the winner will be broke and facing a Republican nominee with a few million bucks to spend.
Republicans, meanwhile, could face their own primary in Connecticut, where former Rep. Chris Shays is hiring staff and interviewing consultants. If Shays gets in the race, he's likely to face a primary against wealthy former wrestling executive (my favorite title in politics) Linda McMahon, who lost the 2010 general election to Sen. Richard Blumenthal. Republicans aren't hugely optimistic about their chances in Connecticut, another state in which Obama is likely to cruise to victory. But every penny Democrats have to spend defending the seat that Sen. Joe Lieberman (ID-Conn.) is vacating is a penny they can't spend to defend Sens. Claire McCaskill (D-Mo.) or Jon Tester (D-Mont.). And for the GOP, that's reason enough to try to put a state in play.
Image credit: Elaine Thompson/AP