Fox News Employees Acknowledge Their Sarah Palin Problem
Most news organizations show extra deference to colleagues, but few employ so many prominent subjects of coverage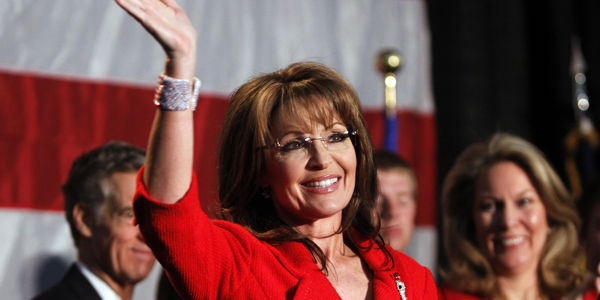 It isn't exactly news that Fox News staffers pull their punches when covering former Alaska governor Sarah Palin. But it did surprise me that two of them, Greg Gutfield and Bob Beckel, admitted as much on the air Wednesday, as recounted here:
Greg Gutfeld mentioned that he is careful with how he talks about Palin, an undecided Republican candidate who remains a frequent Fox News contributor, unlike other declared GOP presidential hopefuls whose contractual ties with the network have been severed. "The only problem with talking about Sarah Palin is that she works here, and it's like a coworker. And if I say something bad and I see her in the hallway I feel really awkward and wrong. So I just kind of say, 'that was a good job,'" said Gutfeld, who also hosts "Red Eye," a late-night Fox News talk show.

Gutfeld was interrupted by Fox News analyst Bob Beckel, who agreed with Gutfeld's sentiment. "It has nothing to do with that. It has everything to do with your paycheck. That's what you feel awkward," Beckel said. "I know exactly what you mean. I'll be honest, I've pulled my punches."

In one way, it is inevitable that people within an organization show unconscious bias toward their colleagues, or consciously treat them more deferentially than outsiders, if only for the sake of collegiality and organizational cohesion. That isn't necessarily a huge problem: here at The Atlantic, it isn't considered disrespectful to assert that a colleague is mistaken in an argument -- a core part of our organization is that it's big enough to accommodate different points of view -- and even at places where that isn't true, there are plenty of media criticism organizations out there, enough that Chris Wallace needn't be the one to weigh in on the merits of The O'Reilly Factor.
What makes Fox News different is its use of commentators who aren't just participants in America's public conversation about politics, but prominent players in the game itself. If one of your core beats is covering the conservative movement, it's problematic to employ, as a multimillion-dollar asset, a frequent news-maker and campaigner who for some time seemed a possible presidential candidate. It is to the credit of Gutfeld and Beckel that they're now being transparent about that fact.
Image credit: Reuters